I know, I know, you're saying: what? ARC review? This book has been out for a while! Yup, that's true, but the copy I have on my Kindle is an ARC, so I had to be true to what it was when I was posting.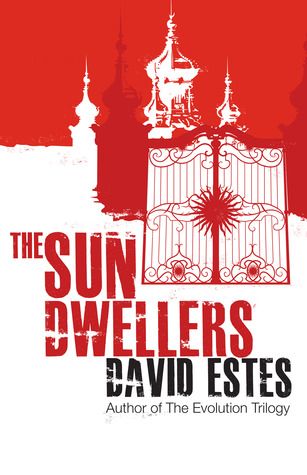 Blurb from Goodreads:
With those she's closest to dying around her, Adele embarks on a secret mission to the Sun Realm to assassinate the President. Along the way she'll uncover secrets about her relationship with Tristan that she might not be ready to face.
Tristan has a secret, too, one that's been eating him up inside ever since he met Adele. Will he reveal all, and risk the loss of friendship and love at a time when he needs it the most?
At the same time, Adele's mother, General Rose, must lead her soldiers into battle to face the sun dweller army in the hopes of holding them off until Adele can complete her mission. Can she outlast the strength of President Nailin's elite fighting force?
There's only one truth in their world: someone must die.
Title: The Sun Dwellers
Author: David Estes
Publication Date: November 27, 2012
The Cover Contessa's Review:
I want to thank David for supplying me with an ARC of this book to read and give an honest review. Although I got the book a while back, I was not able to read it until just recently. Receiving this book for free has in no way influenced my opinion or review.
If you have not read the previous books in this series, STOP READING! I promise there will be spoilers from the first two books in this review, as it's impossible not to mention it. Plus, you have to read the other books in order to even understand this one! So, go back, pick up Earth Dwellers and get reading! You won't be sorry!
This book picks up just where Star Dwellers left off. Adele and Tristin are together and they are ready to embark on their journey to the Sun realm to ensure the President doesn't destroy the Moon and Star realms. Their mission is in place and I wondered how on earth they would accomplish it. Their relationship is well established. We also see that Roc and Tawni have taken things to another level in this book, building on what we saw between them in Star Dwellers. It's a joy to watch the relationships of these two couples grow and bloom.
I really love Adele's character. She is so strong and completely willing to sacrifice herself for her friends and family. There is nothing she would not do to keep them safe from harm. If that means she will die, then so be it. She unwilling to sit back and let things unfold, she feels the need to be in the thick of it and give her all. I love that she's not afraid to fight for what she believes is right. She has some doubts, sure, but she's able to work them out or push them away when it's not appropriate. She does make some wrong decisions, but this is how she grows even more in this book.
Tristan continues to be a loving, honest guy who is also willing to sacrifice things for the ones he loves. And his secret, which he eventually reveals, was not surprising to me, but it was to his fellow friends and loved ones that didn't know. It made sense how Estes revealed this particular secret, helping to establish the link between this series and the Country series. He is also fiercely protective of Adele, which makes me love him even more.
The characters continue to be likable and relatable in this book as they were in the others. I don't think there was one character I didn't understand and who didn't have their own distinct personality. I loved how funny Roc is. Estes also took some characters I wasn't sure would be important and really expanded upon them: namely Trevor. And President Nalin continues to be an egotistical idiot who I just want to wack over the head with a big wooden plank!
As for plot twists, there are certainly many. Adele begins to doubt her relationship with Tristan (and there's a reason for this that she can't quite put her finger on which we learn about later in the book and totally explains the insta-love between them that some might have been annoyed about). I felt badly that there might even be a doubt but I understood the reasoning for it. I also appreciate that Estes is not afraid to kill off characters. One death is reminiscent of Mockingjay, but I won't get into that because I certainly don't want to spoil things! Let's just say there's sadness that comes along with it. And there are scenes where I literally felt my heart racing in my chest screaming to come out. I laughed, I cried, I caught my breath. Estes pulls out all those emotions with this story. He pulls your heart strings, then he throws you in the thick of the action so you can heal!
And Estes really has a great writing flow. I get sucked right into his books and they pull me along so easily. I never want to put them down. His language is easy to understand and follow. The book totally engrossed me. He is very descriptive, as well. This helps me to really picture his world in my mind. To see the charters and their surroundings and help me feel how it affects them all.
In conclusion, this book is a great third installment to this series. For the most part, I usually get annoyed by the third book in a series, but this one did not disappoint. And it's a great lead in to the finally book which will tie up all the loose ends and also integrate the series with the Country series. Once again, Estes has blow me away. I can't help but love his books and want more from him!
5/5 stars
David Estes was born in El Paso, Texas but moved to Pittsburgh, Pennsylvania when he was very young. David grew up in Pittsburgh and then went to Penn State for college. Eventually he moved to Sydney, Australia where he met his wife. A reader all his life, he began writing novels for the children's and YA markets in 2010, and started writing full time in June 2012. Now he travels the world writing with his wife, Adele. David's a writer with OCD, a love of dancing and singing (but only when no one is looking or listening), a mad-skilled ping-pong player, and prefers writing at the swimming pool to writing at a table.