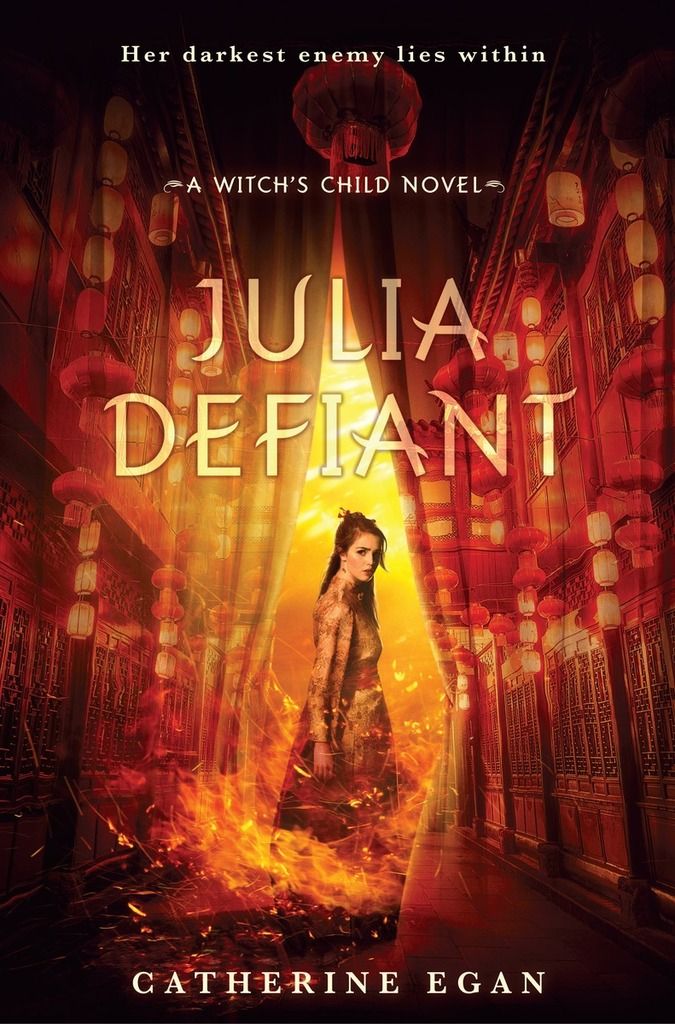 About the Book:
Publisher:
Alfred A. Knopf Books for Young Readers
Formats:
Hardcover, eBook
Fans of The Rose Society, Graceling, and Six of Crows will thrill to the masterful world-building and fiercely flawed heroine in this heart-pounding follow-up to Julia Vanishes, book two in the Witch's Child trilogy.

Adventure, murder, romance, intrigue, and betrayal with a 16-year-old heroine that is both fierce and flawed at the same time. Hypable.com

Julia and a mismatched band of revolutionaries, scholars, and thieves have crossed the world searching for a witch. But for all the miles traveled, they are no closer to finding Ko Dan. No closer to undoing the terrible spell he cast that bound an ancient magic to the life of a small child. Casimir wants that magic will happily kill Theo to extract it and every moment they hunt for Ko Dan, Casimir's assassins are hunting them.



Julia can deal with danger. The thing that truly scares her lies within. Her strange ability to vanish to a place just out of sight has grown: she can now disappear so completely that it's like stepping into another world. It's a fiery, hellish world, filled with creatures who seem to recognize her and count her as one of their own.



So . . . is Julia a girl with a monster lurking inside her? Or a monster wearing the disguise of a girl?

If she can use her monstrous power to save Theo, does it matter?



In this riveting second book in the Witch s Child trilogy, Catherine Egan goes deep within the heart of a fierce, defiant girl trying to discover not just who but what she truly is.



Praise for Julia Vanishes:



Egan's debut novel sparkles. A beautifully rendered world and exquisite sense of timing ensure a page-turning experience. Publishers Weekly, starred review



Readers will find themselves immediately immersed in the narrative and invested in the fate of Julia, who is both feisty and flawed. Booklist, starred review



Julia's a wonderful, fully realized heroine. . . . For those readers waiting for the sequel to Marie Lu's The Rose Society, a well-realized page-turner in the same vein. Kirkus
Haven't started the series? Make sure to grab the Paperback of JULIA VANISHES!
Today we welcome Catherine for an interview:
1.
Did you always know you wanted to be a writer or did you want to be something else?
I wrote my first book when I was five or six years old – it was called Fast Cathy (!!) and it was about a girl who ran races. It had ten chapters, each chapter about one page long and ending "Cathy won the race again!" I've been writing ever since. I might have more seriously considered other vocations if I had any talent at all for anything else, but I don't, so writing stories has always been it for me.
2.
How long does it take you to write a book from start to finish?
It depends on the book and on what else is going on in my life. JULIA VANISHES was written in stolen moments when my kids were tiny - from idea to completion it took a few years. I think I once estimated about 36 000 minutes. JULIA DEFIANT and the third Julia book each took close to a year from outline to finish - by then my younger son was in preschool and I had a block of time in the mornings in which to write. This year, both my kids were at school until 3 every day, and I've drafted two novels and half of a third. I don't think that rate of productivity is sustainable, but I had a lot of ideas bottled up, and a lot of time.
3.
How do you come up with themes for your stories?
I don't consciously think of themes. If the germ of an idea develops enough that I make an outline, some sense of the themes will emerge then, but I'm often surprised, when a draft is done, to see what I was really writing about.
This year I wrote a revenge story that I initially thought was about family but I think is actually about ambition, and I wrote a historical fantasy that was meant to be about obsession and a father-daughter relationship, which it is, but loneliness and the costs of emotional / physical deprivation emerged as major themes as well.
4.
Do you have a schedule of when you write?
I like to write in the mornings. As soon as I drop my kids off at school, I take a walk to get my brain moving, then I go home and make coffee and start. Everything else has to wait until the afternoon. My writing gets my best, freshest, most caffeinated brain time.
5.
How are you able to balance other aspects of your life with your writing?
Right now my kids go to school and I don't have another job, so this balance is easier than it has ever been or likely ever will be again. I'm trying to bask in this golden period while I have it.
Before I had kids, when I was working and also traveling a lot, writing was something that happened in intermittent bursts. After I had babies, writing felt more necessary than before, but it was kind of an act of desperation in whatever minutes I could scrape together.
At some point down the line, I imagine the balance will need to be reinvented all over again. It can be hard, even when you have time to write, to move from deep immersion in a fictional world to being fully functioning and attentive in your real life. My kids, husband and friends are all sadly used to me sometimes being only half-there. I've never found it easy to bounce quickly between writer-me and the rest of me.
6.
What elements do you think make a great story line?
For me it is all about the character relationships. I can appreciate a clever plot twist and beautiful writing, but what I really want to read about is just humans being human and interacting with other humans. Everything I write hinges most crucially on the relationships between the characters.
7.
What was the hardest thing about writing a book?
I don't think there is one hardest thing. Each book has its own hardest thing, and you never know what it's going to be until it trips you up.
8.
How many books have you written so far? Do you have a favorite?
Including JULIA DEFIANT, I've written five published novels.
I have so many drafts and half-drafts at different stages – things I'll never go back to, things I'll salvage for parts and reinvent, things I love and that I hope will be published, things I wrote forever ago and barely remember. I'm not sure I can make an accurate count.
My favorite book is, of course, always the one I'm about to start.
9.
Do you have a favorite character?
This is something that shifts, but right now, in my published books, I'll go with Pia, the creepy villain from the Julia books. Though the real answer is Pia-in-relation-to-Julia, or Julia-in-relation-to-Pia. The complicated Pia-Julia bond took over more with each book in the trilogy.
At my kitchen table at home during the week, and in cafes for an hour or so on the weekends.
11.
When deciding on how to publish, what directed you to the route you took?
I never considered self-publishing or hybrid publishing. I just don't have the skills. Traditional publishing always seemed the only plausible route for me, given my strengths (writing) and weaknesses (everything else).
12.
Have you gotten feedback from family about your book(s)? What do they think?
Nobody in my family reads YA fantasy except for the stuff I write, which they read out of loyalty. They are generally polite about my weird stories, sometimes more enthusiastic than other times!
13.
What kinds of things do you like to do outside of writing?
Before I had kids, travel was my big fix. Now that my kids are a little older I find I'm starting to plot out trips we might take again. The planning alone is a thrill. Reading, of course. And when I can squeeze in an uninterrupted conversation with another adult, ideally over food and / or drinks, I'm very happy.
14.
What kinds of advice would you give to someone who wants to start writing?
I never take anybody's advice and I don't think anybody should take mine, either. Having said that – the only really essential thing, and you'll hear it again and again because it's true, is that you can't be a writer if you aren't a passionate, voracious reader. So – read read read, and if you want to write, start writing! If you keep at it long enough, you'll figure out what works for you, or maybe you won't, I don't know. Have I figured anything out at this point? Hard to say.
15.
What is your favorite book? favorite author? Do you have an author that inspired/inspires you to write?
A few favorites at this moment in time – Helen Oyeyemi (in particular WHAT IS NOT YOURS IS NOT YOURS), Karen Russell (VAMPIRES IN THE LEMON GROVE is one of the best story collections I've ever read), Elena Ferrante (her Neapolitan novels shook me to my core), Kazuo Ishiguro (who breaks my heart in new and painful ways with every book and yet I always come back for more), and Sarah Waters, plot-genius and wordsmith beyond compare. My most recent discovery is Min Jin Lee – I've seen her compared to Dickens and I'm just going to go ahead and say she's better.
I know authors who say they can't read fiction while they are drafting something but fiction is like food and fuel to me. I don't know that I can pin down inspiration – the drive to make stories goes back as far as my memory – but I have no doubt that its roots reach into everything I read.
16.
Do you have any go to people when writing a book that help you with your story lines as well as editing, beta reading and such?
I don't like to show anybody anything until I have a fairly polished draft, though my husband is a good person to brainstorm with. Once I've written something, my beta readers are my line of first defense, and then I send to my agent.
17. Are you working on anything now?
Of course! What would I do, who would I even be, if I didn't have a story or two or three on the go? I'm always working on something. I like to knock out a draft and then let it sit while I work on something different, so that when I come back to it I have (somewhat) fresh eyes.
Right now I've got a couple of drafts at various stages of revision and I'm working on something brand new that might actually be sci fi, centering on the friendship between a spy and a collaborator in a wartime factory where a special weapon is being manufactured.
18. Tell us 5 things that make you smile
I'm going to make this book-themed:
1. Seeing my older kid immersed in a book. He didn't have an easy time learning to read, but it eventually clicked and I love to see him devouring all these awesome books now.
2. Coming across a perfect turn of phrase
3. When someone mentions loving a book that I loved
4. The staff-picks section in bookstores
5. Getting the call from my local bookstore saying the books I ordered have arrived.
19. Tell us 5 things that make you sad
Can I do this without going into Chasm-Of-Despair territory? I don't know… here we go… I'm trying to keep it sort of sad-lite…
1. Making a huge casserole that will last many nights and then forgetting to put it in the fridge before I go to bed. Wasted food & wasted time = heartbreak-lite (this comes to mind first because I just did that this weekend)
2. Being so far away from so many people I love.
3. Seeing kids who feel excluded or at a loss for how to deal with something.
5. The hopelessness I feel faced with the current state of the world, the political polarization that feels more and more like an unbridgeable gulf, the utter pointlessness of everything auuugh I knew it chasm-of-despair I shouldn't have started!
20. If you could travel anywhere in the world to visit a place so you could use it as a background for a book, where would it be?
One of my works-in-progress is set on a fictional Shetland island, so I do plan to visit the Shetlands. I also have an idea that I haven't yet started outlining set in Tokyo, where I lived for many years, but if I write it I will definitely need to go back there for "research" (and sushi).
Thanks so much for being here today, Catherine!
About Catherine:






My books

:

JULIA DEFIANT,

JULIA VANISHES

,

Shade & Sorceress

,

The Unmaking

,

Bone, Fog, Ash & Star

My superpowers

: high-kicking, list-making, simultaneously holding two opposing opinions

My weaknesses

: fear of flying, over-thinking and then making bad decisions, excessive list-making

My allies

: my made-for-walking-in black boots, Mick, the English Language

My enemies

: decaf, low blood sugar, the passage of time

My mission

: the coexistence of ambivalence and joy.






3 winners will receive a finished copy of JULIA VANISHES & JULIA DEFIANT, US Only.
a Rafflecopter giveaway
6/5/2017-
The Cover Contessa
- Interview
6/5/2017-

Booklove

- Review
6/6/2017-
Don't Judge, Read
- Excerpt
6/6/2017-
Here's to Happy Endings
- Review
6/7/2017-
Novel Novice
- Guest Post
6/7/2017-
Read. Eat. Love.
- Review
6/8/2017-
Fiction Fare
- Spotlight
6/8/2017-
Take Me Away To A Great Read
- Review
6/9/2017-
Two Chicks on Books
- Interview
6/9/2017-
Seeing Double In Neverland
- Interview
6/12/2017-
Wandering Bark Books
- Guest Post
6/12/2017-
A Dream Within A Dream
- Review
6/13/2017-
Tales of the Ravenous Reader
- Excerpt
6/13/2017-

Smada's Book Smack

- Review
6/14/2017-
Crystal's Chaotic Confessions
- Spotlight
6/14/2017-
Page Turners Blog
- Review
6/15/2017-
Wishful Endings
- Interview
6/15/2017-

Bibliobibuli YA

- Review
6/16/2017-
Book Briefs
- Review
6/16/2017-

BookHounds ya

- Review