Shattered Pack (
Alpha Girl #6
)
by
Aileen Erin
Genre: YA Paranormal Fantasy
Release Date: March 28th 2017
Ink Monster Books

Summary:
Meredith Molloney never thought she'd find a mate, let alone someone like Donovan Murry—one of the most powerful Alphas alive. Now that she's no longer cursed and the evil Luciana Alvarez has been taken care of, she thinks life will finally settle down. Boy, has she never been so wrong.
In the middle of the night, Donovan gets a call telling him that his pack has gone to pieces. The news that his second in command has been found brutally murdered has Donovan packing his bags for Ireland, but the last thing Meredith wants to do is leave Texas. She's heard about how the Celtic Pack are with outsiders. And Donovan has more than a few exes in the pack that will be less than friendly.
Meredith's never let a few angry wolves stop her, and she's not about to start now. She's faced down much worse the past few months. But when she gets there, she finds that it's not just a few exes who stand in the way between her and her Full Moon Ceremony with Donovan.
Meredith is thrust in to a deadly game of pack politics, one the fey have happily joined in on. When the dust settles, she knows she'll either have everything that she wants or lose it all.
iBooks:
https://itunes.apple.com/us/book/shattered-pack/id1046680468?mt=11
Kindle:
https://www.amazon.com/Shattered-Pack-Alpha-Girl-Book-ebook/dp/B0167DZKVM/ref=sr_1_1?ie=UTF8&qid=1489459443&sr=8-1&keywords=shattered+pack+aileen+erin
Barnes & Noble:
http://www.barnesandnoble.com/w/shattered-pack-aileen-erin/1122772866?ean=9781943858330
Kobo:
https://www.kobo.com/us/en/ebook/shattered-pack
Google Play:
https://play.google.com/store/books/details/Aileen_Erin_Shattered_Pack?id=_sGpCgAAQBAJ&hl=en
Alpha Unleashed (Alpha Girl #5) on Goodreads
1.
Meredith is a member of the American Wayfarer Pack.
The world is divided up among packs, but Meredith's is different, mostly made up of Cazadores. When big bads start acting up—vampires, feys gone murderous, leprechauns running amuck—they fly in to save the day. That's why Meredith is a super awesome fighter. She was trained by her herd of brothers—not to mention the rest of her pack—since she could walk.
2.
Meredith's pack was against her going to St. Ailbe's Academy.
Annoying as it is, women in the packs don't have a ton of independence. Especially in the Wayfarer pack. (Don't worry. Tessa and Meredith are going to change all that. ;) ) There are only a few women in the Wayfarer Pack. Meredith, her mother, and her nanny Ciara. Which is why Meredith wanted to get out so badly. But the Cazadores wanted to protect her. How could they do that if she wasn't with them? And don't get them started about Luciana cursing her… That would never have happened with them watching over her. But even with all the craziness, Meredith was glad she left. She made some amazing friends, learned a lot about other supernaturals, and most importantly, she never would have met Donovan if she hadn't been at St. Ailbe's. Who could regret that?
3.
Meredith's nanny, Ciara, is more like her mom than her bio mom.
Meredith and her mother have never seen eye to eye. So, when Ciara sought refuge with the Wayfarers from the Irish Pack, Meredith clung to her. Now that Meredith is going to be joining Donovan's notoriously cliquish Irish Pack, she's going to need Ciara more than ever.
4.
For a while, Meredith thought about leaving the packs behind, going to a human college, and getting a job.
Sure, she was cursed to stay in her human for during that time. Since she couldn't shift, she was basically human anyhow! Why not give it a shot? Seemed like a real chance at freedom from her overpowering pack. And when everything is going crazy, she still things about it. If she were human, what would she be doing? It's nice to dream.
5.
Meredith is obsessed with reality TV.
Having never been integrated with humans, she finds it unendingly fascinating. Especially Finding Bigfoot. But really, she'll watch any of it. She also thinks the fact that E! cancelled The Soup to be one of the biggest tragedies of her lifetime so far. When she's busy at school, she can't keep up with it all. The Soup was her way to keep up to date with human pop culture in 30 minutes. If anyone can fix this crime against society, she'd been in their debt. And having a Were like Meredith on your side is a very good thing. So, any takers?


About the Author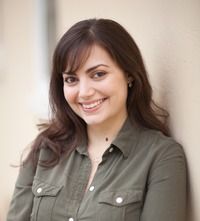 Aileen Erin is half-Irish, half-Mexican, and 100% nerd--from Star Wars (prequels don't count) to Star Trek (TNG FTW), she reads Quenya and some Sindarin, and has a severe fascination with the supernatural. Aileen has a BS in Radio-TV-Film from the University of Texas at Austin, and an MFA in Writing Popular Fiction from Seton Hill University. She lives with her husband in Los Angeles, and spends her days doing her favorite things: reading books, creating worlds, and kicking ass.