About the Book:
Pub. Date:
March 28, 2017
Publisher:
Scholastic Press
Formats:
Hardcover, eBook, audiobook
A novel of love and monsters.
Sisters Esme, Katy, and Ronnie are smart, talented, and gorgeous, and better yet . . . all three are witches. They have high school wired until the arrival of two new students. The first is Norman, who is almost eight feet tall and appears to be constructed of bolts and mismatched body parts. Despite his intimidating looks, Esme finds herself strangely -- almost romantically -- drawn to both his oversized brain and oversized heart.
The second new arrival is Zack, an impossibly handsome late transfer from the UK who has the girls at school instantly mesmerized. Soon even sensible Esme has forgotten Norman, and all three sisters are in a flat-out hex war to win Zack. But while the magic is flying, only Norman seems to notice that students who wander off alone with Zack end up with crushed bones and memory loss. Or worse, missing entirely.
Hearts & Other Body Parts is a wickedly addictive novel about love, monsters, and loyalty. And oh yeah, a Japanese corpse-eating demon cat.
Welcome Ira!!!!
Do you have a favorite character in Hearts & Other Body Parts?
That would have to be Kasha, the Japanese corpse-eating demon cat. Kasha is not a POV character, because it was very difficult to get into his head, so he kept surprising me. He lies all the time, so it's hard to say how much truth there is to his backstory. Personally, I don't trust him at all.
Did you always know you wanted to be a writer or did you want to be something else?
I've always wanted to be a writer as far back as I can remember, though I recall stints when I wanted to be a cartoonist or even a stand-up comic. I ended up teaching middle school ESL, English and Japanese for the Los Angeles Unified School District before going into business with my wife, a Japanese fashion designer. She's amazing, by the way; I know you didn't ask, just thought I'd throw that out there. But getting my book published is the fulfillment of a lifetime dream.
How long did it take you to write Hearts & Other Body Parts – including editing and rewrites?
It took about a year and a half to write. I run a business with my wife, so I don't have the luxury of time to write. My agent-at-the-time Mickey and I spent about four months on revisions and submitted it on exclusive to my dream editor at Scholastic. The actual editing and rewriting process with my editor was about three months of actual work over a period of a year or so. From the first word on the first page to the pub date was close to four years.
What was the hardest thing about writing Hearts & Other Body Parts?
Everything I had to do in my life that wasn't writing Hearts & Other Body Parts.
Did you have a go-to first reader Hearts & Other Body Parts?
My agent read it first. We'd been out on sub with another book for a few years and had failed to sell it. I'd been working on a sequel for a while, but when I realized that book probably wasn't going to sell I started writing Hearts. I guess I lost my confidence there for a while. My agent had some trepidation as well. But he loved it. What a relief.
Do you have an author who inspired/inspires you to write?
I love this question, but the answer is no. I have about a hundred authors who inspire me. At the top of the list: Christopher Moore, Neil Gaiman, Gillian Flynn, J.K. Rowling, Suzanne Collins, Paul Rudnick, Garrison Keillor, James Thurber, Jorge Louis Borges, P. G. Wodehouse… Pretty much everyone I love reading inspires me to write.
If you could travel anywhere in the world to research a book, where would it be?
Probably Scotland. My other book (that didn't sell) was partially set in Scotland, and I always dreamed that I'd go there to write the sequel. Also, it's so beautiful. And they have Scotch, which I'm rather fond of.
What's your writing style? Do you have a schedule of when you write? Where do you write?
Some mornings I wake up and I have five great ideas before breakfast, so I scribble them down. And then I go to the office and work all day. A few nights a week I skip dinner and write, because it's the only time I have. If things are going well, I can work until three AM. If I'm driving a long distance or bicycling or working out in the gym, I space out and record lines of dialogue or scene ideas on my iPhone, or scribble on bits of paper—whatever's handy. I have folders full of stuff, very little of which I ever actually use.
I write in my office, at the same desk I sit at every day for work.
What elements do you think make a great story line?
Short answer? Originality.

I write humor, and the tenets of comedy require that the guy gets the girl at the end (or vice-versa). I also like my antagonists to be truly horrible, and ultimately they should be punished with a fate worse than death. I'm blissfully immune to the charms of a traditional story trajectory, and I just love surprises. I prefer female POV to male POV.
What kinds of advice would you give to someone who wants to start writing?
I'd advise them to start writing.
What are you working now?
A YA novel about a boy who doesn't know he's an incarnate living Buddha, male (crazy wisdom) POV; sci-fi multiverse with female POV; farcical demonic possession with a twist, duel demonic/female POV; about six other projects, mostly third person. Making very little progress on any of them while I wait for reality to back off.
Thanks for being here today, Ira!


About Ira: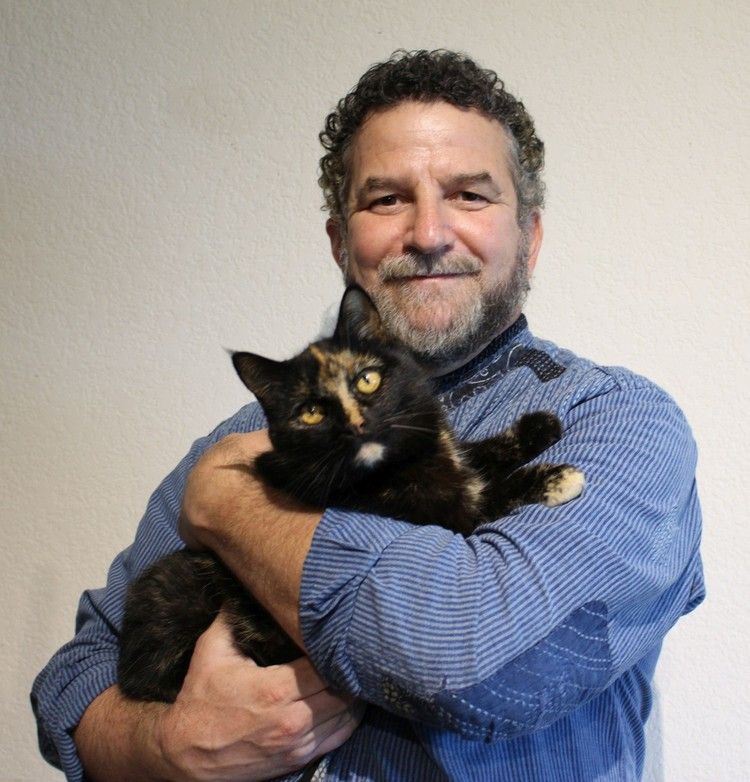 I grew up in Annapolis Maryland. My mother is an artist and my father was a judge on the Maryland Court of Special Appeals.
I studied English Literature at the University of Maryland, College Park. I also have some background in Eastern religions. After college I moved to Japan, where I taught ESL. I married a beautiful Japanese woman named Yasuko, moved to LA and taught junior high school English, ESL, and Japanese for the Los Angeles Unified School district. I am conversational in Japanese, but by no means consider myself fluent. After serving my debt to society in LA Unified, I went into the fashion business with my wife, who is a very talented fashion designer and is likely to read this, so I can't say enough good things about her. We eventually branched into the vintage kimono business. I probably know more about Japanese textiles than any straight white man you're likely to encounter. I've been writing humor for FUNNY TIMES since 2010. I currently live in West Sonoma County with my family and an assortment of furry beasts.
a Rafflecopter giveaway
3/20/2017-
Adventures of a Book Junkie
- Interview
3/21/2017-
Here's to Happy Endings
- Review
3/22/2017-

BookHounds YA

- Guest Post
3/24/2017-
Tales of the Ravenous Reader
- Interview
3/27/2017-
Beauty and the Bookshelf
- Review
3/28/2017-
Novel Novice
- Guest Post
3/29/2017-
Eli to the nth
- Review
3/30/2017-
The Cover Contessa
- Interview
3/31/2017-
Emily Reads Everything
- Review