Pub. Date:
October 4, 2016
Publisher:
HMH Books for Young Readers
Formats:
Hardcover, eBook
Before her older sister, Ginny, died, Carrie was a science nerd, obsessively tracking her beloved Vira comet. But now that Ginny is gone, sixteen-year-old Carrie finds herself within the orbit of Ginny's friends, a close-knit group of seniors who skip school, obsess over bands (not science), and party hard.
Fed up with Carrie's behavior, her father enrolls her in a summer work camp at a local state park. Carrie actually likes the days spent in nature. And when she meets Dean, a guy who likes the real Carrie—astrophysics obsessions and all—she starts to get to the heart of who she is and who she wants to be.
"A moving real-life problem novel...Fans of Rainbow Rowell's Eleanor & Park and Stephen Chbosky's The Perks of Being a Wallflower will dig this book."—School Library Journal
"Lost Stars is a novel for anyone who's every grappled with their own place in the universe." —PopSugar, Best YA of 2016
"Davis makes the 1980s shine…[and] makes interesting connections between science and teen angst."—Kirkus Reviews
Today we welcome Lisa for an interview!
Did you always know you wanted to be a writer or did you want to be something else?
Always. I was that girl at the parties hiding in the corner with my notebook. Then I'd burst into the action and talk to people and go back to my corner and write down whatever we just said, thinking it was brilliant.
I think my parents' divorce was a big reason I became a writer. Not because of the trauma of it, but because I never stopped being friends with the girls I'd met when I was young, in my dad's town, before we left. So I wrote letters to them all through junior high and high school, real live snail mail letters ('cause that's all we had back then). That's where I put a lot of my creative energy and also a lot of my pain.
How long does it take you to write a book from start to finish?
Embarrassing truth: I've published two books, but I've written a lot of them. Or, well, almost written: I've gotten half or three-quarters of the way through, and then it became a slog, or didn't solidify in some way that I wanted or needed it to. But with LOST STARS, and with BELLY before it (a grown-up novel that came out back in 2005), I managed to get drafts out very quickly, in a matter of months. Then I spent a few months revising. Each took less than a year. I still don't know if those other ones weren't meant to be or if they're challenges I should rise to, go back and work out until they start to feel right.
How do you come up with themes for your stories?
I have an interest in one primary emotion: shame. I know, that does not sound as fun as astronomy or poetry or the subjects of many other awesome books. It's something I feel a lot of, and I become interested in a certain situation where someone has to climb out of shame. Say you've done something terrible, some very public misbehavior: how do you hold your head up high and walk through town the next day, or week, or for the rest of your life? What's it like to move through shame, to the other side of it, like that? I think it's more relevant and interesting today than ever, because you can shame yourself, and others can shame you, so much more easily and thoroughly in the age of social media.
In LOST STARS, there's also the astronomy theme, with the main character waiting for the comet to show. I wish I could say that I'd made a conscious decision to incorporate astrophysics, but it really just happened. I started typing and it came out. I am really, truly fascinated by all things having to do with astrophysics, but I didn't know that my character would be, too, until I started writing.
Do you have a schedule of when you write?
Yes. The schedule is: at some point every day. Now I have a couple of kids, so it's harder to have the strict routine that I used to. I used to wake up at 7, do some exercise and sit down by 8:30. Then I'd do my creative writing (short stories, fiction, or anything that I wasn't officially being paid to do) for two to three hours. Then I'd start my paid work (articles) by 11:30 and write until about 4. I'd always do my creative stuff first thing, before I talked to anyone or used my brain for anything else. This is not including a thousand Facebook coffee breaks and online shopping that I really, really shouldn't do.
Now I feel like I have to do all the administrative stuff before I can sink myself into the real writing.
How are you able to balance other aspects of your life with your writing?
Short answer:
I am not. I have no idea. Every day I feel like I'm totally not on top of anything, and I'm going bananas but trying to roll with it. Someone recently said to me: "Friends, kids, job, exercise, creativity—pick three." So far it's mainly exercise that's getting the shaft!
What elements do you think make a great story line?
I like this question a lot even though I don't have a great answer for it. It's really all about the characters, people you worry about and root for. I'm really interested in relationships and psychology, in why people do what they do and how they come together, which also doesn't have that much to do with a story line, I know. But it starts there: character first, story later. At least for me.
What was the hardest thing about writing a book?
That's easy: the voice of doubt. It's a very strong and clear voice that says "No one will ever publish this. Why are you doing it? You're wasting your time. You have children to feed, why don't you get a real job?" I hate that voice. The secret is to say to it, "Thank you for your contribution. Have a nice day." Kill it with kindness. Or learn how to not listen. Still working on that one.
How many books have you written so far? Do you have a favorite?
See above answer. Written, or finished? I've written parts of six! But finished, really finished? Two! They are both very, very different, except that they both take place in my hometown of Saratoga, and at least one of the characters lives in a house based on my dad's house. Well, and they also get into the minds and hearts of people who behave very badly.
Do you have a favorite character?
In my own books, or in someone else's books? In my own, I have to say Carrie, who is just the tiniest bit related to me, but is both way cooler and way more screwed up than I am. Well, way cooler and slightly more screwed up than I am. In other books…Jeez, what a hard, hard question. I really loved Theodore Finch from ALL THE BRIGHT PLACES. He broke my heart.
I love to write in coffee shops. Sorry if that's so clichéd. I love the background noise, and I love when the barista knows me and we can chat—it helps with the solitude of writing. I need a little chit-chat in between pages. I have an office in my apartment, but it's always so filled with stuff—bills and paperwork and things I'm trying to avoid—that I don't like writing in it.
When deciding on how to publish, what directed you to the route you took?
Well, I went out looking for an agent, and I was very thorough. I wanted someone who handled both YA and adult fiction, in case I ever write a grownup book again. And I wanted someone who would support me through the full process—not just finding an editor to buy it but in making decisions about publicity and helping me think through my career in a larger way. And that's my agent, Faye Bender! But she's the one who sent it to Elizabeth Bewley at HMH, and I feel so lucky!
Have you gotten feedback from family about your book(s)? What do they think?
I drew on my own life a little bit, and there's some very personal and hard stuff in there concerning my dad. So I gave him and my stepmother the galley before anyone else in my family saw it. I wanted him to be prepared, mostly for how I'm portraying myself (loosely!) but also at how I portray a tough father/daughter relationship. He and my stepmother were very supportive—she even sent me copyedits!
What kinds of things do you like to do outside of writing?
I used to play a lot of music and paint and hike and cook. Now when I'm not writing, I take care of my kids and then stare into a corner for the rest of the night, too exhausted to move or think, after they go to bed. I'm really selling motherhood, right?
What I really like to do is have big group adventures. I made a group I call Brooklyn Outing Club, and I pick a place to go for a hike or nature walk, and I invite a whole bunch of people I like, and we have an outing with whomever comes. I also love word games like Boggle and Scrabble—game night is so my idea of a good time.
What kinds of advice would you give to someone who wants to start writing?
Number one: write. Just get a notebook (even if it's an electronic one) and write. Number two: get a writing group! I can't live without mine. Finding people to give you good feedback is a really big deal. Number three: brace yourself. For most of us, being a writer is full of rejection. There are so many more no's than yeses. If you really want to be a writer, you'll keep writing right through the pain.
What is your favorite book? favorite author? Do you have an author that inspired/inspires you to write?
There are three works of fiction, all of which I read in eighth grade, that made me want to write. One was a short story by Alice Munro called SOMETHING I'VE BEEN MEANING TO TELL YOU. I read it in a short story collection that my mother had lying around. Another was a novel by Anne Tyler called MORGAN'S PASSING. It was on a shelf and had an interesting cover so I read it. And then I read a story in The New Yorker (until then I'd only looked at the covers and the cartoons) called WHAT IT WAS LIKE, SEEING CHRIS by Deborah Eisenberg. I would love for someone to read all three and have a discussion with me about it! They each knocked my socks off. I didn't necessarily understand what had happened, either in the books or to me, but I knew they had done something really special and I wanted to do it, too. As an adult I read a story by Ron Carlson called ORDINARY SON, and that had a similar effect.
I also gobbled up YA books. I remember loving MEET THE AUSTINS by Madeleine L'Engle, and her book CAMILLA, too. They had smart, cool girls, but they were also romances. This may sound familiar if you've read LOST STARS!
Do you have any go to people when writing a book that help you with your story lines as well as editing, beta reading and such?
Yes, see comment about writing group, above. Well, and comment about how much I love group activity in general. Funny thing for a person who works completely alone! I have one friend who gives such incredible feedback—not just insight but really spot-on craft notes. I feel so lucky.
Are you working on anything now?
Yes, trying to get a second YA book right! Fingers crossed.
Tell us 5 things that make you smile
·
Unlikely best friend animal videos.
·
My children making up songs.
·
My friend Susie wearing a body-shaped sleeping bag (they are hilarious—get one).
·
Maria Bamford and Tig Notaro.
·
Strangers who call out nice things like, "You're doing great!" There really are such people.
Tell us 5 things that make you sad
·
Police shootings of unarmed African-American men
·
Kids being mean to each other
·
Thinking about my cat who just died at 19
If you could travel anywhere in the world to visit a place so you could use it as a background for a book, where would it be?
Also a great question. And I have so many answers! My older brother was born in Malawi, in East Africa, and I've always wanted to go there—he and my parents had this whole other life that I've never experienced. It's hard, though, not to think of New Zealand, all that lush green and gray sky, as pretty dramatic and ripe for inspiration. If I settle on one place, do I actually get to go there?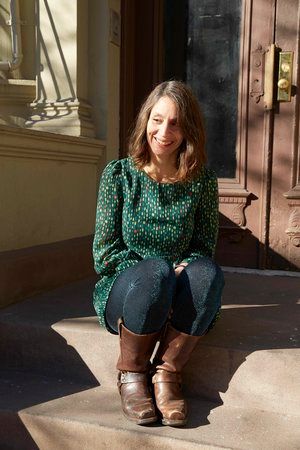 I'm super crazy excited to have my first YA novel, Lost Stars, come out in October 2016. I also have a novel for grownups called Belly, published by Little, Brown a few years ago. For the last 12 years or so, I've paid my rent by writing articles for The New York Times, Time, The Wall Street Journal and a zillion other publications. Before that I worked in film and TV, doing props and other art department jobs, including a four-year stint making props for Nickelodeon's Blue's Clues. I live in Brooklyn (but, hey, I moved here before it was cool) with my hubby, two kiddos and our kitty.
a Rafflecopter giveaway
9/26/2016-
Adventures of a Book Junkie
- Interview
9/27/2016-
125Pages
- Review
9/28/2016-
Tales of the Ravenous Reader
- Guest Post
9/29/2016-
The Phantom Paragrapher
- Review
10/3/2016-
Here's to Happy Endings
- Review
10/4/2016-
Literary Meanderings
- Guest Post
10/5/2016-
YA Book Madness
- Review
10/6/2016-
The Cover Contessa
- Interview
10/7/2016-
Lady Amber's Reviews & PR
- Review