Title:
MIRAGE
Publisher:
HMH Books for Young Readers
Seventeen-year-old Ryan Poitier Sharpe is a gutsy, outgoing girl who spends her summer days hurling herself out of planes at her parents' skydiving center in the Mojave Desert. Fiercely independent and willing to take risks, she challenges those around her to live life fully. But after a brush with death, Ryan is severely altered—she's not the same thrill-seeking girl she once was and seems to be teetering on the edge of psychosis. As her relationships crumble and her life unravels, Ryan must fight the girl she's become—or lose herself forever—in this eerie and atmospheric thriller.
1.
Did you always know you wanted to be a writer or did you want to be something else?
As a kid, no one really talked about "dreams" or the potential for what I could do or be. I found writing by accident when I wrote a school assignment in 8th grade and it made my friend's mother cry. I was astounded that something I wrote could make someone feel so deeply! I liked that. I wanted more of that. But I didn't start writing in earnest until about 8 years ago. The only other true passion I have is psychology.
2.
How long does it take you to write a book from start to finish?
It depends on the book and on the deadline! I wrote MIRAGE over the summer of 2013. MIRAGE and ILLUMINATE (book 3 in the Light Key Trilogy) were both written extremely fast; in less than 4 months. Normally, I'll take about six months to draft and then another month or so to revise before my agent sees it.
3.
How do you come up with themes for your stories?
Themes are very important to me as a writer. Often, it's the theme of what I'm writing (like with my paranormal series) that keeps me fired up. Sometimes, the themes emerge in the writing. For instance, with the most recent book I've written, I realized I was writing about "freedom" but I didn't know that at the outset. When you recognize the themes in your work, it allows you to integrate more ways to express the theme in the story. It's another layer.
4.
Do you have a schedule of when you write?
Until I recently took on a new day-job, I wrote while my kids were at school. Now, I write after lunch until late afternoon and then sometimes on the weekends.
5. How are you able to balance other aspects of your life with your writing?
I totally don't!
J
I think that if I'm totally on it in one aspect of my life, you can be sure that another aspect is getting short shrift. This idea of balance can become a stick we beat ourselves with. Or maybe that's just me…
5.
What elements do you think make a great story line?
A driving question that keeps you turning pages because you must know the answer. Very realized characters who you care about. Universality—something that people can relate to because we're all human.
7. What was the hardest thing about writing a book?
All the choices! Every single decision takes your work in a certain direction. I can obsess about every choice to the point that it can be debilitating. I have to remind myself that I can always go back and "unbraid" what doesn't work and fix it. Trying to avoid that is crazy-making.
8. How many books have you written so far? Do you have a favorite?
I just finished my eighth book. Picking a favorite is really hard because each book has it's own particular challenge. Right now, I have to pick MIRAGE, not because it's the most recent but because when I pitched the idea to my agent, both of us were unsure whether I could pull off a particular element. I'm happy to say that I rose to the challenge! Doing something you weren't sure you could do is a great feeling.
9. Do you have a favorite character?
Ryan is fierce! I love that about her and writing MIRAGE was a blast because I got to inhabit her. I also have a real soft-spot for Mari, one of the side characters in my paranormal series. She said everything I'd want to say. I think it boils down to this: I love mouthy girls who are authentic and unabashedly themselves.
I recently moved to a new house and no longer have a dedicated office so my office is in my bedroom. Most of my writing is done there. When I need a change, I move to the couch. I can't write in public spaces because I'm too easily distracted.
11. When deciding on how to publish, what directed you to the route you took?
From the beginning I was focused on being traditionally published and was advised to do so. At the time, self-publishing was kind of new and carried something of a stigma so I shied away from it. Things have changed! Nowadays, there are many amazing, talented indie authors as well as "hybrid" authors who do both. In fact, I'm very seriously considering doing both very soon. Diversification can't be a bad thing.
12. Have you gotten feedback from family about your book(s)? What do they think?
My family has been SO supportive! I have two teen kids and to have their thumbs up on my YA books means the world to me!
13. What kinds of things do you like to do outside of writing?
Wait… there's other stuff to do besides write?
J
I live in a beautiful area near Lake Tahoe. There's tons of outdoor activities here and I love to hike. I'm also a private pilot, though I have to admit that I'm woefully due for some airtime! I love to hang with my fiancé and kids and my goldendoodle, Gatsby. If you follow me on instagram, you'll see I take way too many pictures of that dog.
14. What kinds of advice would you give to someone who wants to start writing?
Start. Just start. You will only get better by doing.
15. What is your favorite book? favorite author? Do you have an author that inspired/inspires you to write?
The first author who inspired me to write was Maya Angelou (I Know Why the Caged Bird Sings.)
16. Do you have any go to people when writing a book that help you with your story lines as well as editing, beta reading and such?
Different books require different readers. I might find a beta reader with a particular expertise so I can make sure I'm doing the best I can with representation or research. Through all of my books, my go-to crit partner has been Heather Petty (LOCK & MORI.) She's tough as hell and has made me better over the years because she's so damn awesome.
17. Are you working on anything now?
Always! I'm juggling a new YA and something new for me; an adult romance series.
18. Tell us 5 things that make you smile
My kids. My goofy dog, Gatsby. Sarcastic humor. My Tribe of best girlfriends. The Chewbacca lady.
J
19. Tell us 5 things that make you sad
Abuse of others in any form. (Also file under: angry) Unfettered cynicism. An empty champagne glass. Missing people. Negativity.
20. If you could travel anywhere in the world to visit a place so you could use it as a background for a book, where would it be?
Well, in 2010 I went to Ireland and so much of that trip was used in writing the Light Key Trilogy, especially SCINTILLATE. There are a few scenes taken from notes I scribbled while on that trip!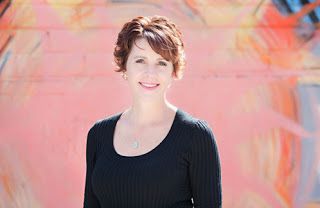 Tracy Clark is a young-adult writer because she believes teens deserve to know how much they matter and that regardless of what they're going through, they aren't alone. In other words, she writes books for her teen self.
She grew up a "Valley Girl" in Southern California but now lives in her home state of Nevada, in a small town at the base of the Sierra Foothills. Her two children teach her the art of distraction and are a continuous source of great dialogue.
Tracy was the recipient of the Society of Children's Book Writers and Illustrators (SCBWI) Work in Progress Grant. A two-time participant in the prestigious Nevada SCBWI Mentor Program. Tracy is a private pilot, an irredeemable dreamer, and a spicy-chocolate connoisseur.
3 winners will receive a finished copy of MIRAGE, US Only.
a Rafflecopter giveaway
6/27/2016-
The Oracle and The Muse
- Interview
6/28/2016-
Seeing Double In Neverland
- Review
6/30/2016-

Bookcrushin

- Review
7/1/2016-
The Cover Contessa
- Interview
7/4/2016-
A Dream Within A Dream
- Review
7/5/2016-

Ohana Reads

- Guest Post
7/6/2016-
Book-Keeping
- Review
7/7/2016-
Curling Up With A Good Book
- Interview
7/8/2016-
Here's to Happy Endings
- Review