Everyone is searching for Mason.
Zeus sent Hermes, and the Oracles have used their magic, with no success. A sparkle of hope arises when Eris, the goddess of Chaos, sends an invitation to her wedding engagement party. She's holding Mason hostage, and Skylar and her friends only need permission to enter Eris's world to rescue him.
At the party, Eris gives them one condition: In exchange for Mason, they must travel to the Land of Reverse and bring back the bottle of gold water King Midas used to wash himself free of his gift. Further chaos follows when Eris not only sets up a hunt in the Labyrinth of Crete, but makes a bargain with the Titans she rescued.
The Titans possess power more than anyone anticipated, and Cronus is hungry for revenge after his own children locked him up in Tartarus. No one is safe. Not even the humans.
Book trailer:
http://bit.ly/1VFM79g
On Sale in Digital: June 24, 2016
CELEBRATE THE RELEASE WITH A GIVEAWAY!
a Rafflecopter giveaway
1 Grand Prize: $25 Giftcard to Amazon + Print Set of Entire Descendant Prophecies Series + Signed Bookplates
2 Runner-Ups: Digital Edition of Any Backlist Title from M. Clarke or Mary Ting
"We have to go," Nick stated.
"We have to prepare ourselves. We could be walking into a trap," Zara said.
"We
'
re not going. We can
'
t give her the satisfaction of thinking she bested us all," Zeus countered fiercely.
"Don
'
t be ridiculous, brother," Hades retorted, draping his arm around Persephone.
"Cronus could be waiting for us to take his revenge," Poseidon added.
"Then let him," my mom roared. "I have his sickle, the one he used to defeat his own father, Ouranus. And this time, I
'
ll end him for good."
Then everyone
'
s shouts blended into one as the walls closed in on me.
"I
'
m going. No one is going to stop me," Amanda muttered.
"Me too," Everett said sternly.
The voices became nothing but murmurs lost in my head. As the room began to spin, white dots flashed before my eyes. Icy chills rushed through me, and everything went dark.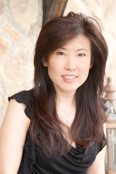 International Bestselling, Award-Winning, Author Mary Ting/M. Clarke resides in Southern California with her husband and two children. She enjoys oil painting and making jewelry. Writing her first novel, Crossroads Saga, happened by chance. It was a way to grieve the death of her beloved grandmother, and inspired by a dream she once had as a young girl. When she started reading new adult novels, she fell in love with the genre. It was the reason she had to write one-Something Great.
Facebook

|
Twitter

|
Website

|
Amazon

|
Newsletter

|
Instagram

|
Pintrest

|

Goodreads