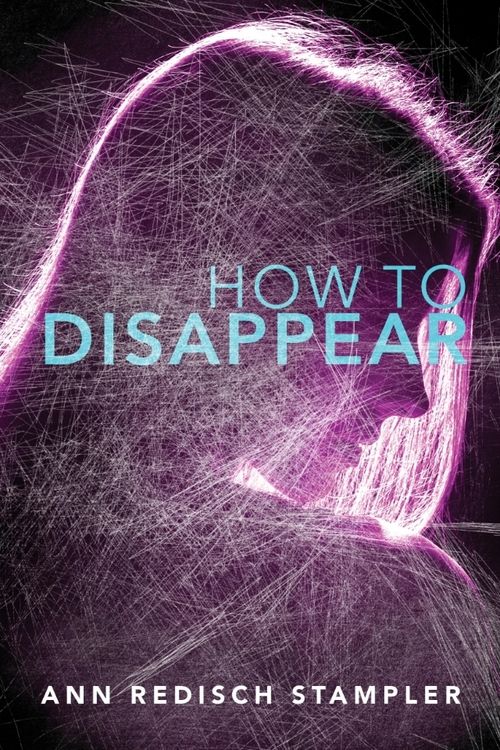 Title: HOW TO DISAPPEAR
Author: Ann Redisch Stampler
Release date: June 14, 2016
Publisher: Simon Pulse
Pages: 416
Formats: Hardcover, eBook
Description:
This electric cross-country thriller follows the game of cat and mouse between a girl on the run from a murder she witnessed—or committed?—and the boy who's sent to kill her.
Nicolette Holland is the girl everyone likes. Up for adventure. Loyal to a fault. And she's pretty sure she can get away with anything…until a young woman is brutally murdered in the woods near Nicolette's house. Which is why she has to disappear.
Jack Manx has always been the stand-up guy with the killer last name. But straight A's and athletic trophies can't make people forget that his father was a hit man and his brother is doing time for armed assault. Just when Jack is about to graduate from his Las Vegas high school and head east for college, his brother pulls him into the family business with inescapable instructions: find this ruthless Nicolette Holland and get rid of her. Or else Jack and everyone he loves will pay the price.
As Nicolette and Jack race to outsmart each other, tensions—and attractions—run high. Told in alternating voices, this tightly plotted mystery and tense love story challenges our assumptions about right and wrong, guilt and innocence, truth and lies.
1) How do you feel about your family's business?
How can I put this so you'll get it:

It. Is. Not, MY. Family. Business.
If a father is a dentist and one son is a dental hygienist, but the second son is a zookeeper, would you ask the zookeeper how he likes cleaning people's teeth?
Maybe that's a bad example.
Because there's no reason to believe that the zookeeper would have any particular interest in people's teeth, whereas I admit, what I did wasn't entirely out of keeping with my father's line of work.

If you'd followed me around the country last summer, I admit, I looked a lot like a criminal.

I looked a lot like my slime brother Don's lackey – doing Don's dirty work because he was locked up at Yucca Valley Correctional and therefore couldn't do it himself.

I looked a lot like my father, but without the lethal grace.
So I don't expect you to believe me, but I think my so-called family business is morally reprehensible.

And for me, being morally reprehensible doesn't appeal.

Even last summer, when it looked like I was in the family business, I didn't like it.

I wasn't doing it because I wanted to do it; I didn't wake up one morning thinking, Hey, why don't I blow off AP English Lit and become a major felon today?
I don't expect you to believe me, but it's true.
2) If you could choose to run away and never look back, where would you go?
Nicolette didn't think it was the world's best idea, but hiding out on a rubber plantation somewhere in South America sounded pretty good compared to going to prison in Ohio -- where they still have the death penalty.
3) How would you describe the kind of girl Nicolette is?
Do I get bonus points for not being sexist on this one?

She's always on my case about that, which is rich coming from someone who set this whole thing in motion because she thought her life would be over if people stopped thinking she was the purest girl in Cotter's Mill, Ohio.
That would be the reductionist version of what happened.
Nicolette is a very smart, very determined, very beautiful girl who can more or less get your heart in a vise and disarm you (literally, disarm you; there was a .45 involved) while you're thinking with…not with your head, is that clear enough?
4) Do you believe in right and wrong? How far would you go to the wrong side to be right?
Excuse me, but if I remember correctly, I was the one ranting about turning the other cheek, while she was the one insisting that the Sunday School rules didn't apply.

But yes, I can see where you might reach the conclusion that anyone who didn't walk away when Don explained what being a murder technician meant might live in a state of moral ambiguity – that I might live in that state.
But I don't live in that state.

I know what right and wrong are.

I knew that even contemplating what I told Don I'd do for him was wrong – but what was I going to tell him?

Maybe I was rationalizing, but did you expect me to stand on the moral high ground and watch Don's boys take out my mother?

It was a credible threat.

There was a fire, and it wasn't an accident.

What was I supposed to do?
5) What is the biggest lie you tell yourself?
That.

What I just said.

That if you're scared enough that someone's going to off your family, you get a free pass to drive around hurting people.

And you don't.

You don't have to be a moral genius or a minister to know you don't.
6) What is more important to you: loyalty or forgiveness? Why?
There might be a touch of self-interest here, but I'm going with forgiveness.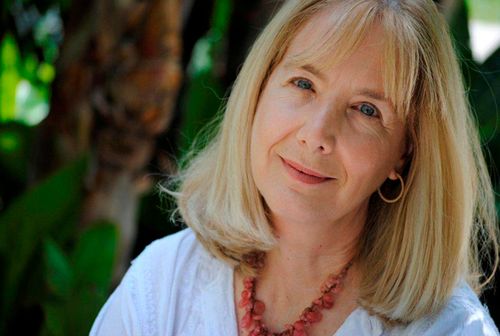 Ann Redisch Stampler is the author of the young adult novels Afterparty and Where It Began as well as half a dozen picture books. Her work has garnered an Aesop accolade, the National Jewish Book Award, Sydney Taylor honors, the Middle East Book Award, and Bank Street Best Books of the Year mentions. How to Disappear (Simon Pulse, 2016), her first young adult thriller, will be released in June. Ann lives in Los Angeles, California, with her husband Rick.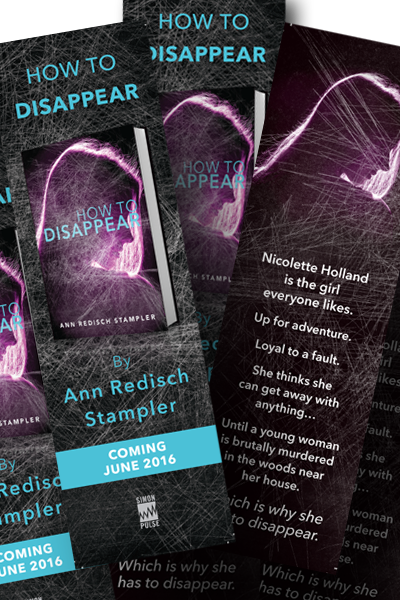 a Rafflecopter giveaway