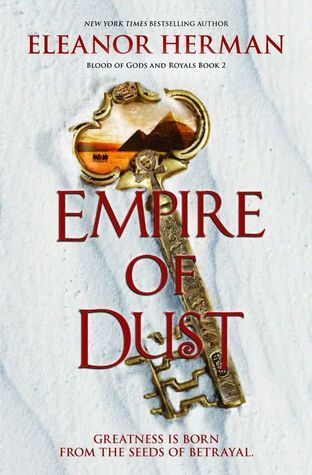 In Macedon, war rises like smoke, forbidden romance blooms and ancient magic tempered with rage threatens to turn an empire to dust
After winning his first battle, Prince Alexander fights to become the ruler his kingdom demands—but the line between leader and tyrant blurs with each new threat.
Meanwhile, Hephaestion, cast aside by Alexander for killing the wrong man, must conceal the devastating secret of a divine prophecy from Katerina even as the two of them are thrust together on a dangerous mission to Egypt.
The warrior, Jacob, determined to forget his first love, vows to eradicate the ancient Blood Magics and believes that royal prisoner Cynane holds the key to Macedon's undoing.
And in chains, the Persian princess Zofia still longs to find the Spirit Eaters, but first must grapple with the secrets of her handsome—and deadly—captor.
New York Times bestselling author Eleanor Herman entwines the real scandals of history with epic fantasy to reimagine the world's most brilliant ruler, Alexander the Great, in the second book of the Blood of Gods and Royals series.
Today we welcome Eleanor for an interview!
1.
Did you always know you wanted to be a writer or did you want to be something else?
Writing was always one of my top choices since I got such good grades on my elementary school compositions. I also wanted to be an actress, except I can't act. I mean, I can play Eleanor Herman quite well but that's about it. I actually made two horror movies when I was a teenager—in which I was mostly screaming—and that was the end of my brilliant acting career. I toyed with the idea of being an archeologist but there wasn't a university in my hometown of Baltimore that focused on archeology. And my family didn't have the money to send me away to school. But there was a local university with a good Journalism program, so that's where I ended up.
2.
How long does it take you to write a book from start to finish?
For the Legacy series, it's about a year. For my non-fiction books it was a year for research and a year for writing.
3.
How do you come up with themes for your stories?
All of my themes have to do with royalty. I love to write stories of power and wealth—and all the danger that goes along with it—set in beautiful palaces a long time ago.
4.
Do you have a schedule of when you write?
I write just about every day though I have a lot of flexibility. Sometimes I sit at my desk for ten hours straight. But most days I need to get out and clear my mind so I go to the gym or do errands.
5.
How are you able to balance other aspects of your life with your writing?
Well, I don't have a full-time job or a commute in Washington, DC's horrific traffic. The kids are out of the nest. The only thing I would like to bring into better balance is my volunteering. The world is in many respects a mess and if I can do a few things to make it brighter for even a handful of people, that would really make me happy.
6.
What elements do you think make a great story line?
Mystery, love, revenge, romance, power, twists and turns and conflict, all set in a fascinating historical context.
7.
What was the hardest thing about writing a book?
Getting a first draft down. I always hate it. It goes from being this fascinating idea where every word is perfect in my mind to real words on a page that are imperfect, and clumsy, and I want to throw it in the trash because I doubt I can do anything to fix it. But then I do. And with each edit it gets better and starts to sing. Then I love it.
8.
How many books have you written so far? Do you have a favorite?
I have written five non-fiction books about royalty, two Legacy books and two Legacy novellas. My favorite book is Mistress of the Vatican, a true story about a fifteen-year-old girl born in 1591 whose father wanted to cram her into a convent against her will, and she ended up running the whole Catholic Church and being the richest person on the planet. She never let men keep her down, as they kept trying to do. I just loved her character and her story.
9.
Do you have a favorite character?
In Empire of Dust, I love the bad girl Princess Cynane, Alexander's warrior woman half sister who refuses to fit into the feminine role of her time and will do anything to rule a nation and lead armies.
I have a beautiful office off my bedroom, with two kitty litters (I have almost no sense of smell), a cat tree, several cat beds, water and food dishes, antique paintings and ancient statues to inspire me.
11. When deciding on how to publish, what directed you to the route you took?
Authors don't really decide how to publish. The Three Fates decide for us, weaving and snipping threads while cackling with laughter on Mount Olympus.
12. Have you gotten feedback from family about your book(s)? What do they think?
I honestly don't know if anyone in my family reads my books. I'm not sure they can read. I think they are waiting for the movie.
13. What kinds of things do you like to do outside of writing?
I'm an elections officer for Fairfax County, Virginia and am really fascinated by the voting process—making it fair and accessible while at the same time preventing fraud. Our entire way of life in this country is based on each person going into the voting booth, so it's really important. I have four rescue cats, each one with a weird physical or psychological issue, so that takes a lot of my time. I'm a volunteer for the aging and spend time with elderly people who love a phone call, a visit, or some help in the garden or around the house. And I am an exercise fiend, going to the gym several times a week.
14. What kinds of advice would you give to someone who wants to start writing?
Read, read, read, and write, write, write. Read to figure out what you like, and then analyze why you like it. Figure out what you hate and why. Write just for practice. If you broke your leg and it's killing you, write what it feels like. If you are heartbroken that a boy you like ignores you, write what that feels like. Then rewrite it to make it better. Take all the writing classes you can. Read books about writing and how to get a book published. Join a writer's circle. Write free for blogs or the community newspaper to get your name out there. Be prepared for plenty of rejection; it comes with the territory. Don't let it stop you. Write because there is nothing else like it on this planet for you, and without it you would be a sad, shriveled, worthless creature.
15. What is your favorite book? favorite author? Do you have an author that inspired/inspires you to write?
When I was a teenager I read The Lord of the Rings over and over again. Such a magical world with a wide array of cultures and personalities. Such good, such evil, such beauty!
16. Do you have any go to people when writing a book that help you with your story lines as well as editing, beta reading and such?
I work with two amazing women at PaperLanternLit, Lexa Hillyer and Kamilla Benko. I really value their help because before the Legacy series I wrote non-fiction, which is totally different.
17. Are you working on anything now?
Queen of Ashes,
my new novella about the accursed Princess Laila of Sharuna, a minor character in Empire of Dust, is available for free downloading on August 1! And I am half-way through Book 3 in the Legacy series, Reign of Serpents.
18. Tell us 5 things that make you smile
1. Completely random acts of kindness.
2. People going crazy dancing.
3. Silly practical jokes. Once I sent my husband a photoshopped picture of me holding a 41-pound cat I said I had just adopted and he believed it and came home all angry about it and looked under the bed for the non-existent 41-pound cat.
4. When I see stories about people who have gone through really hard things and come out on top.
19. Tell us 5 things that make you sad
1. Cruelty to kids, old people and animals, anyone who can't fight back.
2. Polluting our planet to the point where it is getting really, really mad.
3. Racism, sexism, all those isms. Human DNA is almost identical in every way that counts and guess what, it all goes back to Africa. It's so idiotic to hate people who look a bit different.
4. All the guns out there in the hands of crazy people and no one doing anything to stop it.
5. The thought of anyone who thinks they are unloved. Hey! I love you.
20. If you could travel anywhere in the world to visit a place so you could use it as a background for a book, where would it be?
I'd love to go to ancient Rome around the time of Augustus Caesar. It was such a complex, sophisticated world, in many ways like our own, but in other ways quite different.
Thanks so much for stopping by today, Eleanor. It was great having you with us!
New York Times best-seller Eleanor Herman offers a rare combination of skills for a historian – her research is intensely scholarly, yet she writes the story in a colorful, witty manner.
"History is so fascinating that it never has to be presented in a boring way," she explains. "These were flesh and blood people, just like you and me, facing war and plague, falling in love, living among splendid art and gut-wrenching poverty. Sometimes people ask me if I plan to write novels. And I say, with all the things that really happened, who needs to make stuff up?"
Reviewers agree. The New York Times Book Review wrote that Eleanor writes "enlightening social history that is great fun to read."
The Boston Globe wrote, "Herman's writing sparkles off the pages."
The Washington Post called Eleanor Herman "A lot more fun than Danielle Steel or Dan Brown."
Eleanor calls herself a "Sherlock Holmes of history." To research Mistress of the Vatican, she traveled to Italy hot on the trail of documents related to Olimpia Maidalchini and Pope Innocent X, and found a cache of their letters. She visited Olimpia's palace in the Piazza Navona in Rome (now the Embassy of Brazil), her villa outside the city (now used by the prime minister of Italy for entertainment), and the papal palace of the Quirinale, (now the ceremonial palace of the President of Italy.) She visited Olimpia's birthplace in Viterbo, 50 miles north of Rome, her tomb in San Martino, the town she built for dowerless girls, and her country hunting lodge, gracefully falling to ruin.
Eleanor read countless diplomatic dispatches, letters, and contemporary records on life in seventeenth century Rome. Her fluency in French, German, and Italian has been invaluable in researching sources that have never been translated into English.
Mistress of the Vatican is Eleanor's third book. Sex with Kings – a history of royal mistresses – appeared in 2004, and Sex with the Queen – a history of queens who took lovers – was published in 2006. Eleanor is a frequent commentator in the media about royal scandals, and has hosted episodes for The History Channel's show, Lost Worlds, to air in the 2007-8 season. Born in Baltimore, Maryland, Eleanor graduated with a degree in journalism from Towson University, studied languages in Europe, and for thirteen years worked for NATO'S Nations & Partners for Peace magazine. She is married and lives in McLean, VA.
http://www.eleanorherman.com
2 winners will receive a paperback of LEGACY OF KINGS & a hardcover of EMPIRE OF DUST, US Only.
a Rafflecopter giveaway