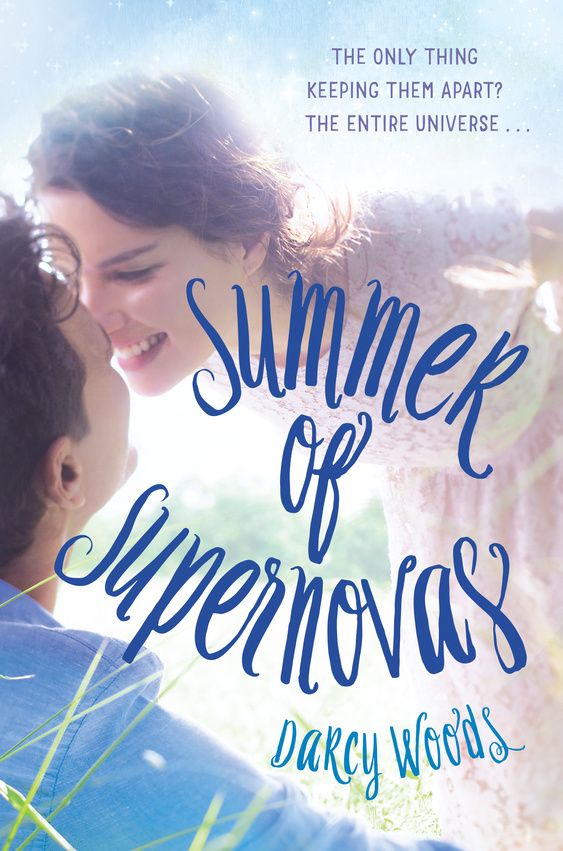 Title:
SUMMER OF SUPERNOVAS
As the daughter of an expert astrologer, Wilamena Carlisle knows that the truth lies within the stars. So when she discovers a rare planetary alignment, she is forced to tackle her worst astrological fear – The Fifth House of Relationships and Love. But Wil must decide whether a cosmically doomed love is worth rejecting her mother's legacy, when she falls for a sensitive guitar player hailing from the wrong side of the chart.

Debut author Darcy Woods explores love in all its complexities and how to best honor the loved ones who have passed before us, in a novel packed with both humor and heart.
Raise your hand if you've ever consulted your horoscope. Okay, if your hand is not up, then I'm going to declare you a mythical unicorn. Because for many of us, there's something irresistibly alluring about the notion of fate written in the stars. Especially in matters of the heart.
Fueled by this fascination (and mild . . . obsession?) with astrology—HUZZAH! The initial concept of Summer of Supernovas was born! One of the key elements within this story is the idea of astrological compatibility. So with that in mind, I thought it might be fun to share some of the best romantic parings for each zodiac sign.
(INSERT ASTROLOGY GIF ONE HERE—glittery stars)
Aries (Mar. 21 - Apr. 19)
Adventure is your middle name. Right after courageous, impulsive, and energetic. You'll find heavenly matches with independent and intelligent Aquarius or Gemini. Want an opposite who attracts? Look no further than Pisces.
Taurus (Apr. 20 - May 20)
Stubborn as a bull—the expression fits you to a tee. But that determination is precisely why you tend to succeed. Patient and affectionate Taurus will discover stable partnerships with Capricorn and Cancer. Looking for insta-love? Try a Virgo.
Gemini (May 21 – Jun. 20)
If there is a chameleon of the zodiac world, it is adaptable Gemini. Quick in thought and with words, this lively, intellectual sign finds fireworks with extroverted Leo and Aries. For less explosive, yet harmonious love—go Libra.
Cancer (Jun. 21 – Jul. 22)
I feel therefore I am.
A suiting mantra for the exquisitely sensitive, receptive, and emotional Cancer. Discover a devoted love with rock steady Taurus or Virgo, while dynamic passions are ignited with Scorpio.
Leo (Jul. 23 – Aug. 22)
A glittery, superstar among the zodiacs, you were born to entertain. To find a sign that can keep up with your enthusiasm and exuberance, look to Aries or Sagittarius. Want a mate who oozes creativity and charm? Libra it is!
Virgo (Aug. 23 – Sep. 22)
Modest, industrious, and analytical. You don't daydream, you day-do! Virgo's will delight in down-to-earth, passionate Taurus. Seeking a kindred spirit for your perfectionist ways? Find it with another Virgo or Capricorn.
Libra (Sep. 23 – Oct. 22)
With a ruling planet of Venus—Goddess of love and beauty—you radiate elegance and charm. Set your sights on high-spirited Gemini or Sagittarius. For the ultimate match in love and friendship, you'll find it with Aquarius.
Scorpio (Oct. 23 – Nov. 21)
A sign of extremes—imagination, passion, and emotion collide! But you'll hit your emotional stride with loyal Cancer or intuitive Pisces. Looking for a romantic match with loads of ambition? Capricorn will help you reach the top of the mountain.
Sagittarius (Nov. 22 – Dec. 21)
Boundless energy, optimism, and a lightning rod for luck—freedom-loving Sagittarius makes life appear easy breezy. Aries or Aquarius make spectacular suitors, and satisfy your energetic and intellectual needs. For maximum excitement, look no further than Leo.
Capricorn (Dec. 22 – Jan. 19)
Driven by the pursuit of your own destiny, ambition and steadiness are why you thrive. Both Taurus and Virgo entice with their determined spirits—an aphrodisiac to Capricorn. But you'll find opposites DO attract with a dreamy Pisces.
Aquarius (Jan. 20 – Feb. 18)
Inventive, unorthodox, and assertive—you wear your uniqueness like a badge of honor. There is fun and frolicking aplenty with Aries or Gemini, the same is true for Sagittarius. This is a trifecta of amore with no boredom in sight!
Pisces (Feb. 19 – Mar. 20)
As one of the most intuitive signs in the zodiac dozen, sensitivity and compassion come naturally. Aim for the tenderness of Cancer or Scorpio for emotional resonance. For a contrast of temperaments that suit each other beautifully, a Capricorn is quite the catch!
Well??? I'm dying to hear, does YOUR heart align with the stars? Or do you find it to be (like Gram in Summer of Supernovas) a bunch of cosmological hooey?


Young adult author Darcy Woods had three big loves in grade school: Reading, writing, and pizza day. Some things never change. She lives in Michigan with her madly supportive husband, two tuxedo cats (who overdress for everything) and a closet full of neatly organized shoes. Once upon a time, she served in a US Army aviation unit and threw live grenades. Now she throws words.
Darcy's Golden Heart®-winning debut YA romance, SUMMER OF SUPERNOVAS, comes out from Random House/Crown May 10, 2016.
a Rafflecopter giveaway
5/2/2016-
The Cover Contessa
- Guest Post
5/3/2016-
Brittany's Book Rambles
- Review
5/4/2016-
Take Me Away To A Great Read
- Review
5/5/2016-
A Dream Within A Dream
- Guest Post
5/6/2016-
Lost in Literature
- Review
5/9/2016-
Novel Novice
- Review
5/10/2016-
Curling Up With A Good Book
- Guest Post
5/11/2016-
Fiction Fare
- Review
5/12/2016-
Book Briefs
- Review
5/13/2016-
Swoony Boys Podcast
- Guest Post