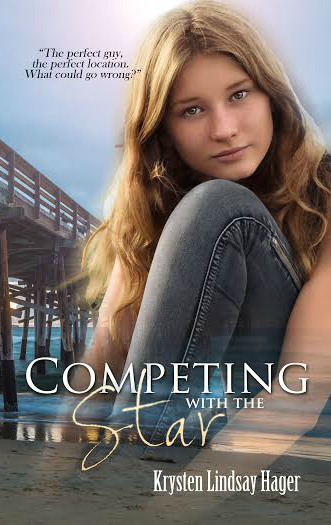 Competing with the Star
Release Date: March 22nd 2016
The perfect guy, the perfect location. What could go wrong?
Hadley Daniels's life seems perfect…
Before the beginning of sophomore year of high school, Hadley and her family move to a beautiful beach town, where she makes amazing new friends and lands the boyfriend of her dreams—Nick Jenkins. He's the kind of guy every girl swoons over, and it isn't long until Hadley discovers some are still swooning.
A famous ex-girlfriend makes matters more complicated…
After some time dating, Hadley and Nick form a deep bond. But insecurity sets in when Hadley discovers her boyfriend once had a huge crush on her friend—who just happens to be the beautiful former teen TV star, Simone Hendrickson.
The past is the past—or so they say…
Hadley confronts Nick, who confesses about his history with Simone. Though he claims to only have eyes for Hadley now, it's hard to believe—especially when she's blindsided with the news that Nick and Simone kissed after school.
Now Hadley must determine who is telling the truth. Love, betrayal, friendship…who needs soap opera drama when you're busy competing with a star?
You can go back in time and meet any star in the world. Who is it and why?
I love watching old movies so I'd have to pick Audrey Hepburn. I remember reading Gossip Girl and totally identified with Blair watching "Breakfast at Tiffany's" over and over again because I used to do the exact same thing in high school with that movie. My parents used to say they could recite that movie word for word. Fortunately they liked Audrey, too, so it was okay! I remember hearing a movie theater in Flint, Michigan was going to be showing "Roman Holiday" on the big screen and my dad and I went to see it. I owned the DVD, but seeing it on the big screen was amazing.
I'd want to hang out with Audrey and I imagine we'd be in Europe—probably Paris and start the day off with one of those cute breakfasts people are always served in movies—you know the type: tea in a cute little pot with a matching cup, fresh fruit in a little bowl, and a perfect hard-boiled egg that no one ever touches. Seriously, the egg is always in a little cup and it remains untouched—have you ever seen anyone eat that hard-boiled egg in a movie? Never. Then we'd go to a museum where she'd know how to pronounce all the artists' names. We'd stop for lunch which would be another movie worthy dish, probably a salad with pretty lettuce leaves and somehow I'd manage not to dribble salad dressing on myself for the first time ever in life. Oh, and the water would be in those cute goblets with a lemon wedge. Then we'd go shopping someplace where the clothes would be brought out to us. And naturally we'd walk down the streets looking at street art and meeting all the artists and then hit a bookstore where she'd tell me about all her favorite books.
I love how Audrey isn't just about the fashion, but she has a sensitive and caring side to her as well. She was one of those actresses who showed their personality and sweetness on camera and wasn't just about finding her best angle or worried about how pretty she looked. Her sweet nature came through and she was someone who was truly beautiful inside and out.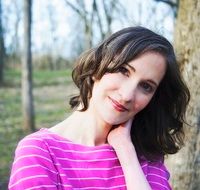 About the Author
a Rafflecopter giveaway