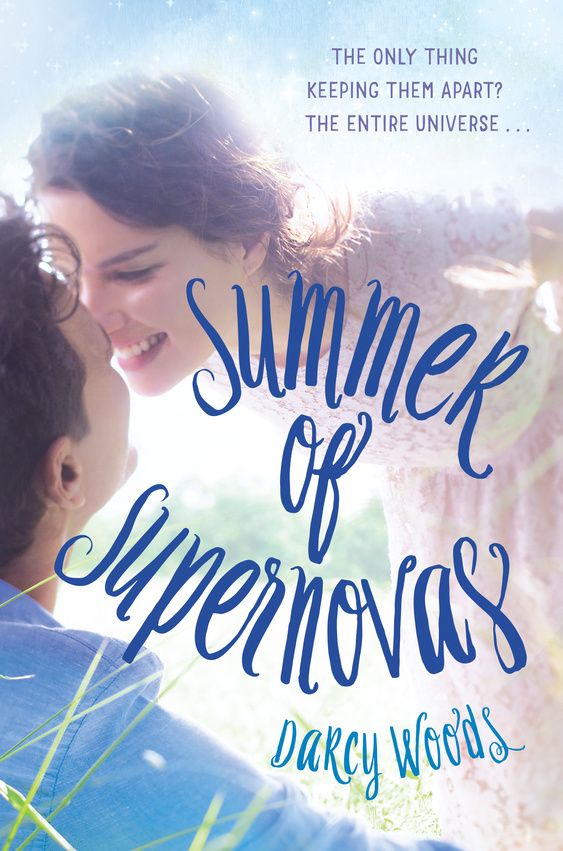 Fans of Jennifer E. Smith and Jenny Han will fall in love with this heartfelt and humor-laced debut following one girl's race to find the guy of her cosmic dreams.
When zodiac-obsessed teen Wilamena Carlisle discovers a planetary alignment that won't repeat for a decade, she's forced to tackle her greatest astrological fear: The Fifth House—relationships and love.
But when Wil falls for a sensitive guitar player hailing from the wrong side of the astrology chart, she must decide whether a cosmically doomed love is worth rejecting her dead mother's legacy and the very system she's faithfully followed through a lifetime of unfailing belief.
Title: Summer of Supernovas
Author: Darcy Woods
Publisher: Crown Books for Young Readers
Publication Date: May 10, 2016
Brooke's Review:
I would like to thank Crown Books for Young Readers for providing me with a copy of this book to read and give an honest review. Receiving this book for free has in no way altered my opinion or review.
I'm a fan of any true love story. Even if that story kind of shows me its mysteries beforehand. This was the case with this book. I sort of figured things out ahead of time. However, it didn't take away from how much I loved the way the book was plotted. And it really didn't take away from how the relationships between the characters unfolded.
Wilamena Carlisle is obsessed with star charts. I love this about her. I grew up with a mother who truly believes in the zodiac. Perhaps not to the extent that Wil (or Mena) does, but still, it was in my background. So watching Will believe so much in her star chart and try her hardest to stay with how things aline was interesting. She was so focused on making sure things turned out the way the stars had foretold, she could barely see what was right before her eyes. To say she's practical to a fault would be an understatement. I adored her relationship with her best friend and her grandmother. She is loyal and passionate but sometimes does not see the forest for the trees. Her snarky side definitely made her relatable!
It's no surprise she jumps at the chance for the boy she believes is her true love and perfect match, Seth. I will say that I found the attention of this character a bit annoying, though. He's been a player in the past, but suddenly only has eyes for Wil. With the little background we get about him, I didn't find this to be totally believable. He's almost obsessed with making her his. Of course it doesn't help that his brother, Grant, also has a thing for Wil. So perhaps this competition is what spurs him on to try and take his prize with gusto. But I just didn't find it all that believable.
Grant, on the other hand, is a bit more laid back about wanting Wil. Yes, there is a bit of a love triangle in this book! And usually I'm not a fan of these unless they are done truly well. This one was kind of on the middle of that spectrum. But Wil would never glance twice at Grant, or so she says, because he is totally the wrong sign for her. While Grant does seem to step back a bit from Wil, trying to allow his brother the room with her, at the same time he keeps getting in the way. Toting wanting to be friends but then asking her if she does not feel for him the way he does for her. I definitely found Grant to be the more endearing of the two brothers. And we do get a bit more of a background on Grant than we do on Seth.
Perhaps the fact that we only get Wil's point of view was the problem here. I feel like I was missing out on just why these two boys were vying for her attention. There is a bit of insta-attraction in this book from both boys. And the tension can certainly be felt when all three are together. I will say that it did't totally distract me from liking the story, but it put more of a damper on things than I really would have liked.
Overall this is a sweet love story with, what I found to be, a predictable ending. Though I wasn't quite sure on how it would play out and I did like the fact that the author didn't make it about Wil being totally torn between the two brothers. She really did have her choice all along once she let herself see it.
If you are a fan of Jennifer E. Smith or Stephanie Perkins, then Woods' book will definitely satisfy your hunger for that kind of plot line. Well written and fun to read, I would recommend this book to anyone who loves a book with swoon worthy boys and quirky girls!
I
love
funny. Funny ha-ha and funny weird. I also adore books that have kissy bits because love makes life's pointy edges more smooth. Cats, music, and lattes happen regularly in my home. Once upon a time I refueled helicopters for the US Army and threw live grenades. Now I throw words.
My Golden Heart-winning debut YA novel, SUMMER OF SUPERNOVAS, comes out from Random House/Crown May 2016.