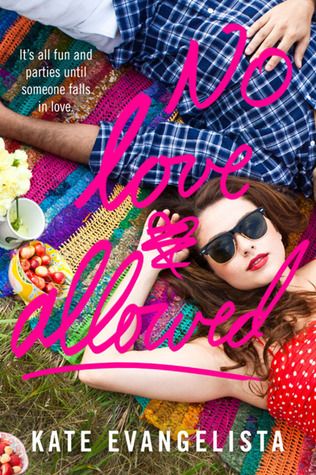 No Love Allowed by Kate Evangelista
Published by: Swoon Reads
Publication date:
April 19th 2016
Genres: Contemporary, Romance,
Young Adult

Synopsis:

It's all fun and parties until someone falls in love in this modern fairy tale from author Kate Evangelista.
Caleb desperately needs a fake girlfriend. Either he attends a series of parties for his father's law firm with a pretty girl on his arm, or he gets shipped off to Yale to start a future he's not ready for and isn't sure he wants. And sadly, the last unattached girl in his social circle has just made the grievous mistake of falling in love with him. Fortunately, Didi, recently fired waitress and aspiring painter, is open to new experiences. As the summer ticks by in a whirl of lavish parties, there's only one rule: They must not fall in love!
Purchase:
Brooke's Review:
I want to thank Swoon Reads for providing me with a copy of this book to read and review. Receiving this book for free has in no way altered my opinion or review.
So I'm a sucker for books where love is not allowed. This one just seemed to click right from the start. And I love a good conflicted romance where the boy and girl both kind of fight what is right in front of their faces.
Caleb, the rich boy who likes to blow through girls but never become attached. You would think you might hate him, but it's so not the case. He's got this sensitive soft side that really stabs right into your heart. You feel for him and his past. And you totally understand why he puts such constraints on his relationships. You might want to punch him a little, but at the same time you want to wrap your arms around him because he's just that swoon.
Didi, what can I say. I love this girl to pieces. She is so not afraid to say what is on her mind. Or do what is on her mind. And yet her damage runs deep and it's so easy to see how she can fall off the edge without even a second thought. She says what is on her mind, does what is on her mind, and really has no worries about the consequences any of that brings. I adores this about her.
To say these two are the epitome of different is putting it mildly. This book is Pretty in Pink (yes I am dating myself) in book form. Rich guy meets poor girl but there is just something about her that he has to have. Even if he tells himself it's not right. How can you deny chemistry that builds on itself until it's ready to burst at the seems? You can't!
And while the storyline was bit predictable, I still loved it. The writing was really great. I didn't find myself to be bored with the story despite the fact that I figured out where it was going from the start. If a story can reel me in like that, I say it's a keeper.
The secondary characters really got me. Especially Nathan. I loved how he was. Kind of quirky and totally owning who he was. Nothing like a good friend to really see the other characters through!
I loved the twists the author decided to take. I won't tell you what they are, but I think anyone who loves a good romance will be please with how it goes.
I would definitely read more from this author in the future!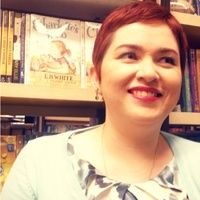 When Kate Evangelista was told she had a knack for writing stories, she did the next best thing: entered medical school. After realizing she wasn't going to be the next Doogie Howser, M.D., Kate wandered into the Literature department of her university and never looked back. Today, she is a graduate of De La Salle University – Manila with an Bachelor of Arts in Literature. She taught high school English for three years and was an essay consultant for two. Currently she writes full time and is based in the Philippines. To learn more about Kate, please visit her website at
www.kateevangelista.com
or follow her on Twitter @KateEvangelista