My Heart is Yours by Amanda Leigh
Publication date: June 10th 2015
Genres: Contemporary, Romance,
Young Adult

Synopsis:
Samantha Marie Ramsden has three brothers. Craig, John and Matt. When tragedy strikes their family, Craig takes on the task of becoming his siblings legal guardian. It's hard enough being someone's guardian, but when you've only recently entered adulthood yourself it's almost impossible to know where to draw the line between sibling and 'parent'.
This is made even harder on him when Sam starts to get close to a long time friend, Jason. It looks like their friendship could turn into something more. An idea that Craig has never been too happy with. Spanning six years, My Heart is Yours explores family, friendship, love and much more. As well as asking the question: Would you defy family for love?
Purchase:
Today we welcome Amanda for a guest post!
If you weren't an author, and could choose any other profession, which would you choose and why?
This is a hard question. An author is all that I've wanted to be since I was eight years old. But there are some other things that I have thought about. Other interests that I love. I love art, music, cooking, psychology.
I've loved photography for a long time so to be a professional photographer would be amazing. To travel to places, take pictures of beautiful landscapes and buildings. Maybe photograph parties and weddings. Portraits. Things like that. I would love that.
But on the other hand I would love to do something involving psychology. I've had an interest in psychology since twelfth grade (which is around the same time I got into photography.) It ended up being one of my minors in college. So maybe a social worker. Or a therapist. Psychologist or psychiatrist.
Or a criminal profiler. I also studied more of what might be called the darker side of psychology. While that career would be one of the darker ones, it would still be a career that would help a lot of people. One of the reasons (one of many) that I became an author was to help people. It may not be an obvious way of helping people but reading books has always helped me so I wanted to be a part of that. And any of these careers having to do with psychology (social worker, criminal profiler) would also help people.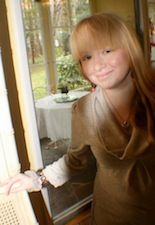 Amanda Leigh graduated with a BA in English and Communications and a double minor in Psychology and Creative Writing. During college, she worked on the literary magazine and loved every minute of it. She adores cats and has one named Sawyer – named after one of her favorite characters in Lost. Amanda enjoys reading, writing avidly in a journal, writing poetry, fiction and creative non-fiction, cooking, listening to music, singing, swimming and art – particularly photography. Amanda is a bit of a chocoholic and is slightly obsessed with office supplies. She has many ideas for stories so keep an eye out for more work from her.
Author links:
https://twitter.com/APenAndADream
a
Rafflecopter giveaway