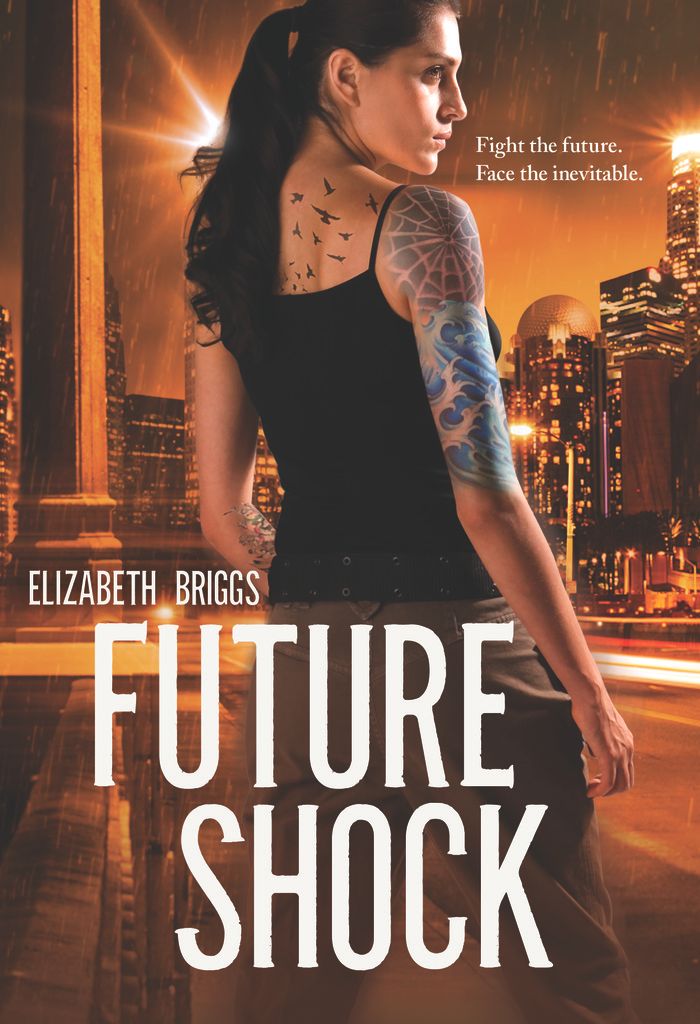 Title:
FUTURE SHOCK
Release Date:
April 1, 2016
Formats:
Hardcover, eBook
Elena Martinez has hidden her eidetic memory all her life--or so she thinks. When powerful tech giant Aether Corporation selects her for a top-secret project, she can't say no. All she has to do is participate in a trip to the future to bring back data, and she'll be set for life.

Elena joins a team of four other teens with special skills, including Adam, a science prodigy with his own reason for being there. But when the time travelers arrive in the future, something goes wrong and they break the only rule they were given: do not look into their own fates.

Now they have twenty-four hours to get back to the present and find a way to stop a seemingly inevitable future from unfolding. With time running out and deadly secrets uncovered, Elena must use her eidetic memory, street smarts, and a growing trust in Adam to save her new friends and herself.
Today I welcome Elizabeth for an interview!
1. Did you always know you wanted to be a writer or did you want to be something else?
When I was younger I wanted to be an FBI agent, but then I realized I can't really handle blood, so now I write about
that
stuff instead. I was always a big reader and my grandfather was an author, so it seemed natural to become a writer myself.
2. How long does it take you to write a book from start to finish?
Each book is different. Some books take two months, some take a year. Future Shock took about a year to write.
3. How do you come up with themes for your stories?
My themes come from the characters and how they grow throughout the book. Sometimes I'm not even sure what the themes will be before I start writing the book, but the characters tell me along the way.
4. Do you have a schedule of when you write?
Yes, I work on business stuff in the morning (answering emails, doing interviews, etc), and then write in the afternoon and evening until dinner.
5. How are you able to balance other aspects of your life with your writing?
It's very difficult sometimes, especially when I'm on deadline. I confess that I often neglect doing laundry, making dinner, and

cleaning the house when I'm busy. Luckily I have a very supportive family who are willing to chip in and help me out.
6. What elements do you think make a great story line?
A plot that is never boring, characters you want to get to know, a setting that takes you somewhere new but also feels familiar, and a satisfying ending.
7. What was the hardest thing about writing a book?
Every time I write a book I'm convinced it is the worst thing ever written and want to give up, but I make myself keep going anyway. No matter how many books I've written this never gets easier.
8. How many books have you written so far? Do you have a favorite?
I've just finished my tenth book (the Future Shock sequel), although only seven of those are (or will be) published. It's hard to choose just one – I think Future Shock is my favorite of my YA books and More Than Fashion is my favorite of my NA books.
9. Do you have a favorite character?
Elena in Future Shock is my favorite because she doesn't take crap from anyone! She's very determined and resilient despite the struggles she's faced in her past and throughout the book.
I write in bed on my laptop and I revise at my desk on my other computer. This helps me see the book in a new way when I revise.
11. When deciding on how to publish, what directed you to the route you took?
I'm a hybrid author, so I have both self published books (my NA romances) and traditionally published books (my YA books). I decide which route would be best for each book I write based on the audience, the market, and whether it would probably sell better in print or ebook. For Future Shock, I knew I wanted it to be in libraries so that it would reach teens like the ones in the book, who might not have money to buy hardcovers or have easy access to ebooks, so I knew I wanted to have my agent sell it to a publisher.
12. Have you gotten feedback from family about your book(s)? What do they think?
My husband is the only one who has read Future Shock so far and he loved it!
13. What kinds of things do you like to do outside of writing?
I like to read, of course. I love listening to music and going to concerts. I'm a huge geek and love any nerdy TV show, movie, or comic book, and I go to a lot of comic conventions. My newest hobby is adult coloring books!
14. What kinds of advice would you give to someone who wants to start writing?
Write the book you want to read. Accept that your first draft is going to suck, and that's okay. You can't revise a blank page.
15. What is your favorite book? favorite author? Do you have an author that inspired/inspires you to write?
My favorite books are from the His Dark Materials series by Philip Pullman. The book that inspired me to be a writer was Jurassic Park by Michael Crichton.
16. Do you have any go to people when writing a book that help you with your story lines as well as editing, beta reading and such?
Yes, I have some awesome writer friends who help me brainstorm and read my early drafts, then tell me how to make my books better.
17. Are you working on anything now?
I just finished the Future Shock sequel, which has a lot of the same characters from the first book, but has an all new time travel mystery! Next up, I'm working on the final book in my New Adult series, More Than Distance.
18. Tell us 5 things that make you smile
1) Puppies
2) Free food
3) Movie trailers
4) Lightsabers
5) When readers tell me they loved my book
19. Tell us 5 things that make you sad
1) Racism, sexism, homophobia, and other forms of intolerance and hatred for people who seem "different"
2) Animals dying – I can't handle it at all
3) When a good TV show gets cancelled too early
4) Reading the comments on any article online
5) Dropping my phone and getting yet another dent in it
20. If you could travel anywhere in the world to visit a place so you could use it as a background for a book, where would it be?
Thanks so much for being here today, Elizabether. It was great having you here!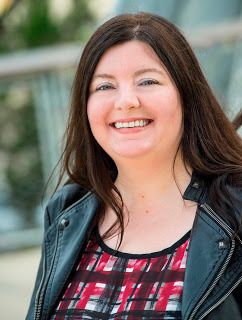 About Elizabeth:
Elizabeth Briggs is a full-time geek who writes books for teens and adults. She graduated from UCLA with a degree in Sociology, currently mentors teens in writing, and volunteers with a dog rescue group. She's the author of the new adult Chasing The Dream series and the upcoming young adult novel Future Shock. Elizabeth lives in Los Angeles with her husband and a pack of fluffy dogs. You can connect with her online at:
www.elizabethbriggs.net
a Rafflecopter giveaway
3/21/2016-
The Cover Contessa
- Interview
3/22/2016-
U.S. - Brazil Book Review
- Review
3/23/2016-
A Dream Within A Dream
- Guest Post
3/24/2016-
Andi's ABCs
- Review
3/25/2016-
Two Chicks on Books
- Interview
3/28/2016-
Polished Page-Turners
- Review
3/29/2016-
Addicted Readers
- Guest Post
3/30/2016-
125Pages
- Review
3/31/2016-
Owl Always Be Reading
- Interview
4/1/2016-
Rachel's Book Reviews
- Review