Seventeen years ago, an eclipse cloaked the kingdom of Relhok in perpetual darkness. In the chaos, an evil chancellor murdered the king and queen and seized their throne. Luna, Relhok's lost princess, has been hiding in a tower ever since. Luna's survival depends on the world believing she is dead.
But that doesn't stop Luna from wanting more. When she meets Fowler, a mysterious archer braving the woods outside her tower, Luna is drawn to him despite the risk. When the tower is attacked, Luna and Fowler escape together. But this world of darkness is more treacherous than Luna ever realized.
With every threat stacked against them, Luna and Fowler find solace in each other. But with secrets still unspoken between them, falling in love might be their most dangerous journey yet.
With lush writing and a star–crossed romance,
Reign of Shadows
is Sophie Jordan at her best.
Title: Reign of Shadows (Reign of Shadows #1)
Author: Sophie Jordan
Publisher: HarperTeen
Expected Publication Date: February 9, 2016
Brooke's Review:
I want to thank Harper Teen for providing me with a copy of this book to read and give an honest review. Receiving this book for free has in no way altered my opinion or review.
I really love Sophie Jordan and her writing. She has yet to write something I don't adore. So of course this is no different! And I love a good fantasy. This one presents a very unique world where people live in darkness and in fear of the monsters that lurk.
I will say this story definitely started off with a Rapunzel feel. You know right away this is what the book is based upon. Luna has been hiding in the tower all her life. Keeping her identity secret after the world has been cloaked in an almost permanent eclipse. I really enjoyed learning about Luna. She was a strong heroine completely capable of handling herself in fighting situations. A bit stubborn in situations and definitely proud of who she is and what she's been forced to endure during her lifetime. Of course being cooped up all her life gets to her. And it's no surprise she wants to venture out. But you can imagine that doesn't turn out well for her and she finds herself on the run after her tower is invaded and those she was raised by are taken from her.
Fowler was an interesting addition to the story. Saved by Luna, along with his friends, he has a bit of debt to her. And despite him putting up as many walls as he can, somehow Luna slowly wiggles herself into his brain. But he's determined to keep her out. I really liked this character. He was strong and stubborn, and quite selfless when it came to push and shove.
The world is very different in this fantasy. Imagine living at a time when light barely showed itself. And at the same time having to fight off creatures in the darkness who are only interested in one thing: eating whatever comes across their path. I can't imagine trying to avoid these creatures and not being able to see where you are going! I will say I found it odd that there was forestation in this book. I mean, plants need sunlight to live. Or did these plants adapt? We don't really get that background. Same with the humans, how have they adapted to not having sunlight since humans truly need light to live.
Jordan's writing is wonderful. Her descriptions are through for the most part. And the pacing of the book is fast with lots of action. I could have used a bit more world building. Because this was missing it didn't feel as much like a fantasy as I would have liked. More like a mix of dystopia and fantasy for me. And of course she infuses a bit of romance. I liked the romance because there was no insta-love. Instead you get a nice slow build with tension thrown in. My favorite type of romance.
And of course I need to read on because THAT ENDING! Talk about a huge cliffhanger. Jordan is a bit cruel with this at the end! There's no way you will not want to read on once you see what happens.
Overall I think fans of Jordan will enjoy her diving into this type of world and how she constructs it. With action and plot twists throughout, it really keeps you on your toes and makes you want to push on so you can see how it ends.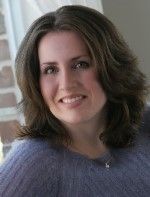 Sophie Jordan took her adolescent daydreaming one step further and penned her first historical romance in the back of her high school Spanish class. This passion led her to pursue a degree in English and History.
A brief stint in law school taught her that case law was not nearly as interesting as literature - teaching English seemed the natural recourse. After several years teaching high school students to love
Antigone
, Sophie resigned with the birth of her first child and decided it was time to pursue the long-held dream of writing.
In less than three years, her first book,
Once Upon A Wedding Night
, a 2006 Romantic Times Reviewers' Choice Nominee for Best First Historical, hit book shelves. Her second novel,
Too Wicked To Tame
, released in March 2007 with a bang, landing on the USA Today Bestseller's List.