Rosie Clayton witnesses a mugging on her first night in London—and then the scene rewinds itself.
She finds herself standing in the same place again, with the mugging happening just like before, except this time a stranger steps in and stops it. There's no way the same incident can have two outcomes. Rosie thinks she's losing her mind, until just a few days later, the stranger saves her.
The stranger, Albert, and his band of misfit crime-fighters, have the special ability to Pull, which allows them to rewind just enough time to undo a recent event. Someone is hunting Albert and his crew– and now that Rosie's been seen with them, she's a target too. Rosie is left with no choice but to trust Albert to keep her safe.
As Rosie learns more about this unbelievable ability and the people – if you can call them that – who want them dead, she discovers that the group's desire for her blood might be more than mere coincidence. Each step into this magical side of London introduces Rosie to a family history that she never knew existed, and dangerous forces that could unravel her world in an instant.
Her family may be the reason they're all being hunted—and she may be the only one who can figure out how to save them. Sure, between the lot of them, they have a few shots to get it right. The thing about Pulling, though, is you have to be alive to do it.
Title: Pull
Author: Anne Riley
Publisher: Spencer Hill Press
Publication Date: February 16, 2016
Brooke's Review:
I want to thank Spencer Hill Press for providing me with a copy of this book to read and give an honest review. Receiving this book for free has in no way altered my opinion or review.
Sci-fi is always an intriguing genre for me. And the idea of this book, the ability to pull and pretty much turn back time so you can save lives, really hit the spot for me. After I read the blurb, I was looking forward to watching the story unfold.
I'll start by talking about the characters. I will say that at the beginning I really liked Rosie. I liked that she had a big focus on her family. The way she cared for her brother and how she responded to her parents. It was nice to see a teen who wasn't all about going against what the parents want. But this didn't last long. Rosie had a huge switch from being someone who seemed like she would be there for her family to someone who only thought about herself. Was it in the guise of trying to save someone she loved, sure, but the way she went about it was all wrong. I lost respect for her and my connection, which was there at the beginning of the book, fizzled out by about 30%. Albert was interesting, but way too mysterious, even after he wasn't supposed to be mysterious. I felt like I really didn't get to know him. Rosie hardly asked him the right questions and since the story is in first person it was the only way for us to see him. And their relationship, the attraction she almost desperately wants to feel just didn't seem genuine. She gets her heart broken and falls right into the arms of the first cute guy to come her way. Honestly, between these two they were both just boring and I didn't feel any empathy or "pull" towards them. I wasn't routing for them at all.
I rather liked the secondary characters. I thought the really leant a lot to the story. Isaac was determined to protect his friends and didn't trust Rosie. Why should he, she was an outsider after all. Casey, she was a bit off her rocker. Kind of a live bomb that was set to go off. And Dan, he seemed rather sweet and definitely had a soft spot for Rosie. Overall I actually think I saw more of their personalities than I did of Rosie and Albert who were the main characters. I didn't like Paul, her brother, at all. But I think that was the point. He was this nasty, brooding guy who had a lot of baggage that Rosie seems to want to take away from him. I appreciated that but even when it was supposed to work for the audience it failed to do so. And the parents, meh, I would have liked to see Rosie interact with them more. Plus, they were barely around and when they were they were always reprimanding her. Oh and even after she's punished or in trouble, it just gets dropped. If she sneaks out or goes against what they say, it's like it doesn't matter and there are no other consequences.
The plot was interesting, at first. I mean, who wouldn't want to change the course of things if they could. Especially when it would save lives. But there was really no world building with this story line. I didn't understand where the first Pull was performed or why or how it came about. Where was the history? Also, there are so few Servators (those who Pull) and yet they are able to be at the right place at the right time no matter what? Seemed too easy. I found certain scenes rather unrealistic. I know it's sci-fi, but there is a realism that comes with such a book. It's supposed to make us think things can actually happen the way they do. I didn't feel this. Add to that a bit of the paranormal and the author just lost me.
The romance, blech. I mean, Rosie is basically on the rebound. If the chapters with Roise and Albert together were supposed to show them getting to know each other, it missed the mark for me. And I didn't feel their connection at all. There was no building tension, no attraction that was spoken of for the most part. In the end, the way things play out, is totally unrealistic given how their relationship progresses (or doesn't progress as was the case).
There is a ton of telling in this book, rather than showing. This explains the lack of world building. The story takes place in London, but I don't feel like I'm in London at all. Having spent a bit of time there (my parents lived there for three years), I am actually familiar with where Rosie's grandparent's house is. Yet, I could not picture it through the author's descriptions. The same went for how the characters look, no idea. The lack of showing causes the pacing to be much to slow for my taste.
Overall, I'm really disappointed in not liking this story. I really wanted to like it. I really wanted it to move and be full of action and twists, but that just wasn't there. It's really not a book I would recommend to sci-fi lovers, but that's just me. Perhaps you need to see for yourself?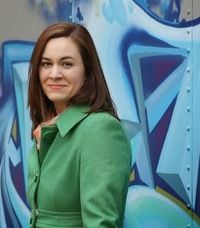 Anne Riley is an author of young adult fiction cleverly disguised as a high school Spanish teacher. She lives in Birmingham, Alabama, with her family.
Anne began writing at the ripe old age of nine, when she penned a literary classic about… well, she doesn't really remember what it was about, but she's pretty sure the main characters were ferrets.
These days, she writes stories about teenagers instead of ferrets.