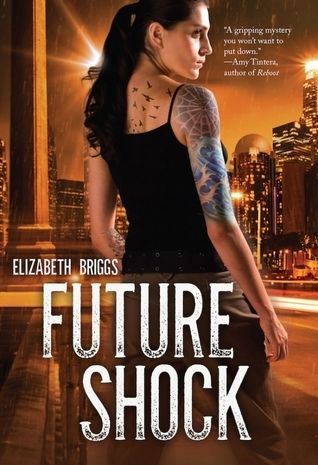 Elena Martinez has hidden her eidetic memory all her life--or so she thinks. When powerful tech giant Aether Corporation selects her for a top-secret project, she can't say no. All she has to do is participate in a trip to the future to bring back data, and she'll be set for life.

Elena joins a team of four other teens with special skills, including Adam, a science prodigy with his own reason for being there. But when the time travelers arrive in the future, something goes wrong and they break the only rule they were given: do not look into their own fates.

Now they have twenty-four hours to get back to the present and find a way to stop a seemingly inevitable future from unfolding. With time running out and deadly secrets uncovered, Elena must use her eidetic memory, street smarts, and a growing trust in Adam to save her new friends and herself.
Title: Future Shock
Author: Elizabeth Briggs
Publisher: Albert Whitman Teen
Expected Publication Date: 4/1/2016
Isis' Review:
I would like to thank

Albert Whitman Teen & NetGalley

for a copy of this e-ARC to review. Though I received this ebook for free, that has no impact upon the honesty of my review.
Creative and full of twists this book will take you on a great ride, so get comfy and prepare to travel to the future, and hopefully back again. The story certainly delivers, there's action, mysteries to unravel while racing a ticking clock, and high emotions that swing from mistrust, to violence, romance, friendship, and of course betrayal.
Having the story be told from Elena's point of view allows us to see so much more than would otherwise be possible, since she has an eidetic memory. In other words Elena can't forget anything she's read, seen, or experienced - even if she wants to. While each of the other teens involved in the super secret project have their own talents, none seem to be as powerful as Elena. Not until they meet Adam and discover that he's a true genius, having graduated from college with two degrees before his eighteenth birthday. But Adam doesn't fit the profile of the other four kids, including Elena. He's so clearly not a product of the foster care system, and therefore vulnerable to the rest.
Chris is a mountain of a guy, and has a temper. His new sidekick, Trent, is mouthy but more of a rabble rouser than anything else. And Zoe is a tiny, meek little mouse of a girl. But they all know the rules of the street and system, so when Adam blithely puts his foot in his mouth almost from the start Elena feels compelled to defend and protect him. And though she's small compared to the boys her reputation seems to have proceeded her, to her dismay.
The truth is, none of these kids are what I just described above. They are all so much more than the quick labels that get slapped on them at one point or another. Yet because of what they've gone through they are very, very slow to trust in others. So watching them struggle with the lessons they've often painfully learned and the reality of their situation is a fascinating exercise in human relations. It's something Ms. Briggs handles with grace and sensitivity, all while managing to keep it feeling realistic (at least to someone who's had the great luck to never enter the foster care system).
And it's the emotional baggage and leaps these kids are forced to deal with that make this book so compelling for me. Certainly the mystery and dangers they face are riveting, but without these characters and their unplumbed depths it would simply be your average future travel mystery. Instead it's a lovely blend of human emotions and what fighting for your lives brings to the fore in each of them. The twists and turns in the plot certainly keep the story moving forward at a relentless pace, but never so fast as to lose the threads that bind these kids together, wether they want to be together or not. Hands down a solid read, and one that will have you dreading the idea of putting it down, so prepare plenty of time because this book is a page turner that will get its hooks into you from the beginning straight through to the very end.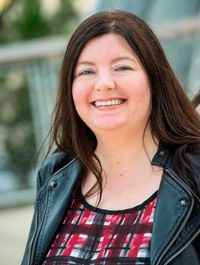 Elizabeth Briggs is a full-time geek who writes books for teens and adults. She graduated from UCLA with a degree in Sociology, currently mentors teens in writing, and volunteers with a dog rescue group. She's the author of the new adult Chasing The Dream series and the upcoming young adult novel Future Shock. Elizabeth lives in Los Angeles with her husband and a pack of fluffy dogs. You can connect with her online at:
www.elizabethbriggs.net