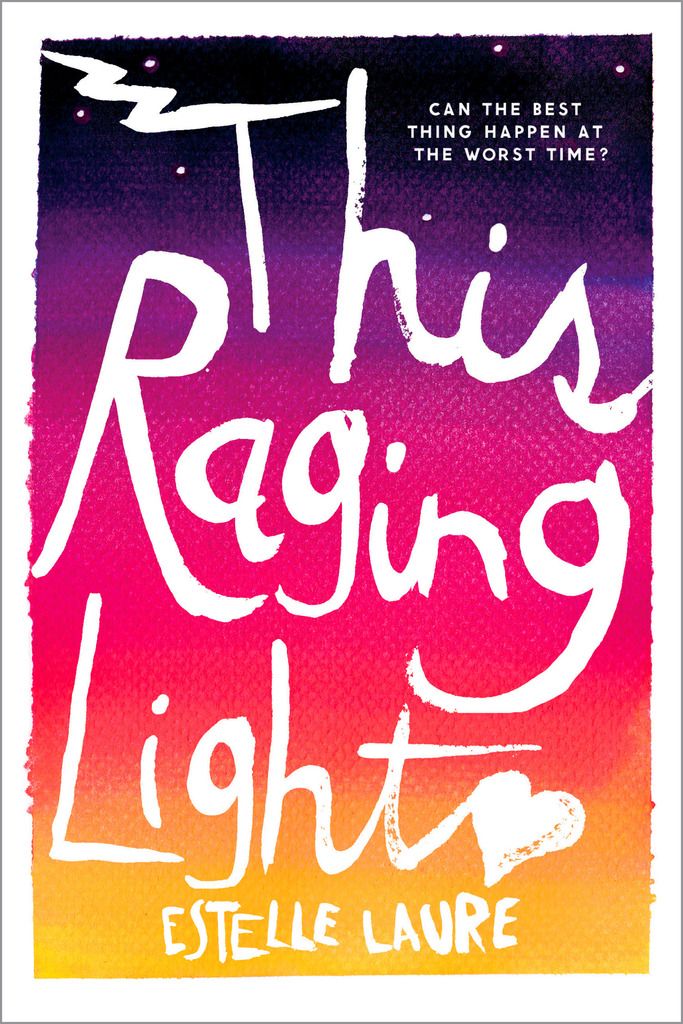 Title:
THIS RAGING LIGHT
Release Date:
December 22nd, 2015
Publisher:
HMH Books for Young Readers
Formats:
Hardcover, eBook, audiobook
"A funny, poetic, big-hearted reminder that life can—and will—take us all by surprise." —Jennifer E. Smith, The Statistical Probability of Love at First Sight
Can the best thing happen at the worst time?
Her dad went crazy. Her mom left town. She has bills to pay and a little sister to look after. Now is not the time for level-headed seventeen-year-old Lucille to fall in love. But love—messy, inconvenient love—is what she's about to experience when she falls for Digby Jones, her best friend's brother. With blazing longing that builds to a fever pitch, Estelle Laure's soulful debut will keep readers hooked and hoping until the very last page.
Today we welcome Estelle to the blog for an interview!
Did you always know you wanted to be a writer or did you want to be something else?
I always wanted to be a writer but never thought I could be until I got old enough to realize we're all basically winging it, so you might as well not waste time making choices based on insecurities.
How long does it take you to write a book from start to finish?
Now that I'm nearing the end of writing my second novel I think I can estimate about eighteen months of actual writing, though that's for a relatively small story. If I were to do something epic, I'm sure I would need longer.
How do you come up with themes for your stories?
There are things that are important to me, things that have hurt me, common human condition type issues, and it's sort of whatever is front and center for me at any given moment that seems to wiggle its way to the forefront.
Do you have a schedule of when you write?
believe in getting up early, writing before anything else so that's done, but I also have a day job and kids, so I've learned to write whenever I can, sometimes in fifteen minute increments, which is only possible in the editing phase. During drafting I need utter silence and several hour chunks.
How are you able to balance other aspects of your life with your writing?
It's a struggle, a perpetual work in progress, but I try to think in terms of each thing being its own life. Kid life, exercise life, bill paying life, cooking life. That way nothing has to give, and to be honest, they are all equally important and necessary (though kids take priority in the end no matter what).
What elements do you think make a great story line?
I don't much care about a story in and of itself. I care about attaching emotionally to the characters. You could have the most amazing plot ever and if I don't connect to the people, I won't be dazzled.
What was the hardest thing about writing a book?
Having faith that it would ever shape into something cohesive, coming back to it every day even though I sometimes hated it. Writing a novel takes a ridiculous amount of commitment and tests every aspect of self-doubt there is. Being okay with that is the hardest part.
How many books have you written so far? Do you have a favorite?
I've written three altogether, one of which will never see the light of day. And the one I'm writing now, a companion to This Raging Light is my favorite right now and I have to believe each one will be better than the last.
Do you have a favorite character?
I say Wren because she's a little sage. While she's human, she has a connection to something otherworldly, and out of everyone she's the most zen while still being very much a child.
I write at a café sometimes, but it wrecks my back, so I switch between my office desk and my bed. It can be depressing though, to realize you've literally been in bed all day.
When deciding on how to publish, what directed you to the route you took?
I worked for an agent so I never really considered self-publishing. And then when my boss, Emily van Beek, signed me, she directed the whole thing.
Have you gotten feedback from family about your book(s)?
What do they think? What are they going to say? They all claim to love it. I'll never know.
What kinds of things do you like to do outside of writing?
I love yoga, baking, Pilates, reading, watching movies, fair weather hiking, sitting on beaches, traveling, and I'd be happy doing just about anything with my kids.
What kinds of advice would you give to someone who wants to start writing?
Read a lot.

A lot! Saturate yourself in your chosen area, then read widely. And pay attention to things you like, things that touch you and how they're being done.
What is your favorite book? favorite author?
Do you have an author that inspired/inspires you to write?
My all time favorite ever book is East of Eden by John Steinbeck, but in the young adult world I think Jandy Nelson is one of the most mindblowing. When I look at how brave, compassionate and free she is, I'm inspired to do the same, even though our styles are totally different. She moves a deep heart place in me.
Do you have any go to people when writing a book that help you with your story lines as well as editing, beta reading and such?
My agent Emily van Beek and my editor Elizabeth Bewley. They're both to die for.
Are you working on anything now?
Like I said, a companion to This Raging Light called These Mighty Forces. Super excited!
Thanks so much for stopping by today, Estelle. It was great having you here!
About Estelle:
Estelle Laure is a Vonnegut worshipper who believes in love and magic and the power of facing hard truths. She has a BA in Theater Arts from New Mexico State University and an MFA in Writing for Children and Young Adults from Vermont College of Fine Arts, and thinks everyone should have to wait tables or work in a kitchen at least once in their lives. She lives in Taos, New Mexico with her children.
a Rafflecopter giveaway
1/4/2016-
The Cover Contessa
- Interview
1/5/2016-
Just Commonly
- Review
1/6/2016-
Fire and Ice
- Guest Post
1/7/2016-
Adventures in Reading
- Review
1/8/2016-
Once Upon A Twilight
- Review
1/11/2016-
Curling Up With A Good Book
- Interview
1/12/2016-
The Candid Cover
- Review
1/13/2016-

BookHounds YA

- Guest Post
1/14/2016-
Book Briefs
- Review
1/15/2016-
Such a Novel Idea
- Interview