Release date:
January 19th 2016
Publisher: Katherine Tegen Books
Nikki Kill does not see the world like everyone else. In her eyes, happiness is pink, sadness is a mixture of brown and green, and lies are gray. Thanks to a rare phenomenon called synesthesia, Nikki's senses overlap, in a way that both comforts and overwhelms her.
Always an outsider, just one 'D' shy of flunking out, Nikki's life is on the fast track to nowhere until the night a mysterious call lights her phone up bright orange—the color of emergencies. It's the local hospital. They need Nikki to identify a Jane Doe who is barely hanging on to life after a horrible attack.
The victim is Peyton Hollis, a popular girl from Nikki's school who Nikki hardly knows. One thing is clear: Someone wants Peyton dead. But why? And why was Nikki's cell the only number in Peyton's phone?
As she tries to decipher the strange kaleidoscope of clues, Nikki finds herself thrust into the dark, glittering world of the ultra-rich Hollis family, and drawn towards Peyton's handsome, never-do-well older brother Dru. While Nikki's colors seem to help her unravel the puzzle, what she can't see is that she may be falling into a trap. The only truth she can be sure of is that death is a deep, pulsing crimson.
Brooke's Review:
I'd like to thank Harper Collins for providing me with a copy of this book to read and give an honest review. Receiving this book for free has in no way altered my review or opinion.
So a while back I read a duaology about synesthesia. And I really enjoyed it. It was something new to me. Kind of paranormal but not. So when I read the blurb for this book I was completely intrigued to see where the author took this topic. Add in a mystery on top and this makes for quite an enjoyable read!
Nikki kill has synesthesia: she sees emotions as colors. Imagine being able to tell how a person is feeling because of the aura they put off. This condition overwhelms Nikki at times but can also come in quite handy when trying to figure people out. I really liked Nikki. She was very down to earth and no bones. Her sarcasm sometimes gets her in trouble, but it makes her real. She wasn't afraid to just be who she was despite the fact that her condition often crippled her in ways. The one thing Nikki fears is death, which comes to her as the color crimson. It reminds her of a past she doesn't want to think about. A past that causes her immense fear.
Of course Nikki gets pulled into a world of deceit when one of her school's most popular girls gets between to within an inch of her life and the last person she called was Nikki. I think the thing that is most intriguing about this book is that Nikki's condition helped her find clues to solve the mystery of who hurt Peyton and why. I loved the infusion of mystery into this book. I wasn't really expecting it to be so deep and to go in such a dark direction.
There are parts that go over the top. I was surprised at just how much freedom Nikki had as a teenager. I know her dad was busy with work but I can't imagine ever leaving my teen for days without any type of supervision. And it seems like Nikki took so many unnecessary risks with herself during the book. Part of me thought she was brave while the other part wanted to hit her over the head for putting herself in such situations.
I will say that the synesthesia part got confusing to me at times. So many colors loaded into the book I wasn't always sure what she was seeing and how it was effecting her. Overall I ended up enjoying it and was surprised by some of the things that happened at the end of the book (things I definitely was not expecting). I liked the author's writing and would like to read more by her. If you enjoy dark mysteries with a hint of the "not so paranormal" you'll enjoy this one for sure!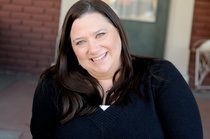 Jennifer Brown is the author of acclaimed young adult novels, Hate List, Bitter End, Perfect Escape, Thousand Words, and Torn Away. Her debut novel, Hate List, received three starred reviews and was selected as an ALA Best Book for Young Adults, a VOYA "Perfect Ten," and a School Library Journal Best Book of the Year. Bitter End received starred reviews from Publishers Weekly and VOYA and is listed on the YALSA 2012 Best Fiction for Young Adults list.
Her debut middle grade novel, Life on Mars, was released in 2014, and her second middle grade novel, How Lunchbox Jones Saved Me from Robots, Traitors, and Missy the Cruel will be released in summer 2015. She also writes women's fiction under the name Jennifer Scott.
Jennifer writes and lives in the Kansas City, Missouri area, with her husband and three children.
a Rafflecopter giveaway
TOUR SCHEDULE:
http://www.itchingforbooks.com/2015/12/blog-tourshade-me-by-jennifer-brown-jan.html