Title:
IT'S ALL YOUR FAULT
Release Date:
January 26, 2016
Publisher:
Scholastic Press
Formats:
Hardcover, eBook, audiobook
One last chance. One wild weekend. Flat out the funniest book of the year.
My name is Caitlin and up until forty-eight hours ago I had never:
Tasted alcohol, kissed a boy, sang in public at the top of my lungs, kidnapped anyone or--WHAT? STOLEN A CONVERTIBLE?
Now I'm in jail and I have no idea what I'm going to tell:
The police, my parents, the mayor, all of those camera crews and everyone on Twitter.
I have just noticed that:
My nose is pierced and I have-WAIT? IS THAT A TATTOO?
I blame one person for this entire insane weekend:
My famous cousin.
Who is also my former best friend.
Who I have HATED for the past four years.
Who I miss like crazy. NO I DON'T!!!!
IT'S ALL YOUR FAULT, HELLER HARRIGAN!!!!
"Paul Rudnick is one of the funniest people out there and he's on fire with It's All Your Faul. This book is as fun and crazy as a wild night out. I had to know what happened next." — Andy Cohen, host of Watch What Happen Live
"Paul Rudnick makes me screech with laughter and sob with fury that I can't write the way he does." – E. Lockhart, New York Times bestselling author of We Were Liars
"Caution: Do not read in public. Will cause you to laugh (and possibly cry) out loud, sometimes at the same time. Screamingly funny and yet warmly touching. Buy multiple copies: You'll want to share this one with friends." – Meg Cabot, #1 New York Times bestselling author of the Princess Diaries and Mediator series
«"Hilarious, irresistible, and oh so timely." — Kirkus, starred review
https://www.kirkusreviews.com/book-reviews/paul-rudnick/its-all-your-fault/
"Eschewing common sense and exhibiting a great deal of heart, this is one riotously good read."
— Booklist
http://www.booklistonline.com/It-s-All-Your-Fault-Paul-Rudnick/pid=7749796
"[A] whirlwind, laugh-a-minute escapade about a girl swept far outside her comfort zone,
with real heart beneath the acid humor." — Publishers Weekly
http://www.publishersweekly.com/978-0-545-46428-4
Today we're excited to welcome Paul to the blog for an interview!
Did you always know you wanted to be a writer or did you want to be something else?
I always wanted to be a writer, practically before I could read. Most other jobs seemed to involve repetition: with writing, every day holds a fresh, and sometimes terrifying, challenge. Also, you can write while lying on the couch and snacking.
How long does it take you to write a book from start to finish?
It's hard to say. I've been thinking about some of the characters from
It's All Your Fault
for years, but the actual writing took under a year.
How do you come up with themes for your stories?
I aim for the largest possible themes of, say, friendship or family or loss, and then apply my personal obsessions.
It's All Your Fault
is the story of two devoted cousins who are constantly on the verge of killing each other. The story plays out against a backdrop of things which fascinate me: Hollywood, YA books, fancy hotels and home schooling.
Do you have a schedule of when you write?
When the work is going well, I can write at all hours. When I'm blocked, I walk around outside in search of ice cream, and I tell myself that since I'm thinking about my book, I'm still working.
How are you able to balance other aspects of your life with your writing?
I depend on my friends and family to be incredibly patient and tolerant.
What elements do you think make a great story line?
Whales, murder and light sabers are all good.
What was the hardest thing about writing a book?
Running out of chocolate-covered raisins in the middle of a chapter.
How many books have you written so far? Do you have a favorite?
I've written a batch, and I try not to play favorites. Right now, I'm very smitten with
It's All Your Fault
.
Do you have a favorite character?
I love both Caitlin and Heller from
It's All Your Fault
, because they both have such strong personalities, and were so much fun to write. I felt like a cross between an umpire, a therapist and a tennis ball.
Almost always at home. I write my first drafts in longhand, on yellow legal pads, and then very gradually sit upright and crawl to my computer.
When deciding on how to publish, what directed you to the route you took?
I've been lucky enough to be published by the wonderful people at Scholastic. When Scholastic accepted my first YA book,
Gorgeous
, and then
It's All Your Fault
, I was over the moon.
Have you gotten feedback from family about your book(s)? What do they think?
I show my books to my family, but I try not to pressure them. Your friends and family don't need to be your fan club as well.
What kinds of things do you like to do outside of writing?
Reading, avoiding yard work, and comparing bakeries.
What kinds of advice would you give to someone who wants to start writing?
Don't try and make everything perfect. Just vomit out a first draft, and then revise. Work as hard as you possibly can, and then reward yourself with something involving frosting.
What is your favorite book? favorite author? Do you have an author that inspired/inspires you to write?
I have an endless list of favorite authors—I'm always amazed by people who can come up with only a handful. My greatest inspirations come from people I know, people I'm related to, and people I glimpse for a split-second on the subway.
Do you have any go to people when writing a book that help you with your story lines as well as editing, beta reading and such?
I have the finest editor on the planet—Rachel Griffiths.
Are you working on anything now?
Thanks so much for stopping by today, Paul. It was great having you here!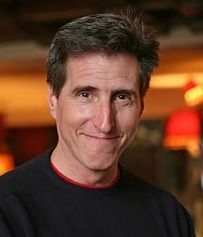 Paul Rudnick is a critically acclaimed novelist, playwright, and screenwriter. His screenplays include In&Out and Addams Family Values, and he's written for Vogue, Entertainment Weekly, Vanity Fair, and the New Yorker. His plays, including I Hate Hamlet and Jeffrey, have been produced both on and off Broadway and around the world. His first young adult novel, Gorgeous, was called a "wicked good time" by the New York Times Book Review. Under the pen name Libby Gelman-Waxner, he is also the world's most beloved and irresponsible film critic. Paul lives in New York City. Find him online at
http://paulrudnick.com/
and on Twitter @PaulRudnickNY.
a Rafflecopter giveaway
1/18/2016-
The Cover Contessa
- Interview
1/19/2016-
Zach's YA Reviews
- Review
1/20/2016-
Swoony Boys Podcast
- Guest Post
1/21/2016-
Book Briefs
- Review
1/22/2016-
In Wonderland
- Interview
1/26/2016-
Avid Reader
- Guest Post
1/27/2016-
Eli to the nth
- Review
1/28/2016-

BookHounds YA

- Interview
1/29/2016-
A Dream Within A Dream
- Review