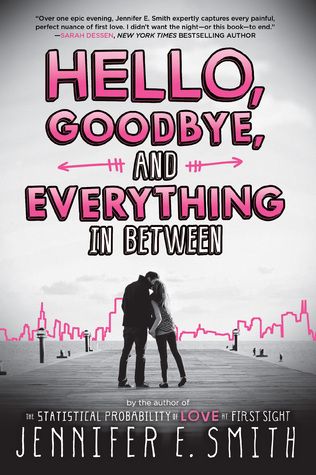 On the night before they leave for college, Clare and Aidan have only one thing left to do: figure out whether they should stay together or break up. Over the course of twelve hours, they retrace the steps of their relationship, trying to find something in their past that might help them decide what their future should be. The night leads them to family and friends, familiar landmarks and unexpected places, hard truths and surprising revelations. But as the clock winds down and morning approaches, so does their inevitable goodbye. The question is, will it be goodbye for now or goodbye forever?

Charming, bittersweet, and full of wisdom and heart, this irresistible novel from Jennifer E. Smith, author of The Statistical Probability of Love at First Sight, explores the difficult choices that arise when life and love lead in different directions.
Title: Hello, Goodbye, and Everything in Between
Author: Jennifer E. Smith
Publisher: Poppy
Publication Date: September 1, 2015
Brooke's Review:
I want to thank Poppy for supplying me with a copy of this book to read and give an honest review. Receiving this book for free has in no way altered my opinion or review.
So far I've really enjoyed Jennifer E. Smith books. Usually I get a bit frustrated at the open endings of the books. I can see the author wants you to draw your own conclusions as to where the romance goes. But I like a nice solid ending. One that wraps it up and tells me the romance remains strong or fizzles to nothing. But I also understand that theses stories are about teenagers. Teens who have no real life experience and would be remiss to commit at such a young age.
This story really touched a spot for me. I love the idea that Clare wants to take 24 hours to "relive" parts of her relationship with Aidan and see if it's worth them sticking out a long distance relationship after their graduation from HS. One last "fling" to decide if their bond is strong enough to weather such a storm.
Clare is very practical in this book. She really pushes her feelings for Aidan aside during her 24 hour experiment. Part of me understands this detachment. Perhaps distancing herself will enable her to move on without the heartache she inevitably feels will come no matter what. I like that she sticks to her guns on how she feels about their separation, though you see her waiver quite a bit throughout their night as she relives all the sweet an wonderful moments they have shared.
Aidan can't see why Clare wants to split. He's determined to change her mind. He's sweet and loving and wants to show no mercy with his thoughts on where they stand. He believes there's more to them than just a HS fling and he's willing to fight it out. But he also is understanding of Clare's position. After all they will be so far apart and who knows what will come between them.
As with all Smith's books, she touches on real life experiences of teens. Both characters are very relatable and real. Their feelings are conveyed effectively through their words and actions. At no point did I feel like I didn't understand them. I love how Smith picks things apart and then puts them back together. I particularly love the ending of this book, which I won't spoil but it put the biggest smile on my face to read the very last page.
This story is much shorter than her other books but it's no less effective in evoking all those strong feelings we may have felt as teens. Even being separated from friends, not just boyfriends, was a tough adjustment. In the end, you can see how strong ties keep people in each others thoughts and hearts. This book conveys the truth of life. Fans of Smith's other books and Stephanie Perkins will enjoy this addition to Smith's repertoire.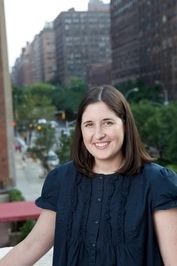 Jennifer E. Smith is the author of Hello, Goodbye and Everything in Between, The Geography of You and Me, This Is What Happy Looks Like, The Statistical Probability of Love at First Sight, The Storm Makers, You Are Here, and The Comeback Season. She earned her master's degree in creative writing from the University of St. Andrews in Scotland, and her writing has been translated into 31 languages.