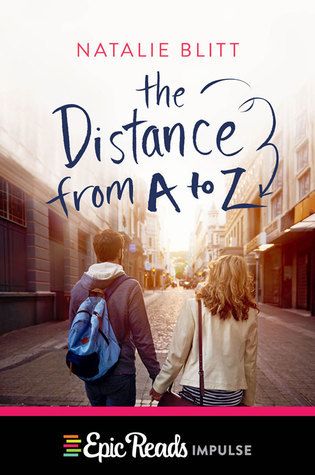 This full-length novel by debut author Natalie Blitt is a pitch-perfect blend of Stephanie Perkins and Miranda Kenneally that proves the age-old adage: opposites attract.
Seventeen-year old Abby has only one goal for her summer: to make sure she is fluent in French—well, that, and to get as far away from baseball and her Cubs-obsessed family as possible. A summer of culture and language, with no sports in sight.
That turns out to be impossible, though, because her French partner is the exact kind of boy she was hoping to avoid. Eight weeks. 120 hours of class. 80 hours of conversation practice with someone who seems to exclusively wear baseball caps and jerseys.
But Zeke in French is a different person than Zeke in English. And Abby can't help but fall for him, hard. As Abby begins to suspect that Zeke is hiding something, she has to decide if bridging the gap between the distance between who she is and who he is, is worth the risk.
Title: The Distance from A to Z
Author: Natalie Blitt
Publisher: HarperCollins
Publication Date: January 12, 2016
Brooke's Review:
I want to thank Harper Collins for providing me with a copy of this book to read and review. Receiving this book for free has in no way altered my opinion or review.
I absolutely adored this story. I am a big fan of the usual tropes: friends to lovers, love that is forbidden, and especially "enemies" to lovers. And this book covers that last one. Ok, so the main characters aren't "enemies", perse, but they are two pretty different people. At least that's what it seems like on the surface. But what you see is not always what you get!
Abby has a plan and she's sticking to it: immerse herself in French, get a recommendation from her professor and go abroad to France for her last semester of school. She's in love with anything French. And she will let nothing stand in her way. So when she enrolls in a course to help this dream along, she's happy to be distanced from her sports loving family and not have anything to do with them. What's she's not expecting is Zeke. He's definitely a jock, into the baseball she's trying so hard to escape. But she's stuck with him as a partner. And Zeke turns out to be nothing like she expected.
I really like Abby. She's determined with goals. She's extremely smart and is willing to work hard for what she wants. I love that she pushes herself. I also love that, even though she's against being anything more than partners with Zeke, she doesn't actually let his jock status completely cloud her ability to become friends with him. Yes, he's what she's been avoiding, but she allows herself to see other sides of him. Of course she's not expecting to have any feelings for him, or be attracted to him in any way. She's outright determined to keep things simple and make sure her life goes as planned. I love how the wrenches that are thrown her way make her think and act in ways she was not expecting. And I love how much she enjoys learning. Definitely a girl after my own heart.
Zeke is not what I expected at all. He's a jock, but he's soft underneath. Full of culture and language and things I wasn't expecting. Talk about stereotyping, I didn't expect this baseball loving guy to so charming with such a love of culture. And Abby wasn't expecting it either. I love that it takes her by surprise. But Zeke keeps secrets. Abby doesn't feel she has a right to ask him about them, but that doesn't stop her from being curious. He opens up to her a bit, but he's tight lipped for the most part. And he should be. His secret will scare Abby away, and he doesn't want that because he's definitely falling for this girl.
The plot of this story is perfect. I will say, I had a feeling about where it would go with Zeke's secret, but it didn't stop me from wanting to get to the meat of the matter. I loved watching him and Abby grow and change and experience all things French together. It definitely had that Anna and the French Kiss vibe going on with it, and I really enjoyed that book. Opposites attracting is always a fun scenario. I loved watching each character discover that they had more in common than they could have possibly thought.
The romance was really well done in this book. The characters took their time getting to know one another. No insta-love at all. I was glad for this. I like to watch the growth and feel the tension mounting before things burst. For me, this makes a good romance worth the wait.
And I love the supporting characters, mostly Alice. She's just perfect for Abby and their friendship mimics what I've seen between best friends all my life. They are truly friend soul mates. It's fantastic how they immediately connect and both look out for each other.
Overall this was a perfect, fast and fun read. I loved the writing and the plot. I would definitely read more from this author! Fans of Stephanie Perkins and Jennifer Smith will fall head over heals for Abby and Zeke and their story!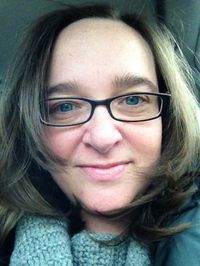 Originally from Canada, Natalie Blitt grew up on a steady diet of loyalist adventure stories. It wasn't until she moved to Chicago after graduating from McGill and receiving a journalism degree from the University of King's College, that she learned that not everybody sees the loyalists as the heroes. Now living in the Chicago-area, she dreams up young adult novels of a different sort: more kissing, less guns, but always a lot of loyalty. Natalie works at an education think tank and lives with her husband and their three sons. She knows a lot about baseball. She has no choice.
Natalie is represented by Rena Rossner at the Deborah Harris Agency.