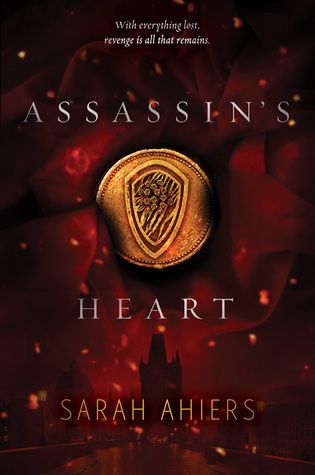 In the kingdom of Lovero, nine rival Families of assassins lawfully kill people for a price. As a highly skilled member of one of these powerful clans, seventeen-year-old Lea Saldana has always trusted in the strength of her Family. Until she awakens to find them murdered and her home in flames. The Da Vias, the Saldanas' biggest enemy, must be responsible—and Lea should have seen it coming. But her secret relationship with the Da Vias' son, Val, has clouded her otherwise killer instinct—and given the Da Vias more reason than ever to take her Family down.
Racked with guilt and shattered over Val's probable betrayal, Lea sets out to even the score, with her heart set on retaliation and only one thought clear in her mind: make the Da Vias pay.
With shades of The Godfather and Romeo and Juliet, this richly imagined fantasy from debut author Sarah Ahiers is a story of love, lies, and the ultimate vengeance.
Title: Assassin's Heart
Author: Sarah Ahiers
Publisher: HarperTeen
Expected Publication Date: 2/2/2016
Brooke's Review:
I want to thank HarperTeen for providing me with a copy of this book to read and give an honest review. Receiving this book for free has in no way altered my opinion or review.
Just the blurb for this book sounded so awesome. There was no way I wasn't going to read it. I thought for sure it would be like Throne of Glass, which is one of my all time favorite fantasy series. And I really enjoy assassin books (ToG, His Fair Assassin). So, given the chance to read such a book, I jumped at the chance. And many of my fellow book lovers were enjoying this one, so why not?
Unfortunately, this book just missed the mark for me. It's a combination of things that did it for me. First and foremost the pacing. It was way too slow for me. I wanted more action, but it just wasn't there. And where there was action, it seemed the same as the last action scene. Repetitive to say the least.
Lea was a little too flat for me. I never really felt her emotion in her words or actions during the entire story. I wanted to have empathy for her, I truly did. But I just could not bring myself to feel sorry for her. Maybe it was how many times in the first seven chapters she told me about her forbidden love. Or maybe it was her complete lack of caring for anyone else but herself. Whatever it was, it made me dislike her more than like her. And disliking the main character of the book really doesn't put you in a good space.
The world was another issue I had with this book. I didn't really understand the world. I needed to know more of why it became the way it was. I feel in fantasy this is the most essential part of telling the story. I don't know the world, since it's fantasy, so the author really needs to show it to me. I just couldn't picture this one in my mind. And I didn't really understand the rivalry.
The thought of murder being ok is not unheard of. We see it in many dystopian books. However, I just didn't feel the reasoning behind the assassinations that took place. Truly, they weren't assassinations, they were murders. And murder is condoned as long as it's done by one of the families? What gives them the right to be above any kind of law? That was never explained in depth enough for me to feel it was believable. I do see where it was Godfather like in this way, though. So at least there's a connection with that comparison.
I'm not going to go into the romance too much. I will say there was a forbidden romance and then another romance and I didn't feel either of them. I knew from the start one was doomed. And the huge hint that lover threw at her at the beginning of the book had me pulling my hair out when she just said, "What did that mean?" and moved on. It was very obvious to me what would go down. And the fact that they reference Romeo and Juliet as a background for this story only fits into the first few chapters. I'm not sure how it can be toted as that.
Last but not least, there is a bit of a paranormal aspect to this story which I just didn't see as fitting in. Honestly, the way it was presented was confusing at best.
Unfortunately, this one missed out on so much for me. It could have been epic in it's execution but the slow pacing, unbelievable world and flat characters had me literally pushing myself to pick it up and finish it. If I hadn't vowed to try and not DNF books this year, this would have been over in the first 20% for me.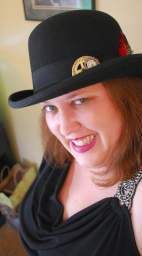 I was born on a February afternoon 2 minutes before my twin sister. Angels wept or something, I suppose.
After a happy childhood filled with fun and family, I obtained a BA in English with an emphasis in fiction writing from the University of Minnesota, during which I was a bookseller. I also spent a semester as the fiction editor of The Wayfarer, the literary magazine for the U of MN.
I am currently enrolled in Hamline University's MFA in Writing for Children and Young Adults and am repped by Mollie Glick of Foundry Literary + Media
I live in a suburb of St Paul, MN in a house I own with my twin sister. We share the house with our brother, 3 dogs, 4 guinea pigs, 2 cockatiels, fish and occasional foster animals from the shelter.
Besides writing and reading, I enjoy dogs, animals, my family, board games, yard games, video games, cooking, gardening and dressing up for the MN Renaissance Festival.