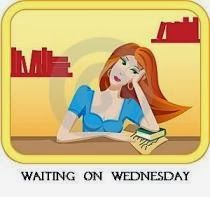 Waiting on Wednesday is a weekly meme hosted by Jill from Breaking the Spine that spotlights upcoming releases we are eagerly awaiting!
Blurb:
Wilhelmina has a hundred enemies.
HER FRIENDS HAVE TURNED. After her identity is revealed during the Inundation, Princess Wilhelmina is kept prisoner by the Indigo Kingdom, with the Ospreys lost somewhere in the devastated city. When the Ospreys' leader emerges at the worst possible moment, leaving Wil's biggest ally on his deathbed, she must become Black Knife to set things right.
HER MAGIC IS UNCONTROLLABLE. Wil's power is to animate, not to give true life, but in the wraithland she commanded a cloud of wraith mist to save herself, and later ordered it solid. Now there is a living boy made of wraith—destructive and deadly, and willing to do anything for her.
HER HEART IS TORN. Though she's ready for her crown, declaring herself queen means war. Caught between what she wants and what is right, Wilhelmina realizes the throne might not even matter. Everyone thought the wraith was years off, but already it's destroying Indigo Kingdom villages. If she can't protect both kingdoms, soon there won't be a land to rule.
In this stunning conclusion to THE ORPHAN QUEEN, Jodi Meadows follows Wilhelmina's breathtaking and brave journey from orphaned criminal on the streets to magic-wielding queen.
The official stuff:
Jodi Meadows lives and writes in the Shenandoah Valley, Virginia, with her husband, a Kippy*, and an alarming number of ferrets. She is a confessed book addict, and has wanted to be a writer ever since she decided against becoming an astronaut. She is the author of the INCARNATE Trilogy and the forthcoming ORPHAN QUEEN Duology (HarperCollins/Katherine Tegen). Visit her at www.jodimeadows.com
*A Kippy is a cat.
The unofficial stuff:
Like many writers, I've always wanted to do this professionally. You know, after I decided against being an astronaut.
Unlike many writers, I didn't skip straight from picture books to adult novels. I have fond memories of going to Bookstop every month for the latest Baby-Sitters Club (which I kept reading, even after I realized they were never going to let the paranormal elements be real), and even fonder memories of hanging out in my middle school library. The librarians probably knew exactly what they were doing when they suggested book after book and discussed them with me at length. I, of course, had no clue they were turning me into a book addict, but it worked out for the best. Once I found the books where magic and other fantastic elements were real, I was hooked.
When I was twenty, I met a boy, moved 1,500 miles, and married him all within six months. I now realize that was crazy and dangerous, but it seemed natural at the time and, again, worked out for the best. Not only did we stay madly in love, he worked full time at a hard job so I could stay home to write books and, hopefully, one day get published.
The other crazy thing we did was fall in love with ferrets. They have their own bedroom.
My hobbies, aside from spending all my money on books and Kippy/ferret treats, revolve around yarn. I love crocheting, knitting, and spinning. In addition to several handspindles, I share my living room with a spinning wheel named Bob.