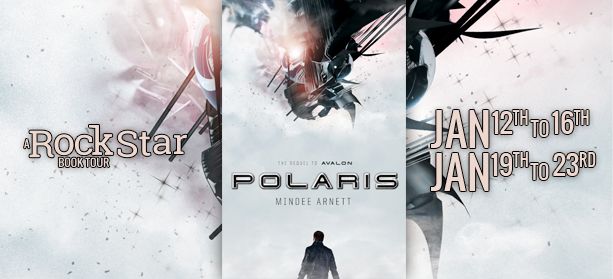 Welcome to The Cover Contessa's stop on the Polaris blog tour! We are very excited to be taking part in helping spread the word for Mindee Arnett's most awesome second book in her Avalon Series!
Title: POLARIS
Author: Mindee Arnett
Pub. Date: January 20, 2015
Publisher: Balzer + Bray
Pages: 432
Formats: Hardcover, eBook
Jeth Seagrave and his crew of mercenaries are pulled into one last high-stakes mission in this breathtaking sequel to Mindee Arnett's fascinating and fast-paced sci-fi thriller Avalon.

Jeth Seagrave and his crew are on the run. The ITA, still holding Jeth's mother in a remote research lab, is now intent on acquiring the metatech secrets Jeth's sister Cora carries inside her DNA, and Jeth is desperate to find the resources he needs to rescue his mother and start a new life outside the Confederation. But the ITA is just as desperate, and Jeth soon finds himself pursued by a mysterious figure hell-bent on capturing him and his crew—dead or alive.

With nowhere to run and only one play left, Jeth enters into a bargain with the last person he ever thought he'd see again: Daxton Price, the galaxy's newest and most fearsome crime lord. Dax promises to help Jeth, but his help will only come at a price—a price that could mean sacrificing everything Jeth has fought for until now.

The conclusion to the story Mindee Arnett began in her acclaimed novelAvalon, Polaris is a dangerous journey into the spaces between power and corruption, life and death, the parts of ourselves we leave behind, and the parts we struggle to hold on to.
Today we are excited to welcome Mindee for a guest post.
We asked her:
Your a scientist inventing a way to time travel, who do you introduce it to first? Why? What exactly does it do?
Let's see what she answered!
Here's the thing. Time travel is tricky, no? I mean, there're all kinds of theories about paradoxes and how mucking about with time could go really badly. Not just bad as in causing yourself not to be born in the future like poor Marty McFly almost did, but bad as in DESTROY THE UNIVERSE.
Then there are the more philosophical theories such as if you go back in time and kill Hitler to prevent World War II and the Holocaust then all you will do is take away the motivation to invent the time travel in the first place thereby creating another paradox. Or what if time isn't a flat circle (yes, I couldn't help myself with a random True Detective reference) but a big ball of string with lots and lots of parallel universes, so that if you do make a change to the past, you only succeed in creating a new universe and not fixing the one you intended to in the first place?
So what would I do first with my own time machine? Well, I definitely wouldn't move forward in time. I just have no interest in spoilers, like finding out how bad things probably are in the future or running across my own untimely death or discovering that time is not infinite but finite and bumping into the very END OF ALL THINGS. I would definitely have to go back in time. I would visit all my favorite historical periods to get a glimpse of what life was really like during the Regency Era or the Old West or the Renaissance. But I think I would also feel compelled to right some wrong in the past. But it would have to be something that wouldn't destroy the universe. It would have to be a change for the better of humanity but with no risks involved. Given those parameters, the answer is simple.
I would go back in time and stop the cancellation of Firefly.
Yep, that sounds like a good plan. I would travel back circa 2000, kidnap the executives at Fox, and bring them forward in time to show them the lasting impact of the show. I would convince them that canceling Firefly is pretty much the worst decision they could ever make. Once done, I would take them back safe and sound. Then I would return to our time and spend days and days marathoning all the episodes I missed.
Wait…but what if time isn't that flat circle? What is the new Firefly episodes only exist in the alternative universe I inadvertently created when I went back in time the first time? It's definitely possible. I mean, who really knows? The issue with humans and time travel is that we can't really perceive time as a whole dimension. For us, it's only a half dimension—we only move forward in time and we can only experience it as it happens. We can't capture time or stuff it under a microscope or pull it apart like threads in a tapestry. We are caught in our own timelines like flies in a spider's web.
But have no fear. My time machine was created from alien tech—beings who are capable of perceiving time as a whole dimension. It might take some refining, but soon the time machine will be able to move backward, forward, and sideways in time, including into all those parallel dimensions. Once done, I'll take my supped-up, alien time machine and jump into that other time line. I'll snatch a copy of the entire Firefly 12-year collection and bring it back to our time where I'll share it with all of you. It's a promise.
Thanks for having me and thanks for such a fun prompt!
We are totally in love with her answer! What do you think?
Thanks so much for being here today, Mindee! Fantastic to have you!
About Mindee:
Mindee Arnett lives on a horse farm in Ohio with her husband, two kids, a couple of dogs, and an inappropriate number of cats. She's addicted to jumping horses and telling tales of magic, the macabre, and outer space. She has far more dreams than nightmares.
a Rafflecopter giveaway
Tour Schedule:
Week One:
1/12/2015-
Bewitched Bookworms
- Interview
1/13/2015-
The Eater of Books!
- Review
1/14/2015-
Nerdophiles
- Guest Post
1/15/2015-
Blogging Between the Lines
- Review
Week Two:
1/19/2015-
The Cover Contessa
- Guest Post
1/20/2015-

Spiced Latte Reads

- Review
1/21/2015-
Such a Novel Idea
- Interview
1/22/2015-
Reading YA Rocks
- Guest Post