Cadence is in a race against time and space to save her family and friends from the Unmakers, who are tracking the last vestiges of humanity across the cosmos. As the epic battle begins, Cade learns that letting people in also means letting them go. The universe spins out of control and Cade alone must face the music in the page-turning conclusion to Entangled.
Title: Unmade (Entangled #2)
Author: Amy Rose Capetta
Publisher: HMH Books for Young Readers
Publication Date: January 13, 2015
Brooke's Review:
Thank you to HMH Books for Young Readers for supplying me with a copy of this book early to read and give an honest review. Receiving this book for free has in no way altered my opinion or review.
If you haven't read the first book in this series, I cannot promise there won't be spoilers. So you have bee forewarned. Also, I don't think you will understand this book if you haven't read the first one. So go on, go back and read the first (which has just as a gorgeous a cover as this one) and see what the music brings.
Music, yup, that's what a said. It's a central part of this series. The main character, Cade (Cadence) hears the music, as in everyone's song. Everyone has a song they carry with them. Everyone, that is, expect the evil Unmakers who are bent on destroying every last human so they can create a new universe for themselves. A universe without all the complex emotional baggage that comes with being a human.
This book leaves off right where Entangled ended. Cade has her mother back, even with the space sick. But now she and her crew have being thrust in the thick of it and are trying to save the human race. Without revealing too much you definitely see action and adventure. And yes, there is even romance (although there is some angst and mistrust associated with it) and drama. The characters grow and develop even more.
I have to say that, although this book is slated as young adult, the characters really do come across to me as much more adult. Mostly in their actions towards and with each other. Also in how they address one another as well as their relationships. There is a complexity that comes with how they are with one another that you would not see in normal teens. Perhaps because it is futuristic and takes place many years in the future after the world has gone through so much destruction. It's not that it's above a teen's head, but it's more concerned with how characters come to trust one another and the trials they go through to get there.
The writing itself is musical and heavily based on that. It's intricate and poetic. Sometimes to the point I would have to go back and re-read a paragraph or two to have it make sense to me. This is not a book you can read with distractions around. You really need to have your total focus on the words being used, the lines being formed and the paragraphs that are laid out on the page. And there is a lot of darkness in this book. It's not one big happy go lucky, oh my heart is flying kind of book. It's deep, complex and rich in how it's presented on the page.
The plot is, of course, similar to the first book. The humans are now fighting for their lives, literally. If you enjoyed the first book you are sure to like this one just as much. Lovers of Beth Revis' Across the Universe series will find this series will really catch their eye!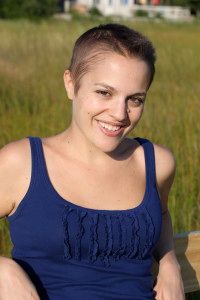 I grew up in New England, running wild in the woods and reading (often at the same time.) As a teenager, I added other activities, like competitive scowling, starting a filmmaking company with my best friend, and writing my first novels in composition notebooks.
I moved to Northern California, fell in love with redwood trees, and became open to the idea of avocados. I have since lived in Brooklyn (resulting in bagels), Austin (resulting in semi-frequent use of the word "y'all"), and Chicago (resulting in three pairs of boots.) I now live in Michigan, where I have a serious relationship with its many farmer's markets.
I wrote plays and screenplays before I circled back to my first love, novels. I hold an MFA in Writing for Children and Young Adults from Vermont College of Fine Arts. No matter where I go, Montpelier is my second home.
When I'm not busy working on the next story, I also edit, critique, and coach writers. If you're interested in knowing services and rates,
send me an email
.