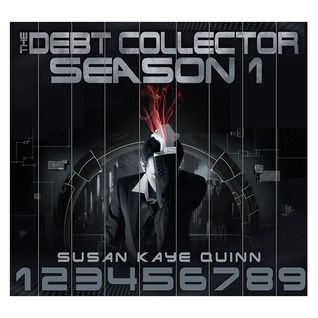 Genre: Urban Fantasy with a Cyberpunk Twist
Date of Publication: Mar 2013
Cover Artist: Steven Novak
What's your life worth on the open market?
In this gritty urban fantasy, debt collectors take your life energy and give it to someone more "worthy"... all while paying the price with black marks on their souls.
Lirium plays the part of the grim reaper well, with his dark trenchcoat, jackboots, and the black marks on his soul that every debt collector carries. He's just in it for his cut, the ten percent of the life energy he collects before he transfers it on to the high potentials, the people who will make the world a better place with their brains, their work, and their lives.
That hit of life energy, a bottle of vodka, and a visit from one of Madam Anastazja's sex workers keep him alive, stable, and mostly sane... until he collects again. But when his recovery ritual is disrupted by a sex worker who isn't what she seems, he has to choose between doing an illegal hit for a girl whose story has more holes than his soul or facing the bottle alone--a dark pit he's not sure he'll be able to climb out of again.
***first episode of the nine-part serial***
Season One - Lirium – COMPLETE
Episodes 1-9: Delirium, Agony, Ecstasy, Broken, Driven, Fallen, Promise, Ruthless, Passion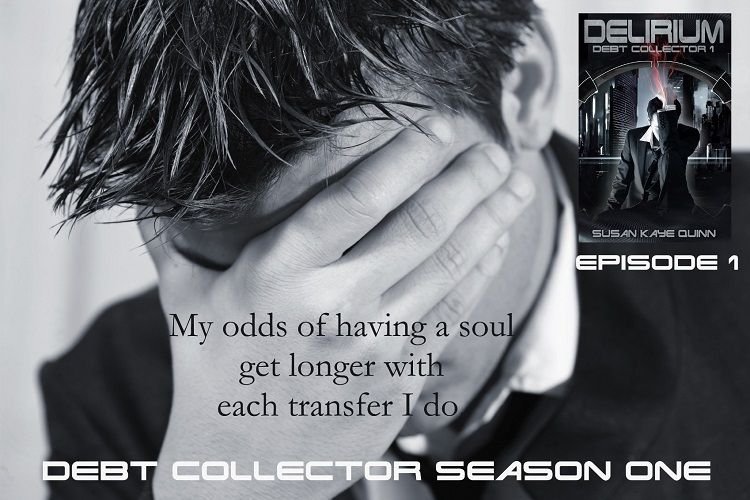 Season Two - Wraith **available for pre-order** releases 12.15.14
Episodes 10-18: Wraith, Specter, Menace, Temptation, Shattered, Penance, Judgment, Corruption, Atonement
"Quinn has a way of writing heart-breaking characters."
"You'll be holding your breath, looking over your shoulder, and begging for more."
Contains mature content and themes.
My jackboots are new, the latest ultra-light material out of Hong Kong's synthetics district, and they make a strange squeaking sound against the hospital floor. It's the kind of sound that might gather snickers or a raised eyebrow, but no one looks at me, at least not on purpose. I stroll past the ICU desk, taking my time, breathing in the antiseptic smell that masks the odor of death held back by machines and drugs and round-the-clock care. The nurses duck their heads and study their charts, ignoring me. As if catching my eye might mean I'm coming to collect their debt, rather than Mr. Henry's in Room 301.
The floor is so highly polished that I see the reflection of my trenchcoat running ahead of me, black as a midnight grave, a spook that lives on the surface of the oft-scrubbed tiles. It reaches the door to 301 before me and disappears in the dim, flickering light coming from the room. The spook has gone back where he belongs, into the dark recesses of my soul, assuming I still have one. If I was a betting man, I would say the odds of having a soul keep getting longer with every transfer I do. The older debt collectors, the ones who are still alive, don't have anything shining out of their dull-glass eyes, even when they're hyped up on a transfer. There's no telling what my eyes look like.
I stopped looking in the mirror a long time ago.
Mr. Henry's hooked up in all the usual places—tubes in his arms and monitor patches hovering over his temples and the blue-veined skin of his chest. His knobbed knees and shriveled legs stick out the end of the blanket. I don't know if he's tossed the blanket aside or the nurses just forgot to cover him up again after his sponge bath or whatever they do to prepare patients for a debt transfer. Goosebumps raise the hair on what's left of his legs into a small forest of gray fur. I tug the thin, white-weave blanket over his exposed legs, and Mr. Henry opens his eyes.
They're pale green and watery—washed out and used up like the rest of him.
"You've come for me," he says.
I pick up one of the hard-backed, plastic hospital chairs, the kind that makes you uncomfortable sticking around the ICU, just in case all the death-waiting-to-happen doesn't do the trick. I carefully set it down, backward facing at the head of Mr. Henry's bed, and settle in. I don't answer him, just study him for a moment over my laced fingers.
"What's your name, son?" he asks, which makes me lean back and mentally check over his file again. No, he's not an Alzheimer's patient. He shouldn't think I'm his son. And I'm only twenty, but no one's mistaken me for a boy in a while, not since I started collecting.
"Lirium," I say. It's just my collector name, short for Delirium. Some punk collector thought it was funny when we went through training and it stuck. I don't use my real name anymore, so it's as good as any. Most people don't ask.
"Is it going to hurt, Lirium?" His hand wanders out from the blanket, shaking a little and fluttering around his chest, like it's searching for something. Then it lands on the rail of his bed and grips it.
"No, sir." Relief gushes through me like water from a busted hose. When patients have been properly prepared, that's the question they ask. It means they're ready. I should thank the nurses on the way out, if I can get one of them to look at me. "It won't hurt at all, Mr. Henry. In fact, it will be a relief."
This isn't really true, but I imagine it will be better than what he's feeling now, all the aches and pains of the cancer slowly eating him from the inside out. This is where I usually tell them that transferring out is a good thing and how paying their debt will make the world a better place. I tell them it's better for everyone—they get relief from having to live the last painful stages of their disease, they're no longer a drain on the resources of the world, and someone else, someone in the height of their productivity, whose contributions to the world will be long lasting, will receive their debt and do even more with it than they can imagine. And I get my cut. Everyone wins!
I usually leave out that last part.
Brooke's Review:
If you do not read any other serial this year, you MUST read this one! Susan has done it yet again. She's taken science fiction and romance and action to a whole new level. She's sucked me right in with it, too! When I heard Sue was writing more, I had to get my hands on this. I loved her Mindjack trilogy so much!
What can I say, first of all, about this cover. I LOVE IT! It's such a great depiction of the main character!
And the main character, Lirium (or Delirium) well, he's just awesome. I love his way of telling his story. I didn't get a full sense of him, since this is only a novella and I know there's more to come but I can tell that he is independent and self serving, at least at first. As the story progresses you see him change a bit, beginning to mold into something he knows he's not supposed to be. But it's a better mold and he is pulled to take the risk of doing it. I find myself wanting to know more about him. Why did he take this job? What was it like for him growing up? And he's so young, how long has he been doing this? Where is his family? So many questions that I hope to have answered as I make my way through this series.
Susan has done something totally creative with this series, she is releasing the book in episodes. And let me tell you, she left me wanting the next episode RIGHT NOW! I love the dark world she has created where people give up their life force to pay off their debt. I need to know more about how this came about and why? I need to know about those who might be bucking the system and those who might be taken too early with so much life force yet left to live!
And her writing, oh her writing! It's just great. It flows so easily and pulls you right through the story. I couldn't put it down once I picked it up.
This story really captivated me and I am already addicted. It's edgy and different. It will suck you right in. So go get your copy and jump on the ride that is The Debt Collector!
5/5 stars!
Susan Kaye Quinn is the author of the bestselling Mindjack Trilogy and the Debt Collector serial, as well as other speculative fiction novels and short stories. Her work has appeared in the Synchronic anthology and has been optioned for Virtual Reality by Immersive Entertainment. Her business card says "Author and Rocket Scientist" but she mostly sits around in her PJs in awe that she gets to write full time.