Blurb:
YOU CAN BE A VII. IF YOU GIVE UP EVERYTHING.
For Kitty Doe, it seems like an easy choice. She can either spend her life as a III in misery, looked down upon by the higher ranks and forced to leave the people she loves, or she can become a VII and join the most powerful family in the country.
If she says yes, Kitty will be Masked—surgically transformed into Lila Hart, the Prime Minister's niece, who died under mysterious circumstances. As a member of the Hart family, she will be famous. She will be adored. And for the first time, she will matter.
There's only one catch. She must also stop the rebellion that Lila secretly fostered, the same one that got her killed …and one Kitty believes in. Faced with threats, conspiracies and a life that's not her own, she must decide which path to choose—and learn how to become more than a pawn in a twisted game she's only beginning to understand.
Previously titled Masked.
Title: Pawn (The Blackcoat Rebellion #1)
Author: Aimee Carter
Publisher: Harlequin Teen
Publication Date: November 26, 2013
Brooke's Review:
I want to thank Harlequin Teen for providing me with a copy of this book to read and give an honest review. Receiving this book for free has in no way altered my review or opinion.
I had heard so many good things about this book, I was really excited to read it. I needed a good Dystopian read. So I dove in head first. And I actually finished it fast. It was a quick read, easy writing, and interesting.
Kitty is an interesting character. A bit naive, but still with some street smarts, having grown up in the group home. She doesn't know who her family is and grew up only knowing she was an extra that was saved by her parents ability to pay for her to survive. I will say that she presents fairly strongly when thrown into impossible situations. But she also had this angst about her that I really thought should have been overcome by the time she had turned the age of 17. Seems to me someone who grew up in such a tough atmosphere should have quite a thick skin, but I just didn't see it. I just couldn't fall in love with her, though. I felt like something was missing. I needed her to be more courageous, more forthcoming, more willing to fight.
Benjy, I didn't get the romance between him and Kitty. We're told they are a couple, but I just didn't feel it. He seemed nice enough but, other than him having red hair, I can't see he struck me as anything special. I really didn't understand what she saw in him. And he was protective of her, but almost to a fault, telling her over and over again that they would be together no matter what. I would think in a dystopian world, the characters would be somewhat drawn towards self-preservation, but he just didn't seem to have that. His love was probably slated to be unconditional, but I just wasn't feeling it.
Knox, well, I'm really not sure what to make of him. I know he's supposed to present as some sort of romantic interest but I didn't feel it at all. He's extremely protective of Kitty, but also tells her that he would not hesitate to kill her if need be. I just didn't get it. I had a hard time gauging my feelings for him. I couldn't tell whose side he was on. Not sure if that was the point, but it was kind of frazzled for me.
I liked the writing a lot. It was easy to read and flowed well. There was a fast pace to it that certainly helped move it along and kept me wanting to read. That's evidenced by the fact that I finished the book so quickly. I will say that I would have liked to see more happen in the first half of the book. There's a fair amount of world building that takes place, which certainly lends to the credibility of how the society is run. And you see the corruption that always infiltrates these types of societies.
The classification system was believable enough. But I just didn't get the distinctions of the classes. It seems the I and IIs are fated to never be anything. Then we hear a lot about the IIIs, because of Kitty, but not much about the IVs or Vs. Then we know the VI and VII's are high in society. I just needed to see more of the classes and distinctions to understand how they fit into society.
Overall I enjoyed this book, though not as much as I would have liked. The ending left me needing to read the next book for sure.
For the past two months, Kitty Doe's life has been a lie. Forced to impersonate the Prime Minister's niece, her frustration grows as her trust in her fake fiancé cracks, her real boyfriend is forbidden and the Blackcoats keep her in the dark more than ever.

But in the midst of discovering that her role in the Hart family may not be as coincidental as she thought, she's accused of treason and is forced to face her greatest fear: Elsewhere. A prison where no one can escape.

As one shocking revelation leads to the next, Kitty learns the hard way that she can trust no one, not even the people she thought were on her side. With her back against the wall, Kitty wants to believe she'll do whatever it takes to support the rebellion she believes in—but is she prepared to pay the ultimate price?
Title: Captive (The Blackcoat Rebellion #2)
Author: Aimee Carter
Publisher: Harlequin Teen
Publication Date: November 25, 2014
Brooke's Review:
I want to thank Harlequin Teen for providing me with a copy of this book for an honest review. Receiving this book for free has in no way altered my opinion or review.
After the ending of Pawn, I was excited to read this one. I flew through Pawn. And, while I didn't think it was the best dystopian I've ever read, I really did enjoy it. So I figured I'd be even more intrigued by this one and couldn't wait to dive in.
The book picks up shortly after Pawn has finished. If you didn't read the first book STOP HERE as there will be spoilers in this review for that book.
Kitty has settled into her roll of Lila and accepted that it is her destiny to do what is needed to make sure things are set right She goes along with Knox's plans and truly believes they can outwit Daxton. But things don't turn out as she thought they would. She ends up in the place she least expected, having lost everything she ever wanted and more. She does fight back, and I will say that this book brought a more courageous Kitty. One that I could see as working for the rebellion. She really didn't put up with anything from anyone, which was definitely a change from the Kitty of the first book.
Knox still remains quite a mystery to me. I'm not sure how we are supposed to see him. He seems as though he cares for Kitty, and yet he is willing to sacrifice her at every turn. This annoyed me for the most part. And I'm still not sure if he is romantically interested or not. It's just not clear. He still seems a little wishy washy. I don't like him but I don't hate him. I just don't know what to make of him. He annoyed me a bit because he's always telling Kitty what not to do. And you know she's just going to do the opposite of what he says.
We also meet a few new characters in this book: Hannah and Soctia and Mercer. They contribute well to the story and there are some shocking discoveries from them.
The romance is still baffling to me. I just don't feel it. I almost feel like it's forced. And I'm still waiting for some kind of big reveal where Knox is concerned.
There is a lot of killing in this book. I was quite surprised with it, to be honest. Carter killed off tons of people, without a second thought. And while they were meant to be shown as sacrifices so others would stay in line, it just was not believable to me.
There is also a lot of world building, since we are taken to a different place in this book. The transition is a bit odd, although not unexpected. But it just didn't feel like there was enough build up to have it get to the point that Kitty would end up where she did. It seemed as though there would have been more resistance and redirection from those who wanted to keep Kitty as Lila.
Carter did a decent job moving the story forward, though I have to say this one did not pull me in as much as the first. There's much more action than the first book and a lot of situations you think for sure people won't be able to overcome (and some don't). I also think this book was more interesting than the first book as far as finding out about the society. I still need more about the classification system, but I don't think I'm going to get it if I haven't gotten it already.
Based on the ending of the book, I certainly want to read the next one to see where the rebellion takes us and how things work out.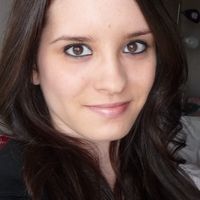 Aimée Carter is the author of The Goddess Test series and The Blackcoat Rebellion series, both out now from Harlequin Teen. Simon Thorn and the Wolf's Den, the first book in a new middle grade series, will be published by Bloomsbury in Fall 2015.