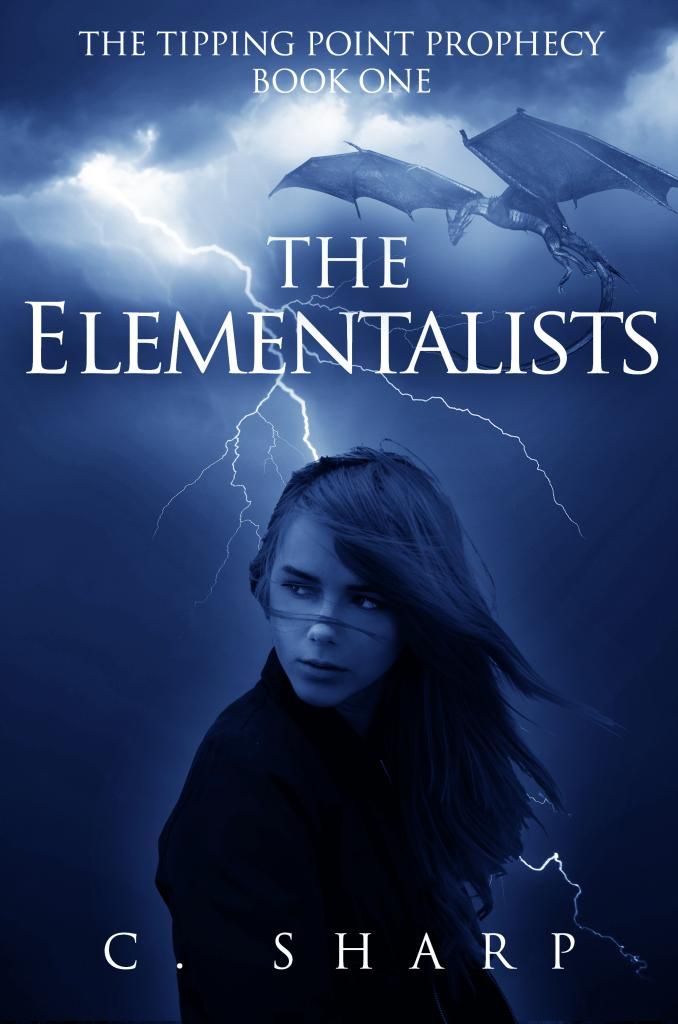 Rising sea levels, droughts, earthquakes, tornadoes. Far below the earth's crust, imprisoned in ancient slumber, the elemental powers of the land grow restless…

Meanwhile, in small town Virginia, Chloe McClellan's first day of sophomore year was an epic fail. After she becomes the target of the fiery queen of the It-Girls in gym, she gains instant notoriety when she's struck by lightning. That's when things start to get weird.

There are disconcerting gaps in her memory, and freaky weather seems to follow her everywhere. She comes to believe that either she's going insane, or her accident has awoken a terrifying creature from mythology, triggering the final countdown to the extinction of humankind.

Chloe finds unlikely help from a trio of male classmates: the grounded captain of the football team, the flighty stoner with a secret, and the enigmatic transfer student who longs for the sea. All the while, she struggles with the growing realization that dragons exist, and she, and her friends, may be the only ones who can stop them.

In the first book in the epic new Tipping Point Prophecy series, global dragon mythology is reimagined against a backdrop of ecological disaster, high school angst, and the power of the human spirit when working in accord with the elements.
Title: The Elementalists
Series: The Tipping Point Prophecy (Book One)
Author: C. Sharp
Genre: Young Adult
e-ISBN: 9781626813113
Price: e$4.99/p$16.99
Isis' Review:
I would like to thank Diversion Books & NetGalley for granting me a copy of this e-ARC to read in exchange for an honest review. Though I received this e-book for free that in no way impacts my review.
Easily one of the better blends of current events, as viewed by teenagers, and ancient mythology. This mythology is so old that most of the world has not only forgotten the acts themselves, but also all the warning stories that they spawned. The dragon featured in this opening book of the Tipping Point Prophecy series is clearly based upon the Chinese styled dragons of old, looking more serpent-like than dragons that come out of Western stories.
Chloe is the ideal main human protagonist, being somewhat close to the typical high school sophomore whose only desire is to get through the year unnoticed. But Chloe simply can't manage to go unnoticed for very long no matter how hard she tries. Luckily she has more of a backbone than she credits herself with, and that's a good thing as she'll need it. Often.
For a self-described nerd, the collection of friends Chloe amasses is pretty remarkable. There is Stan the stoner, who is willing to take pretty much anything Chloe says on faith. They end up bonded together, past the casual acquaintance level, by shared secrets. Ezra, a senior and the captain of the football team. Instead of falling at his feet and fawning over every move he makes, every word he utters, she is constantly calling him on his bullshit. So he grounds her and she gives him a slice of reality. Last but not least is Kirin, the object of her first crush. A transplant from the West Coast, Kirin is a surfer who has become stranded. Yet everything about him still seems fluid, when they're talking that is. Without even trying to Kirin has managed to get Chloe all twisted up, something she certainly wasn't expecting to feel for a boy. But once they admit to their mutual attraction they are excellent support for each other.
The scenes between Chloe and these three boys, as well as the reconciliation scenes with her former only, and best, friend Liz, are so authentic to her age range that it feels as if you're reading her journal and experiencing all the emotions right along with her. Sharp has managed to capture the inner turmoil that every high school student suffers through, regardless of their level of popularity (something most of us don't grasp until we've escaped the hormonal hell known as high school - no matter how popular and perfect someone's life appears on the outside, everyone has their own insecurities).
When Chloe discovers what appears to be a dragon she's terrified that she is becoming like her father. Schizophrenic. Yet the proof is there, and it is getting harder and harder for her to ignore it. The real test could be trusting her new friends with this secret, they'll either see the dragon and confirm her sanity or they won't, and her worst fears will be realized. Can she take that step? Is she willing to risk it all, including her budding new romance, to possibly save the world from a risk that may not even be real?
Regardless of the question of its reality, let's not leave out this several thousand year old dragon. The development of this creature is impressive, as are the details included. Not just visual details, but dietary requirements and problems. The world Uktena left is very much different than the world he awakens to. How he copes with the changes is fascinating, and easily fits in with Chloe's knowledge of the world, leaving her with nothing to hang onto as proof of her sanity.
As the story progresses the action arcs smoothly, keeping pace with the emotional drama as it unfolds. By the end I was ready to begin reading the second book in this series. The surprise at the end wasn't as surprising as it could have been for me, but then again I read so much I may unconsciously know some of the cues to watch for. I can honestly say that this is an entertaining, and at times exhilarating, read!
Chris Sharp grew up in the suburban wonderland of Alexandria, VA, where he cut his nerd teeth playing role-playing games and making gore movies with his friends.
He studied English Literature and Anthropology at Brown University, and Mayan Archaeology at the Harvard Field School in Honduras. He then spent sixteen years in Brooklyn, NY, where he worked in film and commercial production by day, and was yet another wannabe novelist by night.
His first book was a 900 page epic fantasy novel that waits in the depths of a dark box. The Elementalists is his second novel, and he really hopes you like it. His third novel is a pulp fantasy/crime fiction hybrid and is coming soon one way or another...
Some of the films he made with his childhood friends have gained international distribution and won numerous awards at festivals around the world. Chris now lives in Concord, MA, with his wife, daughter and an insufferable cat named Goblin.
a Rafflecopter giveaway