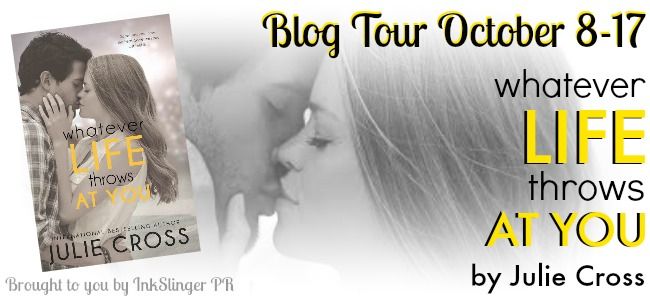 Welcome to The Cover Contessa's stop on the Whatever Life Throws at You blog tour!


Life loves a good curveball…
Seventeen-year-old Annie Lucas is too young to remember her dad's glory days as a pitcher for the Yankees. So when her father is offered a coaching position with the Kansas City Royals, Annie is intrigued to see the baseball side of her dad. Of course, knowing he'll be a mentor to hot young rookie pitcher, Jason Brody, certainly makes it more enticing.
After an awkward first meeting with "Brody" involving very little clothing and a much-too-personal locker room interview, Annie's convinced she knows Brody's type: arrogant, self-involved, bossy. As her dad grows closer to the pitching phenom, the friction between Brody and Annie increases. But when opening day arrives and it looks like both her dad and Brody may lose their dream jobs, Annie steps up and offers support. She and Brody call a truce that grows into friendship—and beyond. Falling for a rising star who's quickly reaching a level that involves rabid female fans is not what Annie would call smart, except suddenly she's getting hints that maybe this crush isn't one-sided after all. Could someone like Brody actually fall for a girl like her?
This isn't real. It can't be real. I must have fallen asleep at the wheel and crashed my car.
But I'm the opposite of drowsy. My senses have never been more alert in my entire life. Brody's mouth is soft against mine, and his hands slide across my cheeks, resting on the sides of my neck. Unlike that night in his car, when his lips part, instead pulling away he deepens the kiss. My eyes finally close and my mind is beautifully blank, endorphins flowing freely through my veins as my heart pumps at double speed.
I lift my hands and wrap them around his back, gliding my fingers up and down his bare skin, moving over his shoulders. How many times have I stared at him shirtless in the training room and been envious of old men touching and prodding him, wishing I had an excuse to do this? How many nights have I fallen asleep thinking up a moment just like this one?
His mouth breaks away from mine, arms wrapping around my back, sliding up my T-shirt. A shiver runs along my spine as we stretch out across the futon. We're completely pressed together. His heart thuds against my chest again, and his lips drift down to my neck.
When he raises his head, our eyes meet for a split second, both of us breathing heavy, hearts pounding. Then I reach for his dark hair, combing my fingers through it, pulling his mouth back to mine.
He brushes his fingers against my bra strap and then his mouth is traveling the length of my neck. I tilt my head back slightly, my chest arching into him.
"This is much better in real life," he whispers against my skin. "So much better than the fantasy."
My hands freeze in his hair. "You have fantasies about kissing me?"
Brooke's Review:
I want to thank Entangled Teen for providing me with an early copy of this book to read and review. Receiving this book for free has in now way altered my opinion or review.
I have to say there's nothing like a feel good contemporary. Even with the heart ache that usually accompanies it, I know I am bound to be happy in the end. And there's nothing like reading something from an author you love, but in a different genre and seeing she's just as good at this as she at anything else. I also just love me a contemporary that centers itself around a sport. Doesn't matter what sport, or whether or not I like said sport, as long as it's a sport!
You know when you just connect with a character and can feel everything they feel? That's how I feel about Annie. Annie is a smart girl. She knows what she wants. But that doesn't keep her from be a bit of an angsty teenager. And, while I sometimes get annoyed at this, I didn't find that to be the case with this book. She's so relatable. Very down to earth. There's nothing over the top about her. She comes off as your average teen, which I loved. And above all Annie is fiercely loyal to her family. She wants her father happy. So when he's offered an opportunity to coach, she shoves him at it. Even though it means she has to uproot her life, she's ok with that. The one thing I did find odd was that she was so willing. I don't know any teens at this age that would be ok with moving three quarters of the way through a the school year, and away from their friends. But we're never introduced to any of Annie's friends, it's almost like she doesn't have any. Considering she's a track star, this was bit hard for me to believe. But it didn't take away from how much I lived her character at all.
Jason Brody, talk about swoon worthy male character. He's a baseball player, fresh into the major leagues. And he's tossed into Annie's life because her father takes the job of coaching this unseasoned pitcher in the hopes he'll be just what he major league baseball team needs. Poor Jason is lonely, though. He has no family, at least none that he is in contact with. And, while he seems to be out there being the playboy, there's more to his public image than anyone imagines. I have a soft spot in my heart for strays like Jason. So when Annie's father pretty much takes him in, almost like his own son, my heart warms. And as he and Annie become friends, you can see they compliment each other nicely. One thing about Brody is that he wants to give it his all and make something of himself; to make up for all the screwing up he has done in his life.
Cross does a nice job with Annie's father, Jim. He's protective, to a fault in some instances. But he also lets her be her and he challenges her and he supports her. I love their relationship. And her grandmother is a great addition to the mix. When Annie deals with her you can see how much patience she really has. And Annie's best friend, Lenny, is a nice balance for Annie. She's the ting to her yang. Where Annie is centered, Lenny is a bit wild. But Lenny is also willing to sacrifice herself to see Annie happy, which was wonderful to see. I also adored Savannah. In lieu of Annie's absentee mother, Savannah becomes her ground and her sounding board. And she gives Annie great advice when she has no one else to turn to.
The character development in this book is fantastic. Annie isn't some hormonal teen that jumps right into love. As a matter of fact, she rationalizes and realizes where things might go wrong. But the heart wants what it wants. And Jason holds back, as well, knowing full well that if he gives in to what he wants it could jeopardize all that he's worked for. He's much more mature than his nineteen years, I will tell you that. The one thing the characters come to realize in this book is that it's possible to have a balance. It's possible to have your cake and eat it, too.
The book follows a season of baseball. The plot is well thought out and flows smoothly. There are not huge gaps where we don't know what happened, or strange glitches in the time line that leave us wondering. It's as fast, flirty, fun and sometimes heart breaking read. Some moments grounded me while others kept me on the edge of my seat wondering when everything would fall into place. Best of all the romance in this story is not overdone. It's just the right amount of swoon that I need to make me happy.
If you're looking for a book to read after, say, Katie McGarry or even Colleen Hoover, then this is the read for you!
Julie Cross lives in Central Illinois with her husband and three children. She's a former gymnast and longtime gymnastics fan, coach, and former gymnastics program WHATEVER LIFE THROWS AT YOUctor with the YMCA. She's a lover of books, devouring several novels a week, especially in the young adult and new adult genres. Outside of her reading and writing credentials, Julie is a committed—but not talented—long-distance runner, creator of imaginary beach vacations, Midwest bipolar-weather survivor, and expired CPR certification card holder, as well as a ponytail and gym-shoe addict.
a Rafflecopter giveaway