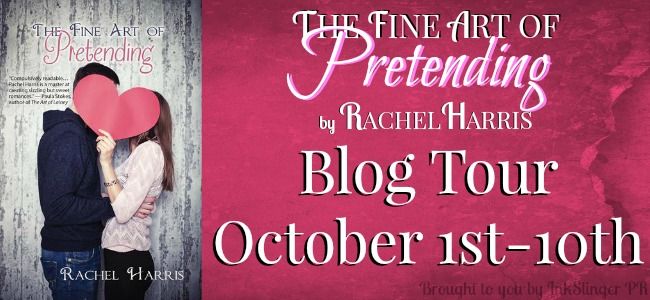 Welcome to The Cover Contessa's stop on The Fine Art of Pretending blog tour. I cannot tell you how excited I am to be taking part in this tour! This book is FANTASTIC, FABULOUS, and FREAKIN' AWESOME!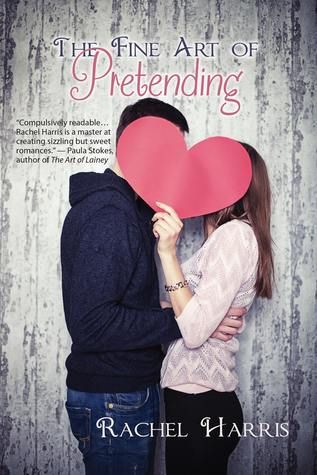 About THE FINE ART OF PRETENDING:
According to the guys at Fairfield Academy, there are two types of girls: the kind you hook up with, and the kind you're friends with. Seventeen-year-old Alyssa Reed is the second type. And she hates it. With just one year left to change her rank, she devises a plan to become the first type by homecoming, and she sets her sights on the perfect date—Justin Carter, Fairfield Academy's biggest hottie and most notorious player.


With 57 days until the dance, Aly launches Operation Sex Appeal and sheds her tomboy image. The only thing left is for Justin actually to notice her. Enter best friend Brandon Taylor, the school's second biggest hottie, and now Aly's pretend boyfriend. With his help, elevating from "funny friend" to "tempting vixen" is only a matter of time.

But when everything goes according to plan, the inevitable "break up" leaves their friendship in shambles, and Aly and Brandon with feelings they can't explain. And the fake couple discovers pretending can sometimes cost you the one thing you never expected to want.
Brooke's Review:
I want to thank Spencer Hill Contemporary for providing me with a copy of this book at BEA to read and review. Receiving this book for free has in no way influenced my opinion or review.
It's rare that a cute contemporary that I can relate to comes along. Even more rare that I can remember what it's like to be in high school and feeling all those feelings over and over again. Ms. Harris has managed to pull me right back to my high school days. Pull me right back to all those feelings of awkwardness, those feelings of crushing on someone but trying so hard to deny it. And I have to say I loved every single minute of reliving it.
Alyssa, she's a keeper. At least that's what the guys at Fairfield say. She's not one of the girls the guys go for just for a fling. She's the one they go for when they are playing for keeps. But Alyssa doesn't want to be that girl. So she reinvents herself into something else. Because she thinks this will make her happier. So does it? Well, I guess when you read the book you'll see. I will tell you this, Alyssa is strong and funny and sexy and smart. She knows what she wants and goes after it.
And Brandon, Aly's best friend. He's this sweet, sexy guys that all the girls want. And most of them get, at least for a night. But Brandon is hiding a secret, which I'm not going to tell you but you'll probably figure out pretty early on in the book! Above all he's a great friend, willing to help Aly try and achieve her goal by putting himself out on the line and pretending to be her boyfriend. I love that he's willing to give up his single status to help her out. But really I love that he wants to protect her. That he's not willing to allow her to change just because she thinks she needs to.
Rache's writing is fun and easy to read. I loved her banter between her characters. It really set the tone for each of them and their relationships with Aly and Brandon. Her character development is really on par. Each character has his or her own distinct personality. She makes it easy to like them all, even the ones your not sure you should. And I love that it is written from both Aly and Brandon's points of view. Each of them having a distinct enough voice that I was never confused as to who was talking.
This is a delightful tale of finding who you are and what you want. Of realizing that changing yourself doesn't mean it will be for the better. Of realizing that perhaps who you were before is just perfect. Is it a bit predictable, yes. But this was the draw of the story for me. I knew in the end I'd be happy, and I was anxious to turn each page to see how it would come about. The book will have you laughing, crying, anticipating, and biting your nails all at once. Lovers of sweet romantic stories with just the right amount of feels will eat Harris' book right up. I can't wait to see what's in store for book #2!
***I work as a publicist for Spencer Hill Press and this has in no way influenced my opinion***
Award-winning and Bestselling author Rachel Harris writes humorous love stories about sassy girls next door and the hot guys that make them swoon. Emotion, vibrant settings, and strong relationships are a staple in each of her books...and kissing. Lots of kissing.

An admitted Diet Mountain Dew addict and homeschool mom, she gets through each day by laughing at herself, hugging her kids, and watching way too much Food Network with her husband. She writes young adult, new adult, and adult romance, and LOVES talking with readers.
a Rafflecopter giveaway