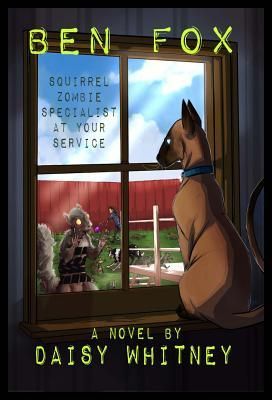 Ten-year-old Ben Fox has good friends, a great dog, and a lightning-fast little sister who drives him a bit batty. The only thing in the fifth grader's life that's truly annoying--well, besides having to wear braces on his feet every day--is the family's wily Siamese cat, Percy.
Ben has always suspected something was off about Percy, who has never shown him or his beloved dog, Captain Sparkles, much affection. But now he's sure something is off--Percy has raised an army of squirrel zombies in the backyard and they're ready to take on the dog.
It'll be up to Ben to figure out how to stop the dastardly cat before the dog falls prey to the feline's nefarious plans, especially since Percy and his newly reanimated squirrel friends are gunning for nothing less than a full-scale Animal Zombie Apocalypse--when all the dogs start to behave like cats.
If only Ben could enlist his mom's help in the undead animal war. But his mom is petrified of things that go bump in the night, so Ben's only hope is to team up with his little sister. The battle won't be easy though, because squirrel zombies are the most dangerous of all...
Today we welcome Daisy to the blog for an interview. Great to have you with us today, Daisy!
Did you always know you wanted to be a writer or did you want to
be something else?
When I was in high school I wanted to be a Broadway star. One three things got in the way of that dream. 1, I can't sing. 2, I can't act. 3, I can't dance.
Good thing I love writing!
How long does it take you to write a book from start to finish?
That completely depends on the book, but usually one month to four months at the most.
How do you come up with themes for your stories?
Great question! I think themes stem from the story and the characters. As I write, I focus on the plot and the characters and from there the theme often emerges.
Do you have a schedule of when you write?
As much as I can each day!
What elements do you think make a great story line?
A deep, emotional connection to the characters, clever dialogue, and ample twists and turns.
What was the hardest thing about writing a book?
Knowing when to let it go.
How many books have you written so far? Do you have a favorite?
I write under a pen name as well, and have written more than 20 novels total. Under this name, I have published six. My favorite, of course, is Ben Fox!!
Do you have a favorite character?
I'm quite fond of Ben Fox and his menagerie of pets.
Wherever I am! I usually write at home, but I've been known to write at the park, on airplanes, in cafes, at conferences, at fencing tournaments and more!
Have you gotten feedback from family about your book(s)? What
do they think?
My kids are very excited about Ben Fox since it's for middle schoolers!
What kinds of things do you like to do outside of writing?
I like to spend time with my family and my dogs, watch movies, and find interesting, quirky coffee shops to check out.
What kinds of advice would you give to someone who wants to
start writing?
Write, revise, edit. Do it again and again and again.
What is your favorite book? favorite author?
Harry Potter is genius and my favorite book ever.
Are you working on anything now?
I have a number of new books in the works. Stay tuned!
Thanks so much for joining us. It was fun getting to know you better!
By day, Daisy Whitney is a reporter and ghostwriter. At night, she writes novels for teens and is the author of THE MOCKINGBIRDS and its sequel THE RIVALS (Little, Brown). Her third novel WHEN YOU WERE HERE releases in June 2013 (Little, Brown), and her fourth novel STARRY NIGHTS (Bloomsbury) hits shelves in September 2013. When Daisy's not inventing fictional high school worlds, she can be found somewhere north of San Francisco walking her adorable dog, watching online TV with her fabulous husband or playing with her fantastic kids. A graduate of Brown University, she believes in shoes, chocolate chip cookies and karma. You can follow her writing blog and new media adventures at
DaisyWhitney.com
.
a Rafflecopter giveaway