Welcome to The Cover Contessa's stop on the End of Normal blog tour!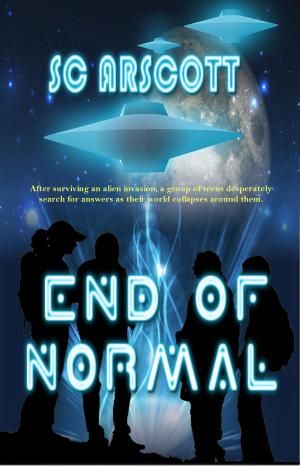 16-year-old Olivia Richards' last day of normal is simply that, normal. She spends her entire pre-school morning dressing to impress gorgeous guy Sawyer Rising, the hottest guy in high school. She argues with her mother about her skinny jeans being too tight, which Olivia considers ridiculous because isn't that the point of skinny jeans? Sometimes her mother makes no sense. Olivia's normal world also includes her gentle astrophysicist father and her twin brother Charlie, who is deaf. Despite proclaiming that his deafness is no big deal, deep inside Olivia feels it is a big deal and that it's her duty to protect him.
Olivia's normal ends that night when strange lights shoot out of the sky and turn into stinging drones, killing their parents, or at least they think their parents die, but do they? Forced to flee, the twins join forces with friends Axel, Clara, and Sawyer, to search for answers to the strange invasion. Discovering a conspiracy to hide the location of a second earth, they search for a way to stop the destruction of their world.
Excerpt from END OF NORMAL by SC Arscott
Clara and Olivia – best friends
Clara and I walked to the dressing room to put on our gym clothes for PE. Ordinarily I liked phys ed but not this week. This week we had to complete six pull-ups as part of the Principal's Fitness Program. Six tiny little pulls-ups, so few a baby could do them one handed. Not me. I kicked butt on the soccer field, swam like a fish, sped through sprints, and was able to regularly hit the clay target while skeet shooting. What I absolutely could not do was lift my entire body up by my arms.
Students silently watched me struggle to do the required number. I managed two solid ones. My arms wobbled and shook on number three. By four, the pulse in my temple beat so hard I was afraid my skull would burst. With the very real fear of spontaneously combusting, I dropped to the ground, red-faced with effort and embarrassment.
Next in line, Clara reached for the bar, lifting her slim body with ease or at least that's how it seemed to me. After completing ten in less time than my pitiful four, she dropped to the ground beside me and pulled the band out of her dark ponytail, shaking her hair free.
"Why are they so easy for you?" I grumbled.
"I don't weigh as much as you," she answered, smiling.
It wasn't a mean smile. She never meant to be cruel. It was just that sometimes, actually most of the time, she said things without thinking what they really meant or how they might hurt. When I mentioned this to her, she told me she was simply being honest. What she didn't understand was that people didn't want complete honesty all the time. Sometimes a little truth dodging was a good thing.
Clara was right though, she did weigh less than I did by more than a few pounds. I, however, was strong, and tomorrow I would conquer those pull-ups, all six of them.
After PE, Clara and I showered and changed fast because we wanted to talk about Sawyer before Axel and Charlie joined us. I was not interested in sharing everything with those two. As I stood in the cafeteria lunch line, I spotted Sawyer sitting with his friends and looked away. I didn't want him to think I was a stalker or anything. In front of me, Clara examined every food item, sighing in disgust at all the unhealthy choices, most of which I loved.
Susan worked as a high school teacher until she thought her head would explode from all the ideas and questions her students asked. Thinking it would be easier; she foolishly switched from teaching to the ridiculous job of professional fundraiser. After spending more years than she wants to admit begging strangers for money, she gathered what pride she had left and enrolled in Spalding University's MFA program where she became blissfully happy working with other writers and improving her writing. She currently lives and writes in Seabrook, Texas with her husband Mike, Vlad the cat, and their deaf dog Chester.
My first YA novel,
END OF NORMAL
, will be available October 6, 2014 by Champagne Books and can be purchased through any online bookstore. I am in the process of developing a new, and much better website, but until it's ready, you can check out my current, rather pitiful site. It has my bi-weekly blog and books I'm working on. My new site will be much better, so bookmark my web address and check back in a few weeks.
Connect with Susan at:
http://www.susanarscott.com
|
https://www.facebook.com/pages/S-C-Arscott/182957018422127
|
https://twitter.com/susancarscott
|
http://www.pinterest.com/susanarscott/
a Rafflecopter giveaway