Welcome to Author Interview Thursday hosted by the Never Too Old for YA and NA Books group on Goodreads. September is our Indie Author Interview month and we're very excited to share it with you!
Today we welcome B.F. Simone to the blog and group!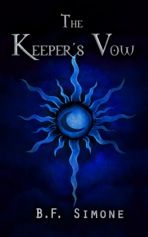 From the day he showed up on her front porch, he desperately needed three things: a new beginning, a place to belong, and someone to stand beside him.
By the time she figured that out, it was too late.
In a world where being half-vampire is a dark secret that tears families apart, 16 year-old Katie Watts must untangle the web of lies that is her so-called life. No one is who she thought they were. Her father is keeping secrets, and everyone knows the darker truth except her. She has no direction, no answers, and—when she searches for the truth—no home.
As the web untangles, the truth pulls Katie and Tristan closer together they find themselves connected in more ways than she can believe. But—is honesty worth more than blissful ignorance? Can she live with the truths that begin with her dead mother and end with The Keeper's Vow?
Publication Date: April 2014
Ms. Simone, take it away!
Did you always know you wanted to be a writer or did you want to be something else?
To be honest, I didn't think I was good enough to write anything more than an enthusiastic note. I loved writing, but in school we wrote boring essays and writing was all grammar and page length. I never knew about voice or style or story. When I was young, I equated writing with genius. I thought you had to be born a prolific writer to pick up the pen. So, I told myself I didn't know what I wanted to be, until one day, after taking many writing classes and finishing the first rough draft of a book, I accepted that I was in fact a writer.
How do you come up with themes for your stories?
I'm going to say something I don't think many people do, but here it goes. I don't come up with themes—my characters do. I believe that if you right the truth of a story everything else follows. Instead of forcing events or the characters to do what I wanted, I'd turn on some good music, and slip into their world. They'd show me who they were down to the core, and it was my job to write all of it truthfully, even when they wanted to do something I didn't want.
The most difficult for me are themes of love, because often, my characters are too guarded and too afraid of the truth to be honest with each other, and—I know it sounds silly but—I have to write what they want. When I do, themes come out from all corners of the book. With every read of The Keeper's Vow, I find a new theme I didn't even know existed.
How are you able to balance other aspects of your life with your writing?
.
I don't. When I write I am consumed. I wrote the Keeper's Vow from start to finish (the first draft that is) the week before my college finals. I didn't move from my desk and I only ate avocados, sautéed onions and bread.
Was. Dead. To. The. World.
It got to the point I'd look down and find strange scratches only arms or legs and didn't even know how they got there. My husband (then fiancé) would bring me Arizona Green Tea and peek over from the couch to make sure I was still alive and not dead against my keyboard.
During the coming two years where I revised and edited the book all I did was talk about the characters or the art of writing. "Do you think Tristan is the way he is because of X or Y?" "How can I capture the experience of this scene?" I'm surprised I'm married! I would have left me, I think. I can be obsessive and when I say I obsessed, I thought of nothing else but how to make this book the best version of itself.
Now that I have a son, I can't write at home, I can barely think about my book at home, so I can only work on my books at work. So far it's been difficult for me because I'm a free writer, I'm so terrible at schedules. I'm just thanking my lucky stars I have time at work to write (I'm an English Language teacher in Japan).
What elements do you think make a great story line?
I think the best elements are whatever is true to the story. For me, story lines are about authenticity and the experience. If I'm reading romance and I don't believe it, not matter how much I love romances

(and I love them), I will hate the story if it feels forced or unbelievable. I'm not a fan of action story lines (in theory) but I love books that have real authentic action that pull me in.
I guess the answer I should have started with is: Authenticity and Truth.
What was the hardest thing about writing a book?
Inspiration. For me, when it strikes I don't know if I'm going to be inspired for two weeks from start to finish, or two minutes and come out with a neat idea.
Anywhere, as long as I have my laptop and headphones (and I'm reasonably comfortable).
When deciding on how to publish, what directed you to the route you took?
My story is Paranormal Romance. No one in the industry is going to bite on that. Even though readers of that genre love new material, the industry doesn't make plans based on what readers love, they are always looking to do something new to blow up and make money. It's an insane cycle that really makes no sense, but I can understand it. I decided it was better to have readers than a publishing company, because that's why I write: to share a great story with readers. I'd love the exposure a publishing company could give me, but first, I'd just like to get out there and share my work and see if readers enjoy reading it as much as I enjoyed writing it.
What kinds of things do you like to do outside of writing?
I promised I would never ever write anything from myself into my characters and, well, I broke that promise in the first chapter of The Keeper's Vow. My main character Katie is a bit of a hobbiest? I don't think that's a real word (but neither was eyeball until Shakespeare deemed it so). Anyway, Katie loves to do just about any and everything for a few days or weeks and then she's on to something new. I'm kind of like that. I have so many hobbies I'm afraid I'll go home one day and find the set of Intervention waiting for me. I love to paint, draw, read (of course, that one is constant), photography, sew, hike (not so often I'm allergic to proper exercise) swim, and I play the flute. I'm a gardening and food enthusiast and worst of all, I love moving. At least once a year I have to move somewhere (once I moved from one apartment to one two floors up just to get a different view of things)
What kinds of advice would you give to someone who wants to start writing?
Do it. Be genuine and don't be afraid of the ugly that sometimes comes from the truth. If you pour your soul into whatever you write, you won't be disappointed.
Are you working on anything now?
Right now, I am working on two stories: Book Two of The Keeper's Vow

(a three part series) and another story I've been working on for years. But at this moment, I'm trying to rediscover who Katie and Tristan are, because since the last book, they've changed and grew up a little bit, for the better and worse. They are being tested in more ways than they thought they could take, and it's taking a toll on their relationship and the people around them. The question is, can they rise above it, or will they get swept up in it. Even I don't know, but the power struggle is more deadly than ever.
Thanks for being here today. It was great having you!
I am B.F. Simone, author of
"The Keeper's Vow"
. I live with my husband and son in Japan.
A Brilliant man once said:
"Don't do what you're passionate about, be passionate about what you do."
And so, I try my best to live by this advice, because deep down it means: do better that you did today. Push forward so that tomorrow you can be better person that who you were today.So, that is me.
B.F. Simone: Striving to be better than yesterday.
a Rafflecopter giveaway