Welcome to The Cover Contessa's blog tour stop for Storm by Danielle Ellison!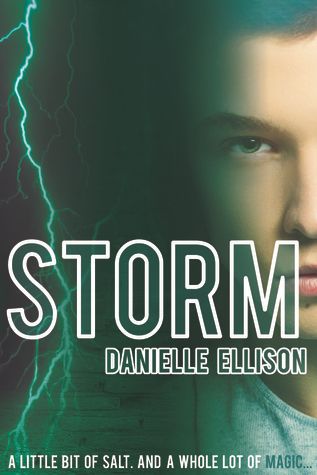 Storm
(Salt #2)
Release Date: 09/29/14
Entangled Teen
Summary from Goodreads:
Up until recently, Penelope was a witch with no magic. After having it stolen by a demon when she was just a child, Penelope had been forced to rely on sharing others' powers as she went through the grueling training required to become an elite demon hunter. Now Penelope has more magic than she's ever known. And when you're this powerful, who needs salt to keep the demons away?
But power has a dark side.
Carter Prescott just wants to hunt demons and be with Penelope. But suddenly, witches who formerly had no magic are developing terrible, out-of-control powers. Now the world Carter swore to protect isn't just endangered by malicious demons―it's threatened by the same witches who once defended it. And Carter is horrified to see his girlfriend starting to change. Stronger. More powerful. Unrecognizable. It's just a matter of time before Penelope changes into something far beyond his worst fears...
Let's hear from one of Danielle's characters! Take it away, Carter!
Character interview: Carter.
I'm not really a joke person…
How much wood could a woodchuck chuck if a woodchuck could chuck wood?
Well, it would depend on a several factors. The size of the woodchuck. The density of the wood, the position of the woodchuck in relation to the wood. The velocity and acceleration of the woodchuck and the wood. You could figure it out with detailed information—not that I've thought about since woodchucks can't chuck wood.
What was the first thing you noticed about Penelope that caught your eye?
Her determination. She was so into her task, trying to destroy that demon, and it was adorable. I immediately knew there was something about her.
Do you have any pet peeves?
My dad—he's the entire pet peeve because everything he does annoys me.
What's one thing you wish you could stop?
The Triad and the way they handle demons, halflings and Statics. It shouldn't be the way it is – we should all be treated equal. I wish I could stop their views, their decisions, and make them see a better way to exist.
What's your secret guilty pleasure?
Demon hunting. It's borderline obsession.
I just did.
Thanks so much for stopping by today, Carter. Great having you here!
About the Author
Danielle Ellison is from a small town in West Virginia. She spent her childhood pretending to fly, talking to imaginary friends, and telling stories. She hasn't changed much since then. You can still find her pretending to work, talking to imaginary characters, and writing stories.

When she's not writing, Danielle is probably drinking coffee, fighting her nomadic urges, watching too much TV, or dreaming of the day when she can be British. She is the author of five upcoming novels and you can find her on twitter @DanielleEWrites.
a Rafflecopter giveaway