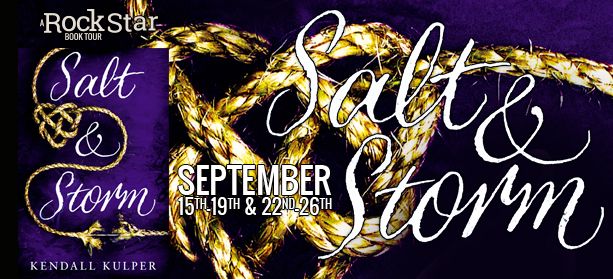 Welcome to The Cover Contessa's stop on the Salt and Storm blog tour!
Title: SALT & STORM
Author: Kendall Kulper
Publisher: Little, Brown Books for Young Readers
Pub. Date: September 23, 2014
A sweeping historical romance about a witch who foresees her own murder--and the one boy who can help change her future.

Sixteen-year-old Avery Roe wants only to take her rightful place as the witch of Prince Island, making the charms that keep the island's whalers safe at sea, but her mother has forced her into a magic-free world of proper manners and respectability. When Avery dreams she's to be murdered, she knows time is running out to unlock her magic and save herself.

Avery finds an unexpected ally in a tattooed harpoon boy named Tane--a sailor with magic of his own, who moves Avery in ways she never expected. Becoming a witch might stop her murder and save her island from ruin, but Avery discovers her magic requires a sacrifice she never prepared for.
Today we are honored to have a guest post by author Kendall Kulper!
In SALT & STORM, my main character, Avery, has a deep connection to the ocean and beaches of her home, Prince Island, and a lot of the feelings Avery has are reflections of my own feelings about the water.
Prince Island itself is based on Martha's Vineyard, a small island off the coast of Massachusetts. I've been visiting Martha's Vineyard ever since I was a little girl, and my family has had a house there for two decades. Because they rent it out during the summer, we tend to visit mostly in the off-season, when the tourists are gone and it's just the locals. It's quieter then, the beaches huge and empty and most of the restaurants shuttered with signs that say "See you next season!" and it's my favorite time to be on the island.
My husband's family has always gone to the Jersey Shore for the summer, which is a lot of fun (recent MTV shows notwithstanding), but when I think of the beach, I think of Martha's Vineyard in the winter: huge, crashing waves, no people as far as you can see, and cold, stinging wind. Even when my family visited in the summer, we tended to skip the more popular beaches to go out to Chappaquiddick, the tiny island connected by ferry to Martha's Vineyard, where you can actually drive out onto the beaches and find completely deserted spots.
My childhood memories are full of days out on the beaches there, discovering tidal pools and chasing crabs without a single other person in view. No ice cream seller, old trash, or beach tags—just lots of birds, tall grass, and miles of sand. My brother and I would fly kites or hunt for driftwood that, at night, my parents would use to build a bonfire, where we'd cook steak and rice and make s'mores. We got good at recognizing what wood was the best for the fire and always hoped we'd find some cedar, which made the fire smell amazing. At the end of the day, we'd drive back to catch the last ferry to town, and it would be so dark, the stars would look huge and luminous.
It's that quiet, solitude, and chance for discovery that I love about the beach. Even when we visit the Jersey Shore, I try to get up with the sun for a run before most people are out. For me, the beach means an opportunity to take a deep breath and listen to the waves and the wind. I joke that I like my beaches cold and depressing, but what I really like is how when it's cold out and no one's out there but you, you can get a sense of huge the ocean really is. It feels so open and limitless, and every time I see it, it makes me feel both incredibly small and fragile and also full of endless possibility.
That's something that Avery has to deal with in SALT & STORM, too. For her, the ocean is a border, it's a wall, it's a pathway to a different kind of life. It's something she both can and cannot control, and it defines her life in ways she can't even imagine.
Kendall Kulper writes historical fiction with a fantasy twist for teen readers and knows more about nineteenth century whaling than she ever imagined. Her debut YA novel, SALT & STORM will be published by Little, Brown September 23, 2014. She graduated from Harvard University with a degree in history and literature in 2008 and spent several years as a journalist before deciding to write full-time. She grew up in the wilds of New Jersey and now lives in Boston with her husband and chronically-anxious Australian Shepherd mix, Abby.
a Rafflecopter giveaway
Tour Schedule:
Week One:
9/15/2014-
Novel Novice
-
Interview
9/15/2014-
The Infinite To-Read Shelf
-
Review
9/16/2014-
No BS Book Reviews
-
Review
9/17/2014-
Such a Novel Idea
-
Interview
9/17/2014-
Katie's Book Blog
-
Review
9/18/2014-
IceyBooks
-
Interview
9/18/2014-
That Artsy Reader Girl
-
Review
9/19/2014-
Wishful Endings
-
Guest Post
9/19/2014-
Casual Readers
-
Review
Week Two:
9/22/2014-
Supernatural Snark
-
Interview
9/22/2014-
About to Read
-
Review
9/23/2014-
The Cover Contessa
-
Guest Post
9/23/2014-
Imaginary Reads
-
Review
9/24/2014-
Fire and Ice
-
Guest Post
9/24/2014-
Once Upon a Twilight
-
Review
9/25/2014-
Tales of the Ravenous Reader
-
Interview
9/25/2014-
The Best Books Ever
-
Review
9/26/2014-
Two Chicks on Books
-
Guest Post
9/26/2014-
Tynga's Reviews
-
Review