Welcome to The Cover Contessa's stop on the Divinity blog tour!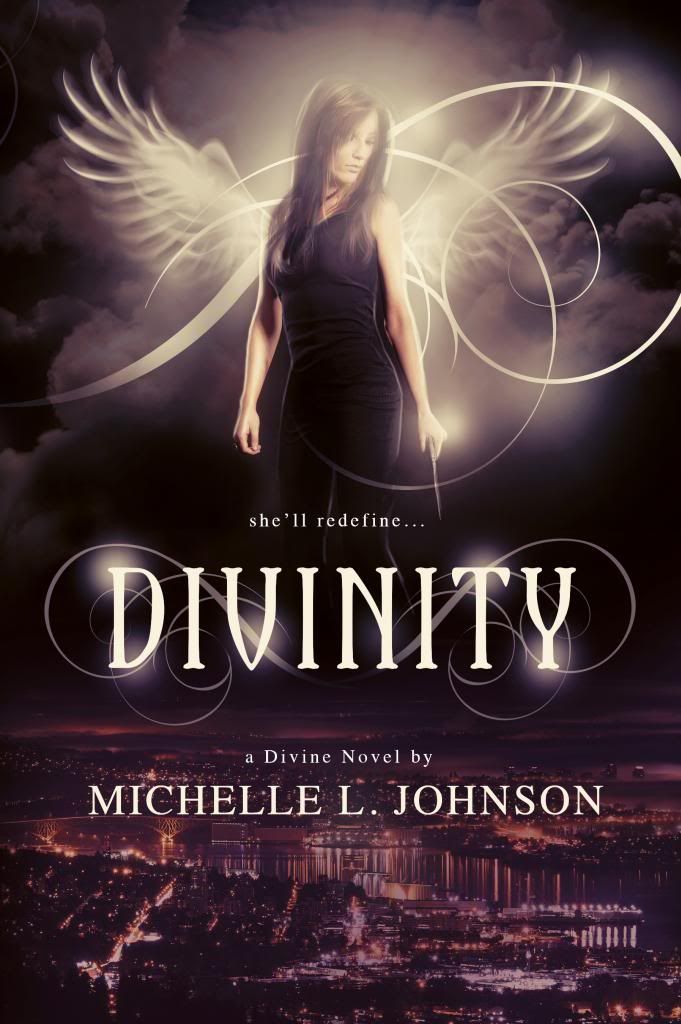 When Julia climbs into a flaming car to save a trapped child, she's left wondering why either of them survived. Then she learns that her father is the Archangel Gabriel, and that she is half human, half Archangel. With guidance from Michael, the most powerful Archangel, Julia sets out to discover her own history and explore her angelic powers. But her journey is cut short when an evil force, invisible to human and angel alike, tears her world apart. Now Julia must fight through her despair, harness her newfound gifts, and risk her very soul to stop the A'nwel and protect the family she never knew she had. What she doesn't know is that Archangels have secrets too.
Title: Divinity
Author: Michelle L. Johnson
Publisher: Spencer Hill Press
Expected Publication Date: September 23, 2014
Today we welcome Michelle for an interview. Check out her fantastic answers! Take it away Michelle:
Did you always know you wanted to be a writer or did you want to be something else?
I really wanted to be a doctor when I was young, so I spent all my time imagining what that would be like and acting out scenes while bouncing my red rubber ball against the wall of our house. Then I wanted to be a famous flute player. Then Han Solo. Then, a person who wrote and produced plays. Then an Olympian. Then, a teacher. Then a saxophone player. Then a doctor. But I always wrote stories and read stories. It was my hobby. I didn't realize it could be a thing you wanted to do.
How long does it take you to write a book from start to finish?
It depends on the book. I've written a book in six months, one in six weeks, and one in three years. If I plot the book out first, I can write it very quickly. But if I leave the story and the characters up to their own devices, they often take me on a journey that involves a LOT of editing and restructuring on the back end.
How do you come up with themes for your stories?
The themes just happen, though the theme for the sequel to DIVINITY came to me when I was sitting in Chuck Wendig's theme seminar at the Pikes Peak Writers' Conference. He challenged everyone in the room to come up with one, and out it came. You'll have to wait for the sequel to see that that is, though!
Do you have a schedule of when you write?
How are you able to balance other aspects of your life with your writing?
Balance is something that I struggle with every single day. I am a workaholic, and I don't consider writing work, so it is often hard for me to put time aside for it. But when I ignore my writing too long it tends to throw a tantrum and make me pay attention.
What elements do you think make a great story line?
Tension is the thing (other than characters that hook readers) that I think is most important to make a good story great. Tension from multiple sources, internal and external.
What was the hardest thing about writing a book?
The hardest thing about writing a book is when I don't and it wants to be written.
How many books have you written so far? Do you have a favorite?
Three completed books. DIVINITY is my favorite for all the things it has yet to show you.
Do you have a favorite character?
The Archangel Michael is my favorite. He's so funny I often have to cut out his funniest lines because he has really inappropriate timing.
In my office at home, or on my laptop on the couch, or on a legal pad when I'm flying. Best stuff usually comes from the legal pad.
Have you gotten feedback from family about your book(s)? What do they think?
Everyone loved my first mystery, but none of them have read DIVINITY yet.
What kinds of things do you like to do outside of writing?
I love traveling and attending conferences and helping other writers get their books published.
What kinds of advice would you give to someone who wants to start writing?
Just start writing. Don't think about it, just go ahead and do it. And don't be afraid to write what makes you uncomfortable, and don't let people discourage you.
What is your favorite book? favorite author? Do you have an author that inspired/inspires you to write?
I have so many books that are my All Time Favorites. Dune. The Stand. Taltos. Kushiel's Dart. The Wheel of Time. Kiss the Girls. A Time To Kill. To Kill a Mockingbird. Animal Farm. Lord of the Flies. The Book of Three. PS I Love You. Are You There God, It's Me, Margaret. The Great Brain. Trinity. The Witching Hour. The Lion the Witch and the Wardrobe, Charming. The Diary of Anne Frank. Too many to name here. Each one of them shaped me in some way.
Favorite authors: All of those that wrote all of the above books and more. Too many to mention, and truly each and every one of them inspired me to write in some way, but I think it was the time I picked up Stephen Kings newest book (at the time) and when I started reading I had the sensation of familiarity, like slipping on a comfortable shoe that fits you just right and I thought "Ah, it's so good to be home!" about his voice. That was when I knew I had to do this.
Do you have any go to people when writing a book that help you with your
story lines as well as editing, beta reading and such?
Michael, who is my significant other, helps me talk through plotting and edits pretty much everything I write. I have a couple of friends that tolerate my bouncing ideas off them as well. They're all in the acknowledgments in the back of DIVINITY.
Are you working on anything now?
Right now I am working on the sequel to DIVINITY, the sequel to my mystery series, and a new collaboration project that is something totally different for me. Top secret though, sorry!
Thanks so much for stopping by today, Michelle. It was great to have you here. Good luck with your book!
Michelle L. Johnson was born in Ohio and adopted by Canadians. They traveled all over North America, and when they weren't on the road Michelle could be found with her nose buried deeply in the pages of a book. With all of her travels and adventures, she hopes to bring some of her unique perspective to the pages and to entertain others the way all of her heroes have for her. When she's not hanging out with her feathered friends, she's busy being a literary agent with Inklings Literary Agency. She says wherever she hangs her coffee mug is her home, and right now that's a toasty warm Jacksonville, Florida with her happy Cocker Spaniel and her small family.