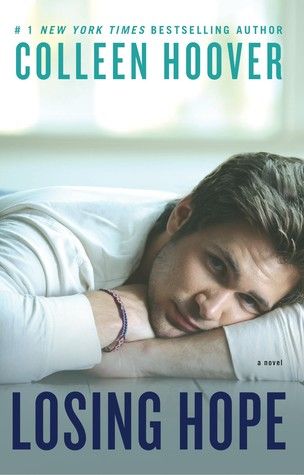 Burb from Goodreads:
In Hopeless, Sky left no secret unearthed, no feeling unshared, and no memory forgotten, but Holder's past remained a mystery.
Still haunted by the little girl he let walk away, Holder has spent his entire life searching for her in an attempt to finally rid himself of the crushing guilt he has felt for years. But he could not have anticipated that the moment they reconnect, even greater remorse would overwhelm him…
Sometimes in life, if we wish to move forward, we must first dig deep into our past and make amends. In Losing Hope, bestselling author Colleen Hoover reveals what was going on inside Holder's head during all those hopeless moments—and whether he can gain the peace he desperately needs.
Title: Losing Hope (Hopeless #2)
Author: Colleen Hoover
Publisher: Atria
Publication Date: July 8, 2013
RATING: 5/5 STARS
Brooke's Review:
So I wasn't sure what to expect with this book. I knew it was Holder's point of view and in the past I have been a bit peeved with stories that are written from another point of view. I'm afraid it will be the same story. I'm afraid I won't get anything new. But this is not the case with Losing Hope. This book gives us Holder's story and it's so much more than what you got in Hopeless.
If you have not read the first book in this series, stop here. You will more than likely get a few spoilers in this review and I wouldn't want that. Plus, you just cannot read this book without having read Hopeless first. You really need to know the backstory so you can understand why we need to see Holder's point of view.
This story just totally blew me away. I am a sucker for the guy's point of view in a book. I have no idea why, I just always love how they related their emotions and show us the story in such a different manner than the females do.
Holder is broken. Hoover is great at writing her broken characters for sure. But while he is broken, he still has total control over his emotions. He knows exactly who he is and what he wants. But losing the biggest part of him, his twin sister, leaves him desperate for connection. Holder is also haunted. Haunted by the tragedy of losing Hope when he was so young. He blames himself for her disappearance and has never gotten over it. He's spent his whole life looking for her in everyone he sees. As with most of Hoover's male characters, Holder is nothing but honest in his emotions. Because of his past experiences, he is so much more mature than you would think.
As for Sky, well, we get to see her from Holder's POV. I love how he sees her. I love how he describes her. And I love how he falls for her. She is emotionally scarred, just as he is, but in a way that she can't even explain. I can't say much about her character that I didn't say in my review of Hopeless.
My favorite addition to this book was Daniel. Honestly, I wondered why Holder didn't have any friends during Hopeless. It kind of bothered me that he seemed so alone. But he did have friends and we see that in this book. Daniel is such a great character. He is absolutely loyal to Holder, almost to a fault, willing to fight for him even if it will get him hurt. He's sincere and best of all he's hilarious. I just loved his character. And in true Hoover style, she gives Holder a friend that he can totally rely on and lean on in his time of need.
Hoover's writing, what can I say. There isn't anything more to say than I already have in other reviews. She is able to emotionally connect her reader to her characters in a way I have never connected to characters before. You experience everything they feel, it's just impossible not to.
The best part of this book is that while you know the backstory from Hopeless, and you expect to see many of those scenes (which you do) you get so much more because it takes you back to a year before Sky and Holder meet. You get to see how emotionally distraught Holder becomes over the death of his sister. You get to see his time away. And best of all, you get to see his relationship with his family and friends. I loved watching these developments.
If you loved Hopeless, you will love this book. It's not strictly a retelling of the story you already know. There is so much more depth to this story than you would think capable. Another genuine roller coaster ride of heart break and sadness, Hoover brings it full circle in Losing Hope.