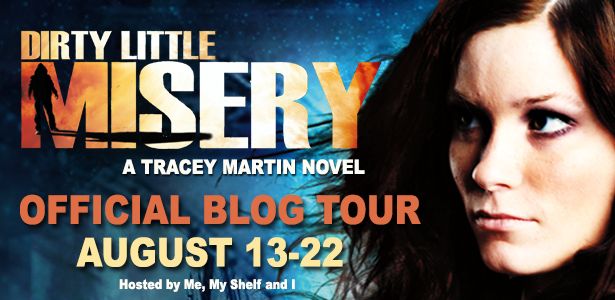 Welcome to The Cover Contessa's stop on the Dirty Little Misery blog tour!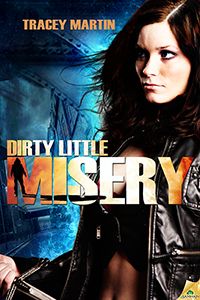 Dirty Little Misery
Miss Misery #2
Author: Tracy Martin
Release Date: August 12th, 2014
Publisher: Samhain Publishing
Lust can be downright lethal.
Thanks to her freakish, satyr-like power, Jessica Moore was denied her dream to join the Gryphons, the magical law-enforcement officers protecting humanity from the pred races. But after the Gryphons tried to arrest her for murders she didn't commit, Jess is no longer interested. Too bad—they are.
Now that they know what she can do, they want Jess on their side. If she doesn't agree to help them solve a new case, they'll charge her with every magical crime she's ever committed.
Nine people are dead. The cause? Exhaustion. The activity? Never-ending sex. Someone sold them tainted F, an illegal aphrodisiac made by satyrs. No surprise, Jess's satyr allies aren't pleased with her investigation. Worse, it strains her tenuous relationship with Lucen, the one satyr she counts as a friend.
As Jess delves into the shady satyr business world, she unravels a scheme more sinister than dirty drugs—and her relationship with Lucen unravels right along with it. Only the truth will save their friendship. But not before it turns Jess into an ambitious killer's next target.
Warning: Contains blackmail, betrayal, and sex that's literally to die for. Plus plenty of bad stiff jokes to go with it. Remember, just say no to magical drugs.
Excerpt:
I cleared my throat. "Right, the Gryphons." I dragged out the word, wrapping my arms around the baluster. Lucen glanced my way, his eyebrows raised while he waited. "They offered me a job."
"A job?" I imagined my expression earlier in the day had been an awful lot like his was now.
"A job."
His blue-green eyes filled with disbelief. "The kind that comes with a uniform and badge, or the kind that involves cleaning out their salamander cages with your bare hands?"
"The Director made no mention of a uniform or a badge, but given what they offered to pay me, I'm assuming it's not cage duty."
"Interesting and unexpected, but I hope you told them where they could stick that job."
I bit my lip, grasping the baluster for all it was worth. "I'll only be a consultant, not a real Gryphon."
Lucen threw the bread he'd been slicing on the counter. "You already said yes?"
"Yeah. As much as I joked about how I'd enjoy owing you for bail money, I really didn't want to go to prison." I released the railing and frowned down at myself, thinking how bizarre my life was that I was having this conversation in my underwear. "That was my choice—take their offer or go to prison. Tell me I should have chosen differently."
"So they threatened you."
"Basically. You blame me for saying yes?"
He brushed crumbs off his hands and sighed. "No, I don't. But damn it. Did they tell you what they wanted you to do?"
Gryphons had specializations, just like any law enforcement organization. While the stereotype of a Gryphon was the ass-kicking warrior who could stand up to and fight law-breaking preds, the truth was more complicated. As truth usually was.
Some Gryphons specialized in healing addicts, others in making charms, and still others in jobs I knew less about. I had a feeling none of those specialties were what Olivia Lee had in mind for me though.
"The Director said they'd call me in on cases where they thought I'd be useful."
Lucen rolled his eyes. "That's unhelpfully vague."
I didn't bother responding. Tiredness was overcoming me again, and my annoyance with the Gryphons killed off any remaining desire I had for Lucen. Instead of sex, I wanted to hit someone.
Lucen must have sensed what I was feeling because his hands appeared on my arms as I started to put on my jeans. Hello, lust, again. That didn't take much. "I'm not mad at you, Jess. I'm furious at them."
"So am I, as you can obviously tell. Olivia—Director Lee—said they could charge me with endangering humanity. You think they can?"
"They can charge you with anything. Making it stick is another matter, but I doubt any jury of your peers is going to be too sympathetic. They'll hear you traded souls, and it won't matter what the details are."
A jury of my peers. For the hundredth time, I considered telling Lucen the truth about me. That I was a freak who didn't have any peers. But something stopped me. While I didn't believe he'd call me an abomination like the goblin Dom had, I wasn't eager to find out.
"So I'll do this," I said. "How bad can it be? I used to want to be a Gryphon."
Lucen wrapped his arms around me and kissed my neck, and I was so done thinking about Gryphons. "I was very happy the day you realized they don't deserve you, little siren. Don't let them change your mind. I waited ten years for you. I refuse to let them turn you into my enemy."
Tracey Martin grew up outside of Philadelphia, the lucky recipient of a drama-free childhood, which is why she spent so much time reading about other people's lives. It was while she was working on her doctorate in psychology that she had an epiphany–imaginary people are way more fun than real ones. And so she began writing. Never able to choose just one of anything, she currently writes both urban fantasy for adults and contemporary stories for teens.
She likes her coffee simple, her music epic, and her movies to contain explosions. A city girl at heart, she doesn't understand how she and her husband ended up living in New Hampshire, but writing keeps her off the mean, small town streets.
Media:
tracey-martin.com
, @TA-Martin
a Rafflecopter giveaway