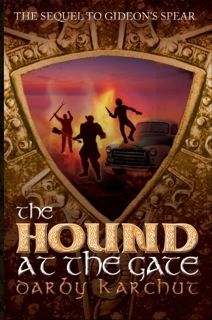 Title: The Hound at the Gate (The Adventures of Finn MacCullen #3)
Author: Darby Karchut
Publisher: Spencer Hill Press
Expected Publication Date: January 13, 2015
Autumn: the season of endings. And beginnings.
Especially for one young apprentice.
At the annual Festival of the Hunt, thirteen-year-old apprentice goblin hunter Finn MacCullen and his master, Gideon Lir, join other Tuatha De Danaan to honor their people's heritage. But Finn soon realizes that there are some who denounce his right to attend due to his half-human bloodline.


As he struggles to keep his place by his master's side, he finds himself embroiled in a decades-old grudge between Gideon and another Knight, bewildered (and beguiled) by a female apprentice with a temper as explosive as his own, and battling a pack of goblins determined to wipe out the entire camp in a surprise attack.

It's going to take some fancy knife work, the help of a female Knight with a lethal bow, and one old pick up truck to defeat the goblins and prove to his people that Finn's blood runs true-blue Tuatha De Danaan.
Darby Karchut is an award-winning author, teacher, and a compulsive dawn greeter. She lives in Colorado with her husband and owns more backpacks than purses. As she should.
Her Middle Grade books include FINN FINNEGAN (March 2013 from Spencer Hill Press). The next book in the Finnegan series, GIDEON'S SPEAR (Spencer Hill Press) will be released February 2014, followed by THE HOUND AT THE GATE (January 2015).
Her YA books include GRIFFIN RISING, GRIFFIN'S FIRE, and GRIFFIN'S STORM.
She has also co-authored a non-fiction book for teens entitled MONEY AND TEENS with her husband, author Wes Karchut.
Visit the author at her website:
www.darbykarchut.com