Welcome to The Cover Contessa's stop on the Heart Shaped Rock blog tour!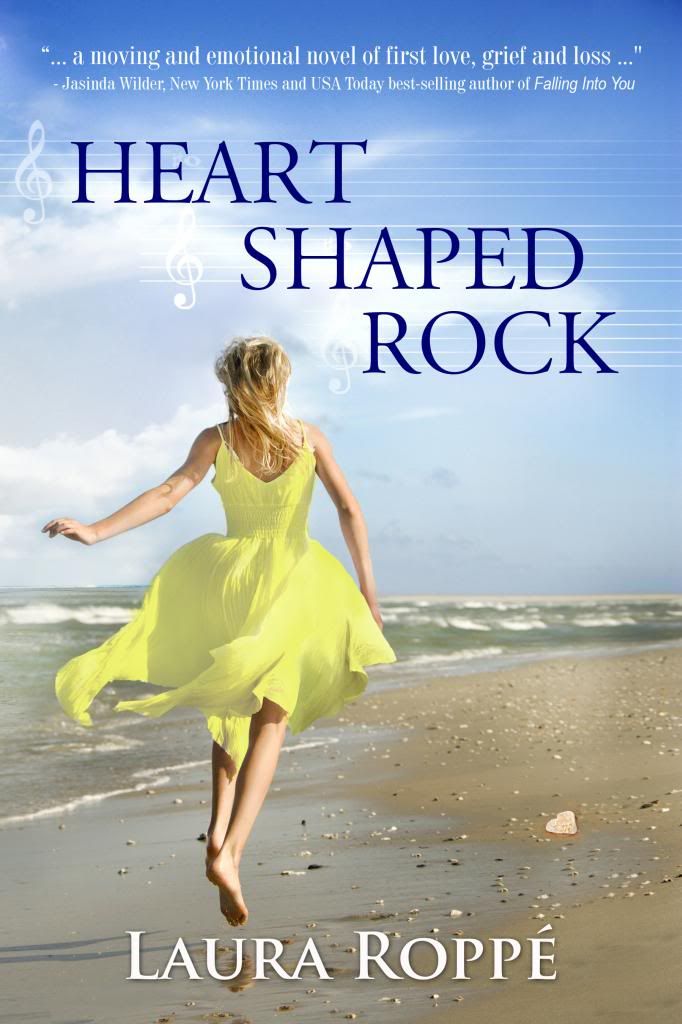 Heart Shaped Rock
"If you liked the music collaboration of Maybe Someday, you've got to check out Heart Shaped Rock." — New York Times best-selling author of Maybe Someday, Colleen Hoover


"Laura Roppé has written a moving and emotional novel of first love, accurately capturing the voice and mind of a dramatic and emotional sixteen year old girl caught in a maelstrom of grief and loss, love and heartbreak. And then there's Dean…you'll just have to read the book, 'cause I can't do him justice in a few short sentences." –Jasinda Wilder, New York Times and USA Today best-selling author of Falling into You

Sometimes a shattered heart needs to sing to love again . . . Sixteen year old singer-songwriter Shaynee Sullivan hasn't so much as touched her guitar since her mom died six months ago. In fact, Shaynee hasn't felt like doing much of anything lately, except maybe playing Whack-a-Mole on her "emotionally intelligent" brother's head. But when she meets a gorgeous and surprising rocker named Dean, her shattered heart begins to mend . . . and then burst at the seams. Heart-wrenching, heart-warming, and sometimes even heart-racing, Heart Shaped Rock will leave you laughing through tears and rooting for love in all its forms.
Please welcome Dean Masterson from Heart Shaped Rock:
Interview of Dean Masterson from
Heart Shaped Rock
by Laura Ropp
é – 1 Day Before the Book Begins
A: Music. Music, music, music. Hey, wait a second—did I say music yet? I play guitar and sing in my band, Red Card Riot. Our music is kind of hard to categorize. I mean, if you're in a hurry, you can call it rock. But if you've got the time to listen, to really listen to what we do,
you'd understand it's more melodic ska-punk-rock. Well, sort of pop-punk, I guess, with a nod to the blues.
I'm proud to say my band doesn't succumb to society's need for neat and tidy labels. I started RCR with my best friend, Caleb—or, as everyone calls him, "C-Bomb"—back in eighth grade. It's funny, I started calling Caleb "C-Bomb" to give him a hard time about fangirling all over Rx Bandit's drummer, C-Gak, but then the name just kind of stuck. C-Bomb plays drums, like his idol, and he's a beast—wait 'til you hear him, oh my God. Yeah, I know he's kind of high-strung but you can't really expect a guy to be a monster on the drums and then just be all chill in every other part of his life, can you? I don't know how a guy could play like C-Bomb without being pretty intense across the board in all things. So I cut him some slack. So, anyway, yeah, if you want to know my "likes," there's not a hell of a lot to say other than music. Wait, also riding my motorcycle. That's a big "like," too. I know the whole motorcycle thing can come across as kind of douche-y, kind of like I'm trying to be James Dean or whatever. But I'm not trying to impress anyone or be someone I'm not. Trust me. I don't do anything for show. Ever.
Q: How are things going with your band?
A: Actually, things have really been taking off lately. I don't talk about it all the time—I hate asswipes who sit and talk about themselves all the time—but it's kind of blowing my mind what's been happening for us lately. Every time we play a show, the crowd is bigger than the last show and even more amped up. We've even started headlining local all-ages shows and the crowds are, like, die-hard. Seriously. They know every word to every song. Sometimes, I stop singing for a minute and hold the mic up to the crowd, and they shout my own song back to me. It's incredible. I have to admit it's like a drug when I'm up there. It's when I feel most like me. It took me a while to figure out who I am—I had a few rough years there right before we started the band—so now that I know, I'm gonna stay true to it.
Q: What are your dislikes?
A: That's easy. I hate dudes in bands who are so caught up in trying to be a "rock star" they forget to be musicians, man. It's all about the music. It's not about getting chicks. It's not about getting glory. It's not about the screaming fans—although, okay, I admit I love it when kids come to our shows and know every word to every song, I'm not saying I don't love that part of it. I'm just saying you can't get all caught up in everyone telling you how incredible you are all the time. If that's why you're in a band, you're an idiot. I mean, if you don't love making music, if it's not what you eat, sleep and breathe, if all you care about is how your hair looks when you're wailing on your guitar, then don't even talk to me. I'm a super chill guy and I totally respect everyone's path, you know? But don't be a poser. That's all I ask. Write and play music from your heart. Tell the truth. Stand up, man. That's all I ask. Just be true. Don't be a total douche. Oh yeah, and, besides all that, speaking of total douches? Jared the Douchebag. Dislike.
Q: Do you have a girlfriend?
A: No. There's something I'm really interested in. But it's stupid because I've never even met her. I can't believe how much time I spend thinking about a girl I've never actually met. Her name's Shaynee. Isn't that the coolest name? I love it. Her best friend, Tiffany, showed me photos and videos of her—she writes her own songs and her voice is . . . You know what? Never mind. I'll just leave my answer at "no."
Thanks so much for stopping by today, Dean. Great having you here!
Laura Roppé is an award-winning singer/songwriter, author, audio book narrator, speaker, and former attorney from San Diego, California. In 2011, Billboard Magazine ranked her as Number Three on its chart of the Top 50 "uncharted" artists in the world. In May 2013, Laura began hosting Amazon's weekly podcast, "Kindle Love Stories," for people who love hearing about love stories, romance, and happily ever afters.

Her first book is the non-fiction memoir, Rocking the Pink. Her latest is a YA-teen romance novel entitled Heart Shaped Rock, featuring a soundtrack.