Welcome to The Cover Contessa's stop on the Dark Metrolpolis blog tour!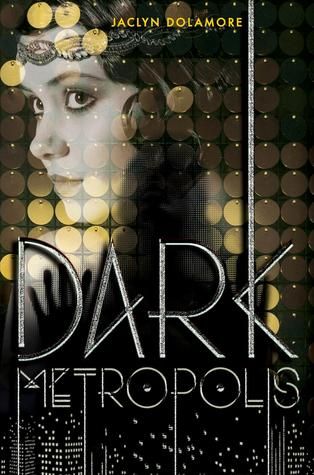 Cabaret meets Cassandra Clare-a haunting magical thriller set in a riveting 1930s-esque world.
Sixteen-year-old Thea Holder's mother is cursed with a spell that's driving her mad, and whenever they touch, Thea is chilled by the magic, too. With no one else to contribute, Thea must make a living for both of them in a sinister city, where danger lurks and greed rules.
Thea spends her nights waitressing at the decadent Telephone Club attending to the glitzy clientele. But when her best friend, Nan, vanishes, Thea is compelled to find her. She meets Freddy, a young, magnetic patron at the club, and he agrees to help her uncover the city's secrets-even while he hides secrets of his own.
Together, they find a whole new side of the city. Unrest is brewing behind closed doors as whispers of a gruesome magic spread. And if they're not careful, the heartless masterminds behind the growing disappearances will be after them, too.
Perfect for fans of Cassandra Clare, this is a chilling thriller with a touch of magic where the dead don't always seem to stay that way.
The Cover Contessa's Review:
I'd like to thank Disney Hyperion and Net Galley for supplying me with an early ecopy of this book to read and give an honest review. Receiving this book for free has in no way influenced my review or opinion.
I have to say that my initial draw to this book was the core. It is supremely gorgeous. Dark and mysterious and the font, I love it! So it's no surprise when I saw there would be a blog tour I rushed to sign up for it. I was excited to get picked!
I usually start with the characters of a book, but in this case I really have to start with the setting. The blurb describes it as 1930s-esque world and it certainly has that tone to it. However, I also got the feeling that it's set in the future, in a world riddled by war. And I can tell you that I read the blurb but had forgotten that magic was actually included as part of the book. So it was kind of a surprise to me when it came up. But it really worked quite well. I think the most interesting thing is the book is told in third person. Often I am annoyed by this, but it really worked with this book. It definitely reminded me of Cassandra Clare's Infernal Devices in that way.
Thea is a sixteen year old girl who has been forced to quit school so she can work to support herself and her mother. Her mother is sick, and just continues to get sicker, since her father disappeared. So Thea has really had to grow up fast since her father has been missing for eight years of her life. I can say that I would have liked a little more in depth perusal of Thea's character. I feel we really only just scratched the surface of who she is. She obviously loves her mother and father and would do anything for them, but what would she do for herself? I did love that her character was not whiney and full of angst. She was actually quite mature.
Freddie is also very mature for his age. Having had to grow up rather quickly when he's taken from his family because of the power he holds. I didn't find him particularly swoon worthy. For me, he was just an ok romantic interest for Thea. I am guessing this is because the romance is not really at the forefront of the story. We certainly see his attraction to Thea in the fact that he refuses to do what he is tasked to do.
Nan, Thea's best friend, is a really strong character. At first, I thought she was in her twenties. But later on we find out she, like Thea, is sixteen. Nan is different, though I won't tell you how or why, as it's revealed a bit later in the book.
The pacing of this book varied. At times it was full of action and interesting things that happened to keep it moving. At other times the pace was a bit slower, leading to a build up of what would happen next. Over all I read through it fairly quickly and it held my interest. I really wanted to know what the secrets were that the different characters held. I also found the concept intriguing, it's always fun to see what an author will do with magic in a book.
If you're thinking Harry Potter than think again. The magic is more dark and mysterious in this book. I will say that they story line was much darker than I had originally anticipated, and I liked that it was. I didn't find myself particularly attached to any one character. They were all done fairly well, but I did feel like they could have been developed just a bit more. I needed to feel empathy for them in some way and I found that hard to do with this book.
My favorite part of this story was that it did not revolve around the romance. Oh, there is romance in there, but it's very subtle. And there's more than one, which was nice. I liked that the book could stand up all on it's own merit with it's interesting magical plot line and dark undertones.
The ending is rather neat and tidy. I know there is a second book planned so I'm curious as to where the author might go with it, seeing as these characters had their arc compete. I would have liked to see a bit more world building, historical background, to this book. I was a little confused as to where it was taking place and if the time period was actually in the 30s or in the futures. Overall I really enjoyed this read and would recommended it to anyone who likes a dark mystery with magical undertones. Definitely for fans of Clare.
Jaclyn Dolamore was homeschooled in a hippie sort of way and spent her childhood reading as many books as her skinny nerd-body could lug from the library and playing elaborate pretend games with her sister Kate. She skipped college and spent eight years drudging through retail jobs, developing her thrifty cooking skills and pursuing a lifelong writing dream. She has a passion for history, thrift stores, vintage dresses, David Bowie, drawing, and organic food. She lives with her partner and plot-sounding-board, Dade, and two black tabbies who have ruined her carpeting.
www.jaclyndolamore.com | TWITTER |
FACEBOOK
a Rafflecopter giveaway