Time for my final post of BEA!
Saturday was Book Con. I was very curious to see how it went. I was pretty sure it was going to be all kinds of crazy, and I was right. It was totally insane. We even got in line for it very early (BEA side so we wouldn't have to deal with the insanity). Thankfully we were only about 25th in line to get in and were able to get where we needed to go. THEN we found out we would have to pay for the book, so we ended up not getting it and just walking around. That was a feat in and of itself because the crowds were crazy and pushy and rude. We quickly made our way to the BEA side so we could relax a bit. Lucky for us we bumped right into a galley line!
I had one author signing on Saturday, so I left Crystal to her own devices and made my way to the booth.
That's Erik Nunally (Blood of the Sun) and Jennifer Allis Provost (Copper Ravens) signing. The line picture is a bit blurry. And you see that Jen and I got photo bombed by author Kimberly Anne Miller!
I was very excited to meet blogger Justine Vandale from Shelves of Books. We kept missing each other during the conference and Saturday we finally connected. I'm so glad I got to spend a few minutes with her (and definitely wish it was longer). I hope to meet up with her again some day!
Definitely the highlight of my day. I saw Cora Carmack in the Harper Collins booth. We walked by her and then I made Crystal turn around and go back and asked her for a picture. She's so sweet!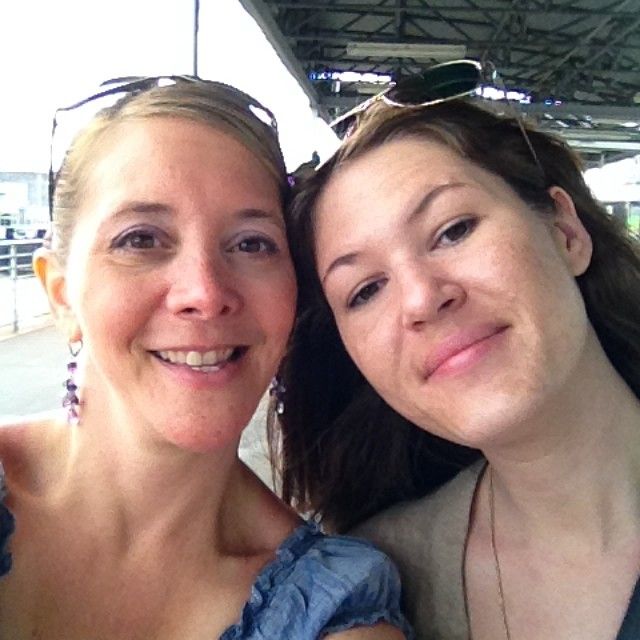 That's Crystal and I looking extremely tired and all our luggage we dragged with us onto the ferry back to NJ. And my final book haul for Saturday.
I'll be honest and say that Book Con was just too crazy for me. It was super duper crowded. Moving from one place to another was almost impossible. Lines were SO long. And the people were rude, pushing and shoving and causing general mayhem. I actually had a panic/anxiety attack while trying to get back to the Spencer Hill Press booth to hand off a book to Zach from Zach's YA Reviews. I have never had one before in my life! Think of it, 10,000 people packed into a tiny space (rather than the entire floor of the Javits). It was a fire hazard for sure, and I hate to think of what would have happened if the alarm went off (I'm sure trampling would have ensued and people would have gotten really hurt). So Crystal and I decided that braving the craziness was so not worth it (and would probably make my heart palpitations worse). So we left. I was sad because leaving meant missing authors and panels and also forced me to not be able to say goodbye to a lot of people I won't see for a while.
So that's my BEA 2014 experience in a nutshell. I will go again next year, of course, but I think I won't be staying overnight (now that I know about the ferry and it's free parking)