Today is The Cover Contessa's stop on the Scan blog tour!
Tate and his father don't exactly get along. As Tate sees it, his father has unreasonably high expectations for Tate to be the best—at everything. Tate finally learns what he's being prepared for when he steals one of his dad's odd tech inventions and mercenaries ambush the school, killing his father in the process and sending Tate on the run from aliens who look just like humans.
All Tate knows--like how to make weapons out of oranges and lighter fluid--may not be enough to save him as he's plunged into a secret inter-species conflict that's been going on for centuries. Aided only by his girlfriend and his estranged mother, with powerful enemies closing in on all sides, Tate races to puzzle out the secret behind his father's invention and why so many are willing to kill for it. A riveting, fast-paced adventure, Scan is a clever alien thriller with muscle and heart.
With your career in film, did you always know you wanted to be a writer yourself?
No, writing is something that I came upon quite late. My goal has always been to be a great storyteller--in particular, in the filmmaking arena as a producer. But because of all of the time I've spent thinking through story and storytelling issues, as well as problem-solving, actually putting pen to paper is something that came easier to me. Reminds me of Malcolm Gladwell's OUTLIERS--the significant amount of hours that I've spent honing my story skills in the film arena, provided me the perfect foundation for writing.
How long did it take you and Sarah Fine to write SCAN from start to finish?
It took about six weeks to hone in on the story skeleton from the idea stage to complete outline including one set of revisions. Then it took another six months to work through a very rough draft. Both Sarah and I write fairly fast and try to get our ideas and complete story on paper in order to efficiently work through all the kinks and details. I like to call it a "vomit draft", as something you just hurl out of your system as a first draft. From there, there is a lot of dedicated rewrites and nipping and tucking. It's a long but rewarding process especially when you have the agents and editors that we have in our corner.
What was the hardest thing for you about writing a book?
Without question, my toughest moments are trying to (a) work through a mythology and (b) stay true to that mythology while keeping characters true to their journey and motivations. Sometimes it's tough to not write the idealized version of how I would want to live my life and learn from my own mistakes. But you always have to remind yourself that these characters have their own story, their own history, their own limited and unlimited life experiences. That is what sometimes makes it very difficult.
How did you come up with the themes for SCAN?
Childhood relations with parents are definitely something I have thought about a lot in my life.

Personally, I feel like I had two different childhoods—one from when my parents were together and another after their divorce.

I'm always interested in exploring themes around how parents disperse information to their children or a lack of dispersion.

Our story in SCAN hinges on whether Tate's father trusted him to tell him information and the consequences of those decisions.

Because there is no black and white rule in this area, that grey area is always fascinating for me to explore as a theme.
Do you have a schedule of when and where you write?
I personally love to write during the day and on airplanes. My main criteria is not so much about where, but instead about shutting off the internet and other social media distractions in order to be able to focus on the task at hand. It's also why I like the Macbook Air :-)
How are you able to balance other aspects of your life, personally and professionally with such a busy film career, with your writing?
For me, balance is all about setting small daily goals and accomplishing those by writing them down and crossing them off as they are completed. There is a saying, "Take care of thy pennies and thy dollars shall take care of themselves." I believe this whole-heartedly. If I have film production duties, client management duties, and writing duties, I can balance and accomplish them all by ensuring that I am organized, understand my daily responsibilities, create a thorough checklist, and work through all of those duties on a consistent basis. The key is staying disciplined and getting each task done, knowing that every task gets me one step closer to an ultimate goal. Discipline is key!
What elements do you think make a great story line?
To me, overcoming great adversity and having the will to move on and win and be victorious--those are elements of every story that attract me. It's not always about success in those situations and/or the actual ability to tackle one's challenges that make the story, as opposed to the journey and the decision-making that we experience through the eyes of a story's characters. I think of a film that I loved last year, INSIDE LLEWYN DAVIS, [SEMI-SPOILER ALERT] where our protagonist didn't actually overcome his demons and win any significant victories at the end of his journey. But it was experiencing that journey through his eyes and seeing his struggles and his reactions to adversity that made not only a great film, but an incredible story experience for the audience.
Do you have a favorite character in SCAN?
I love Tate. This is his journey. He faces the ultimate moments of discipline, sadness, and adversity--he is run through a virtual gauntlet of experiences. It is intense to see him battle and fight through the obstacles that are laid in front of him--and he has a very Steve McQueen-esque heart of gold under an exterior of toughness that we get to learn about and love.
What kinds of things do you like to do outside of writing and producing?
I love being a father and a family man. I have an amazing wife and two young boys--2 years old and four months. It is my great joy to spend time with them. My hobbies also include watching Rafa Nadal, the great tennis player. I've seen him play in Paris and New York up close in major tournaments, which have been some of the most memorable sporting events I've ever attended. Traveling and spending time relaxing with family and friends over great food and drinks is also one of my favorite past-times. I love the South of France, and other exotic European locales.
What advice would you give to someone who wants to start writing?
To aspiring writers, the main advice I would give is to surround yourself with people who truly have the expertise to provide you feedback on your work. It's great that a friend or family member will give you a thumbs up, but to attain the highest levels of achievement in the brutally competitive industries of professional writing, whether it's book publishing, screenwriting, journalism or the like, it is paramount to be surrounded by people whose daily living is to judge and shape the merits of great writing. There is no substitute for receiving feedback from the top experts in your field of choice. Any other advice or feedback is simply not going to cut it and will not help you.
Do you have an author that inspired/inspires you to write?
John Steinbeck. Michael Lewis. Too many young adult authors to name. I am just inspired by truly great story-telling. It is so much fun to get lost in a wonderful story. I remember the first time I read THE HUNGER GAMES—I got so lost in the story while I was out in the sun that I got one of the worst sunburns in history. That type of writing truly inspires me and makes me grateful to love books!
Sarah Fine
was born on the West Coast, raised in the Midwest,
and is now firmly entrenched on the East Coast, where she
lives with her husband and two children. She is the author (as
Sarah Fine) of several young adult books, and when she's not
writing, she's working as a child psychologist. No, she is not
psychoanalyzing you right now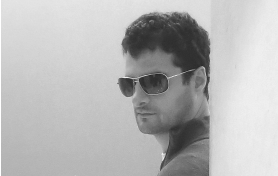 Walter Jury
was born in London, has a background in the
film industry, is a big fan of the New York Giants, and
enthusiast of Jamba Juice's Protein Berry Workout
smoothie only with soy, never whey. "Scan" is his first
book for teens. Oh, and under his real name, he's a
producer of one of 2014's biggest blockbusters. Let's just
say he
"diverges"
in his career from film to literature quite