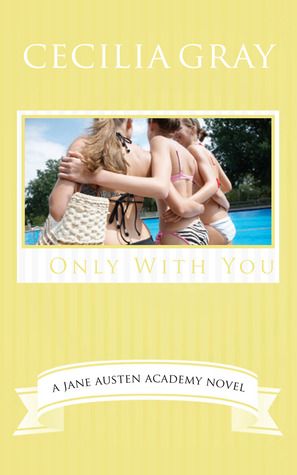 Only With You by Cecilia Gray
(The Jane Austen Academy Series #5)
Publication date: May 2014
Genres: Romance, Young Adult
Synopsis:
Dive into the fabulous, fun lives of six Academy girls as their friendships are tested, torn and ultimately triumph…
Emma has it all – looks, money, and luck. It's not like she keeps it all to herself – she's totally committed to helping those less fortunate. AKA, everyone. She invites her heartbroken friend to help with a weekend charity event with an eye to matchmake, but when that friend turns her eye toward the guy Emma wants for herself, how will she choose between friendship and her own feelings?
* * *
The last thing that the girls at the elite Jane Austen Academy need is hot guys to flirt with. But over the summer the school has been sold, and like it or not, the guys are coming. And it's about to turn the Academy—and the lives of its students—totally upside down…
The Jane Austen Academy series are modern retellings of Jane Austen classics set at a beachside California boarding school.
Today we welcome Cecelia Gray for an interview!
Did you always know you wanted to be a writer or did you want to be something else?
I've always known I wanted to write, but I also want to do other things. English was an okay subject for me, but my math skills are spectacular so that's what I do for my day job.
How long does it take you to write a book from start to finish?
Forever. Is that accurate? Close to forever. I never feel like a book is finished, only that I had to finally turn it in for deadline.
Do you have a schedule of when you write?
I write whenever I can. Usually there's thirty minutes or so in a day that I can steal away for writing. A couple of times a year, I'll set aside an entire day just for writing.
How are you able to balance other aspects of your life with your writing?
Ha, well I don't balance very well. I just sleep less.
What elements do you think make a great story line?
Three pretty simple things.
(1) A character you find interesting,
(2) going after something they really want,
(3) and having a hard go at it.
What was the hardest thing about writing a book?
Everywhere. At coffee shops, in my bed, on the couch. Anywhere I can work it in.
Have you gotten feedback from family about your book(s)? What do they think?
Shhh, actually, my family and friends don't know that I write books. I haven't told them, and no one has accidentally found the books yet. So it's all a fun secret.
Luckily we have tons of other stuff to talk about, so no one's figured out this secret part of my life yet.
What kinds of things do you like to do outside of writing?
I read every day, watch lots of tv, go to dance classes, garden, take foreign languages, surf, do archery, bike, run, swim (sometimes triathlon!), try new restaurants, cook, travel. You know. Have fun.
J
What kinds of advice would you give to someone who wants to start writing?
Don't get too sucked into advice. Just keep trying and writing until you find the right story and routine for you.
What is your favorite book? favorite author? Do you have an author that inspired/inspires you to write?
I worshipped Roald Dahl when I was in elementary school. I remember our teacher reading The BFG to class, and she forbid us from reading ahead, but I did anyway and had to keep it a big secret.
Do you have any go to people when writing a book that help you with your story lines as well as editing, beta reading and such?
Yes! I have four critique partners that read ongoing scenes as I'm writing them. I also have an editor who has read and edited every Jane Austen Academy book. I also have a copyeditor, a content editor, and a proofer, who all get their hands on the book before release.
For my historical romance series, I also have an additional copyeditor who specializes in the regency period to keep me honest.
Are you working on anything now?
a Rafflecopter giveaway
I'm finishing ALWAYS YOU, the sixth and final book in my Jane Austen Academy series.
Thanks so much for stopping by today! It was great having you here!
AUTHOR BIO:
Cecilia Gray lives in the San Francisco Bay Area where she reads, writes and breaks for food. She also pens her biographies in the third person. Like this. As if to trick you into thinking someone else wrote it because she is important. Alas, this is not the case.

She's rather enamored of being contacted by readers and hopes you'll oblige.
Author Links: