Welcome to the Running on Empty blog tour!
Today I welcome author Colette Ballard for a guest post. But first let's take a look at the book!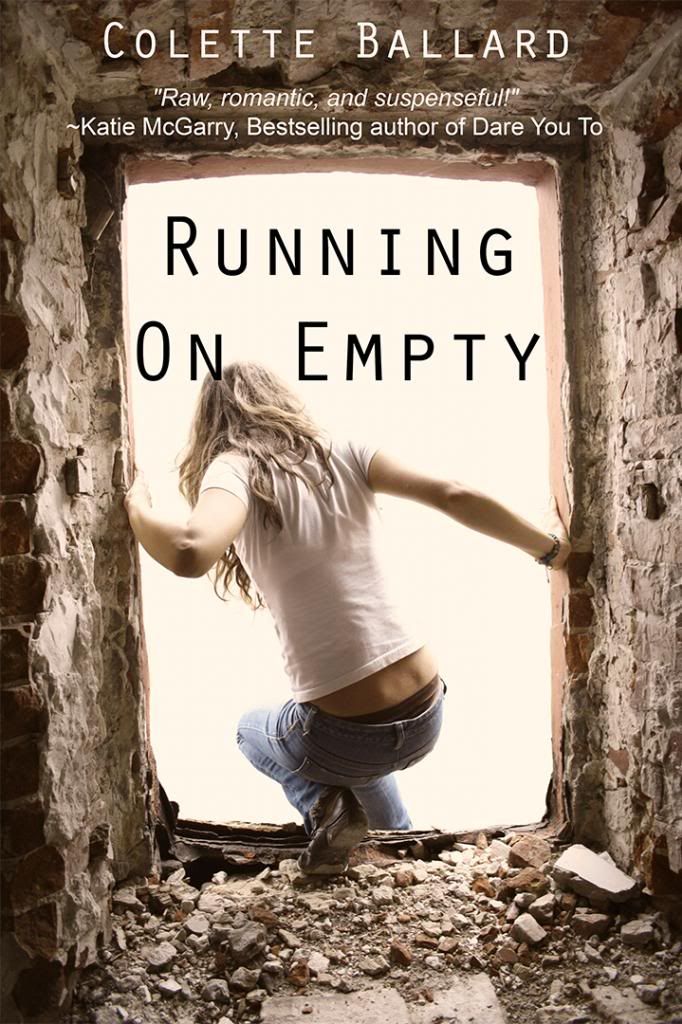 What does it feel like when you die—in those final moments? Do you feel the physical pain, or just the pain of your regrets? What does it feel like when you realize you can't answer these questions because you're not the victim?
You're the killer.
River Daniels lives an ordinary life as a high school junior growing up in the confines of rural Texas until her boyfriend's brutal attack leaves her both a murderer and a fugitive. When River's closest girlfriends come to her aid, they make a hasty decision to not only help her, but leave their own troubled lives behind and join in her escape.
The girls manage to elude police for months, but with every near-miss, River's life spirals further out of control, until she finally hits rock bottom. Realizing she must stop endangering her friends and find evidence proving she acted in self-defense, the girls decide to make a risky move. River must face her ugly past and the one person she was protecting the night her world caved in, the guy she has loved for as long as she can remember
Publisher: Tulip Romance (an imprint of Spencer Hill Press)
Expected Publication Date: May 6, 2014
Hi Colette! Welcome to the blog. So great to have you with us today. Colette is going to tell us why she decided to write a novel. Take it away, Colette!
DON'T STOP BELIEVIN'
Subconsciously, I started writing a novel about fifteen years ago when I decided to give in to my lifelong passion of reading and writing, and pursue picture book writing.
Consciously, I started novel writing six years ago.
After many years of trying my hand at picture and chapter book writing, and some contest success in that arena, I decided on a whim to finally put pen to paper and try to write down the story that had been nagging at me for years. It came about because I was preparing to enter a picture book manuscript in a contest that offered written critiques from experienced writers.
Even though I'd been working on shorter manuscripts for years, I had no idea how to write a novel. I told myself I would only write thirty pages—the contest requirement—to get it out of system and confirm that my idea of finishing a complete novel was as crazy as I thought it was.
Months later, to my complete and utter shock, I got a phone call that my submission was one of eight finalists! This was a pretty big contest so I was ecstatic. It was the validation I needed to give myself permission to continue to put on paper the book I'd been writing in my head for years.
The inspiration for the book, as cliché' as it might sound, came from a dream. Without giving anything away, it was about three best friends running away, and one of them was crying so uncontrollably that it woke me up. The dream was so vivid and intense that I couldn't stop thinking about it. I kept asking myself what could happen that was so devastating that it could make three teenage girls leave everything they'd known behind and run away?
It wasn't long before I came up with the rest of the storyline, and continued to add to it mentally for years. As unbelievable as it sounds, exactly five years to the weekend that I got the first call from a contest coordinator that I'd finaled, I got the life-changing call from my agent with the news that I'd been offered a contract!
*cue Journey song—Don't Stop Believin'*
So awesome! Thanks so much for stopping by today, Colette. It was so great
to
have you here! I can't wait to read your book as I'm sure many of my readers can't. Good luck!
Colette grew up on a dairy farm in rural Kentucky. She survived the high school experience back in the day when Aqua Net was bought in bulk and mullets were cool. That's also when she realized that her constant daydreaming wasn't a curse, but a useful skill—one she used like a lethal weapon to combat her frustration over the haunting question: What does the alphabet have to do with math anyway? Unfortunately, her ninja daydreaming skills only increased her desire to write—not her algebra grade.
After surviving the hairstyles and torturous math classes of her high school years, she wandered a bit—even moving to the farthest northwestern corner of the United States, then to the farthest southeastern corner. She finally settled in the one red-light town she started in, where she continues to live today with her husband and three children.