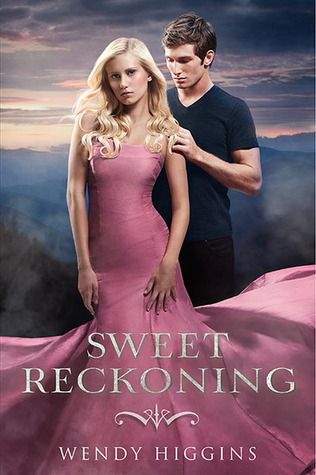 Blurb from Goodreads:
It's time.
Evil is running rampant and sweet Anna Whitt is its target. Nobody knows when or how the Dukes will strike, but Anna and her Nephilim allies will do anything necessary to rid the earth of the demons and their oppressive ways.
The stakes are higher than ever, and Anna is determined that the love she feels will be her strength, not a liability. But trying to protect the ones she loves while running for her life and battling demonic forces proves to be perilous—especially as faces are changing and trust is fleeting. When the Duke of Lust sends Anna's great love, Kaidan Rowe, to work against her, Anna must decide how much she's prepared to risk.
In the most sensual and fast-paced installment yet, Sweet Reckoning brings all the beloved Neph together one last time to fight for their freedom.
Title: Sweet Reckoning (The Sweet Trilogy #3)
Author: Wendy Higgins
Publisher: Harper Teen
Expected Publication Date: April 29, 2014
RATING: 3/5 STARS
The Cover Contessa's Review:
I want to thank Harper Teen/Edelweiss for supplying me with an eARC of this book to read and give an honest review. I will say that I was very excited to get to read this book early as I've really been quite a fan of Wendy's Sweet trilogy so far. Receiving this book for free has in no way influenced my opinion or review.
I literally jumped around when I received a copy of this! I tried so hard to get one at ALA, but, alas, they were out of them. So when the eARC became available, I downloaded it immediately (for fear it might be scooped away at any moment!). I love the covers of these books. They are so simple and just plain beautiful. I am pretty sure I would pick these books up just on the shear fact that I love the covers so much!
This book picks up right where Sweet Peril left off. So, if you haven't read the first two books of this series, I can say STOP HERE as there might be spoilers and you WOULD NOT want that for sure!
Anna is the same kick butt character she has been. With the weight of the world weighing on her shoulders, she's willing to sacrifice anything to ensure the safety of her family and friends. I found her to be the least selfish in this book of all of them. She's willing to give up so much. This made me feel a lot more sympathy towards her than I have in the past. She's a fighter willing to fight and I loved that. She definitely shows a good deal of development throughout the trilogy. She's more brave and confident, less naive.
Kai wasn't the same for me in this book. I mean, I could see how much he loves Anna, how much he doesn't want to sacrifice her for anything (but will sacrifice himself for her and everyone else). And he's still Kaiden, but I felt like something was missing. I'm not sure if it's because he is now ok with his love for Anna or not but he seems so much more calm and intent on thinking about things rather than doing. I suppose this was part of his character development, to make him more aware and change him to something more likable. But I just didn't feel the same about him.
We see a bunch of the characters we've met in the past: the Dukes, Kopano, Marna, Ginger, Patti, Blake and Jay. I loved seeing their relationships unfurl. We also met a few new Neph in this book, some that were loyal to Anna's cause, some that were not.
Wendy's writing is easy and flows well. There is nothing complicated about it. I will say the pacing was off for me in this one. I had some trouble getting through this book. I'm not really sure why. I felt disconnected from the characters and the overall story itself. The story was good, but it just didn't move me as much as the other two. The action kind of dragged for me. I was wanting more tension, perhaps more danger, and I just wasn't feeling it. This made me kind of sad as I've been a fan of these books. I will say that this is not my favorite of the trilogy.
Overall the climax was good. It did feel a bit rushed, almost like Higgins was just ready to get to the ending. I thought for sure there would be many more plot twists, but there weren't. There was one twist that I'm sure was meant to be shocking to me, but it wasn't. I like a trilogy that doesn't cause too much stress to the reader. This is definitely one of those. You don't walk away broken hearted or wanting to throw the book across the room. I have to say Wendy ended it just right.
There's an epilogue. I think it's nice but not necessarily required. I would have been ok with this book ending on the last chapter and all being done with.
This wasn't my favorite book in this series, Sweet Evil definitely was for me, but I think readers of this trilogy will be overall satisfied with what Higgins gives them.
After earning a Creative Writing degree from George Mason University and a Masters in Curriculum and Instruction from Radford, I taught high school English until becoming a mommy. I've always had a heart for teens, and writing YA stories gives me the opportunity to delve into the ambiguities of those pivotal years before adulthood.
I live in Virginia with my husband, daughter, son and doggie Rue.