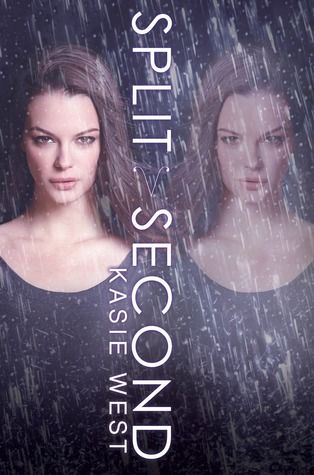 Blurb from Goodreads:
Life can change in a split second.
Addie hardly recognizes her life since her parents divorced. Her boyfriend used her. Her best friend betrayed her. She can't believe this is the future she chose. On top of that, her ability is acting up. She's always been able to Search the future when presented with a choice. Now she can manipulate and slow down time, too . . . but not without a price.
When Addie's dad invites her to spend her winter break with him, she jumps at the chance to escape into the Norm world of Dallas, Texas. There she meets the handsome and achingly familiar Trevor. He's a virtual stranger to her, so why does her heart do a funny flip every time she sees him? But after witnessing secrets that were supposed to stay hidden, Trevor quickly seems more suspicious of Addie than interested in her. And she has an inexplicable desire to change that.
Meanwhile, her best friend, Laila, has a secret of her own: she can restore Addie's memories . . . once she learns how. But there are powerful people who don't want to see this happen. Desperate, Laila tries to manipulate Connor, a brooding bad boy from school—but he seems to be the only boy in the Compound immune to her charms. And the only one who can help her.
As Addie and Laila frantically attempt to retrieve the lost memories, Addie must piece together a world she thought she knew before she loses the love she nearly forgot . . . and a future that could change everything.
Title: Split Second (Pivot Point #2)
Author: Kasie West
Publisher: Harper Teen
Publication Date: February 11, 2014
RATING: 4/5 Stars
The Cover Contessa's Review:
I want to thank Harper Teen for providing me with a copy of this book to read and give an honest review. I just love Kasie West's writing. I loved Pivot Point, so I was sure I would love this one! Receiving this book for free has in no way influenced my opinion or review.
This book starts off right where book one ends. Addie has gone through her choices of what would happen if she stayed with her mother versus what would happen if she stayed with her father and she has chosen. But she has given Laila a note to hold for her so she can be reminded of what happened in the life she did not choose. If you haven't read book #1, then stop here, there might be spoilers and you wouldn't want that!
I'm not a huge fan of these covers. They are rather boring, but they give the idea of the book rather well.
And unlike the first book, this one flips between the point of view of Addie and Laila. I wasn't sure I would enjoy the book this way at first, because I really just wanted to hear Addie's story. But the dual POV worked rather well for this part of the story and I was glad for it in the end.
Addie continues to be a bit frazzled in this book. She made her choice, but things are haunting her that she cannot put her finger on. And to top it off, things are happening with her powers that weren't happening before. I love seeing this side of her.
Laila, we get to see her full on in this book. I love her. She's smart and sassy and a little tumultuous. She takes chances, but also guards herself against letting others in. She's a contrast and a force to be reckoned with for sure. I really fell in love with her character in this book. I love that she got her own story and how her character grew and opened up and morphed into a more vulnerable person.
Of course we see some of the old characters we have already met: Trevor (swoons), and Duke. But we also meet Connor. Now this guy I was totally into. He was smart and sexy, but very closed off. He didn't want to be vulnerable for anyone. And he is not sure of his path (compound versus outside world). We also meet some surprising characters, which I won't go into because it will spoil things for you.
As with Pivot Point, West has a way of running you through this book at full speed. You need to know what happens next and it's hard to put it down. It's fast paced and filled with action. It was great to watch the story unfold from the two girl's points of view, seeing how each of them was experiencing what was going on.
Of course West imbibes this book with swoon romance, but not so much that it's the focus. It was great to watch Trevor and Addie to get know each other in this book. I wasn't sure I would enjoy it since I was a bit sad at the fact that Addie didn't choose Trevor at the end of book one (but it's understandable since she wanted to focus on saving those she loved).
The focus is on what Addie will choose and what she feels is best for her. And also on how the government involves themselves so deeply in controlling the compound and it's residents. It's definitely a plot driven book, though you see huge amounts of development in the characters for sure. And West knows how to make you love her characters to are about them so much your heart gets ripped when theirs does, your tears flow when theirs do, your heart pounds when theirs runs rampant.
And West feathers such twists and turns in this book, you're not sure which way things will go. I love how Addie uses her ability to help her make her choices, although sometimes her ability doesn't always show her exactly what she needs to know. I will say that I wasn't expecting this to be a duo logy. So the ending did feel a bit rushed for me, but that's not to say I didn't like it. I loved it.
Over all I thoroughly enjoyed this book. I did think we could have learned more about the Compound and maybe had a deeper understanding of the exact roll the government agencies play in how the Compound residents lead their lives but it didn't take away from my enjoyment of the story.
I write YA. I eat Junior Mints. Sometimes I go crazy and do both at the same time. My novels, published through Harper Teen are: PIVOT POINT, its sequel SPLIT SECOND (Feb 2014), and THE DISTANCE BETWEEN US (a contemporary novel). I also have two more contemporaries, ON THE FENCE coming out July 1, 2014, and THE FILL-IN BOYFRIEND coming out the summer of 2015. My agent is the talented and funny Michelle Wolfson.