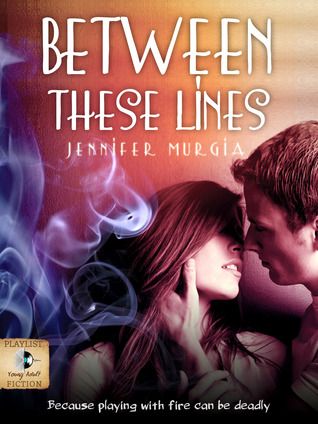 Blurb from Goodreads:
I never told anyone how I felt about her. Not even Evie—not in so many words. And now, I'll never get the chance to.
When a class assignment brings quiet Chase Mitman and the stunning Evie Cunningham together, a mutual attraction ignites. There's only one problem—Evie already has a boyfriend—one who practically OWNS Whitley Prep, and her.
Knowing their relationship comes at a price, Chase's life collides with Evie's, and after entrusting her with a tragic secret, the last thing he'd ever expect is to learn she keeps a few of her own.
An innocent prank turns ugly. An anonymous note changes everything. And lives at Whitley Prep will never be the same.
From YA author Jennifer Murgia (Angel Star, Lemniscate, The Bliss), comes an emotional story focusing on the social agenda of students at a preparatory high school and the impact it has on their lives. BETWEEN THESE LINES offers a haunting reminder that sometimes the person you think you know the most is the one you know the least—and sometimes, that person is yourself.
Fans of Simone Elkeles and Tammara Webber will appreciate Murgia, who understands that first love is heady and complicated and full of surprises.
The Cover Contessa's Review:
As most people know, I'm not a huge contemporary reader though I've been doing more of it as of late. So when I was asked to read this, I certainly had to give it a try and see what was in store. And I'm so glad I did!
I have to say that I enjoyed this story so very much. I love the sweet romance that happened, how it blossomed into something so easily and fluidly.
Chase is just such a great character. His voice is so genuine. I love how he's a bit introverted, at least to outsiders. But once you get in his head and learn about him, you totally understand who he is. He's reserved, yet he has so much going on in his yet when you read his chapters. He's a fairly tortured soul with a past that he wants to leave behind but that haunts him.
Evie has this outward persona to live up to. She is part of that elite crowd that you hear about in high-schools. The one that everyone watches and waits to see what they will do before following like a flock of sheep. But she longs to be different.
When these two are thrown together through an assignment, things start to heat up. There's an underlying attraction that Evie has and that Chase is not quite sure what to do with. Yet, he's drawn to her. I loved watching their relationship blossom. It was truly a friendship that turned into more. And their story was a roller coaster ride, filled with ups and downs and twists and turns. And in the end it is very Romeo and Juliet in nature!
Murgia has a great voice for both her characters. Her writing is easy to read and flows well off the page. There's no hang ups with info dump or tons of telling rather than showing. I raced through this story in only a day! Her writing makes this read fast paced and intense. And if you're looking for a surprise ending then this is your read.
Overall I am so happy I read this book and got a taste of contemporary from Murgia's POV. It really shows me how great a wonderfully contemporary novel can be!
Jennifer Murgia has been writing ever since she was nine years old. After receiving recognition for her poetry, she went on to use her talents to bring characters to life in fiction novels that are authentic, intriguing, and personal. She currently resides in Pennsylvania with her husband and two children.